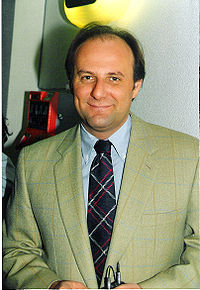 Gerry Scotti is probably the TV host best able to merge the classic ways of entertaining mass audiences while still meeting the needs of modern audiences and without stooping to vulgarity and cheap tricks to keep ratings high. He started very young and soon enough joined Canale 5, Silvio Berlusconi's main network. Scotti at first took on the role of hosting shows geared toward a teenage audience, but it was not long before the doors of prime time TV opened to him. He had a certain likability and employed a sense of irony that branded his name from the beginning, appealing to both the young and older viewers. In essence, Scotti captured the familiar methods of Corrado and the deep understanding of Mike Bongiorno, added the more friendly qualities typical of Raimondo Vianello, and merged them with his own. His personality makes him like one of the family to many, and he reaches out from the television set to join people in their living rooms. He is a star, but he behaves like a regular guy.
The results over 35 years of television have been simply extraordinary. Scotti, who started as radio DJ, transitioned to television smoothly and successfully, and has hosted prime time gala events, variety shows, and even quiz shows. He even proved himself as a valuable actor, performing in several sit-coms and TV films. His face is so popular that actually advertisers are finding in him one of the most bankable personalities in Italy, to the point that Scotti himself asked to have his appearances reduced, concerned that he would spoil his personality by overdoing it.

Gerry Scotti in a popular commercial
After the success of Who Wants to be a Millionaire? quiz shows returned to television, and Scotti was called to host the Italian version of the show. It was a success and was on the air for 12 years with remarkable ratings. His style and rhythm are a bit slower than the American version, but this seems to be perfect for Italian TV; this gives him the opportunity to entertain the audience between questions, sometimes for up to 10 minutes at a time.
Scotti has worked his entire career with the Mediaset networks, one of the few who never crossed the line to RAI. This is quite an admirable record in a world where most entertainers sell their work to the highest bidder. This has paid off in terms of audience respect and has gained him the full support of the Mediaset corporation. They allow him creative power and give him the top shows available on the schedule.
Mike Bongiorno, before passing away, appointed Scotti as his successor, and although it is always difficult to compare people of different generations, the truth is that Scotti has gained everyone's respect without stepping on anyone's toes. In fact, not only has he remained free of rumors within the entertainment world, he stays away from gossip in general. His private life is never in the public eye, he has never been part of any scandal, and he has always behaved properly in front of the camera. He is a true gentleman, without faking or overdoing it; his class is not an effort, but simply natural.