A small forward…
The Presepe is truly a piece of Italy's tradition and heritage. As you are about to read, the history of Presepe is well rooted in that of Italy and even those who are not practicing Catholics tend to consider it an integrant part of their Christmas. 
It is important to underline it because, in the past bunch of years, our beloved Presepe has been under attack. Italy has been developing – not always happily and not always successfully – into a more culturally and ethnically varied country, where freedom of cult is, of course, guaranteed. Allegedly to protect such freedom, calls to remove Presepe from schools and public places have been growing. This created a huge mediatic backlash and ultimately increased intolerance. 
If you think it is non-Catholics and non-Italians to say "no" to Presepe, you are wrong: it is our school principals, our directors to do it, and they are all Italians.  
Non-Catholics coming from outside Italy are, mostly, pretty cool with Presepe and accept, some happily others more grudgingly, the culture and heritage of the country they chose as theirs. It is we Italians creating the issue and it is shameful. 
Italy's glorious culture and heritage come from an equally glorious past, rooted in Graeco-Roman and Judeo-Christian traditions. Presepe, a symbol of the Nativity, should not only be important to Catholics celebrating the birth of Christ, but to all Italians aware of their own past and heritage. It seems to me that, too often, we try to better ourselves by embracing all that is new, forgetting where we come from or, even worse, feeling ashamed of our own origins.
There is nothing wrong in embracing the new, being tolerant and find beauty and righteousness in other people's cultures, sets of believes or lack thereof. But neglecting one's cultural heritage and, even worst, denying it in name of another, is a shameful, shameful act, as there is nothing worse than killing Memory: it is the beginning of the end of a civilization. 
This is not going to be an easy Christmas for our Presepe: removed from many schools in Italy "not to offend non-Christians," when non-Christians are, on average, not bothered with Presepi in schools, and Christmas being celebrated as it always has.
And even if non-Christians were not happy with the cultural display our Christmas is, we should never, as a nation, as representatives of a culture that is common to billions of people around the world, spit in the eye of our tradition just because we were said or suggested to do it.
Our culture, the one we were born into, is the very own essence of our Humanity, let us never forget it. 
Francesca Bezzone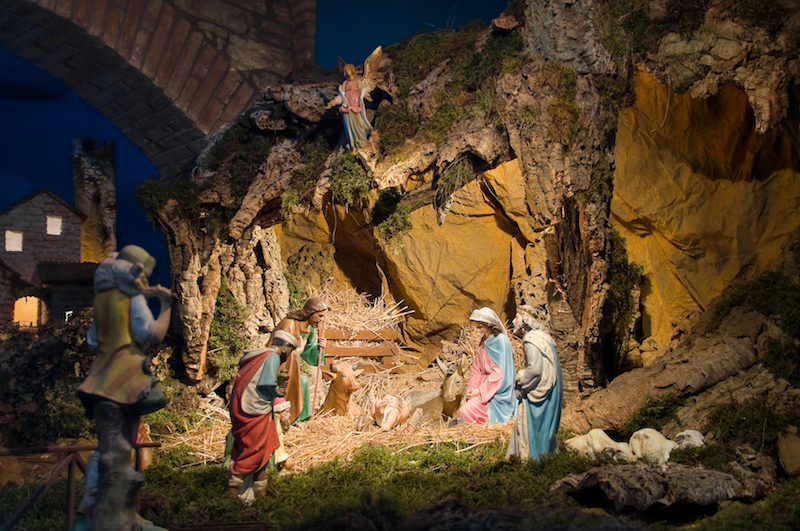 "T piac o' presep" were famous words uttered by Neapolitan Eduardo DeFilippo, an Italian actor and director, in the drama "Natale in casa Cupiello". In English they mean, "Do you like the Holy Nativity?" The presepe, or Holy Nativity, was central to the development of the plot, as one of the play's main characters aimed at creating a perfect one for Christmas.
The play is just one example of the importance of the presepe in Italian Christmas celebrations: the presepe is, indeed, one of the most traditional symbols of the season, its history rooted deeply in that of Italian culture. Its creation is a ritual so entrenched  in people's habits that many can't renounce to it, even in today's day and age, when celebrations have become more modern.
Basically, a presepe is a scene of the stable where Jesus was born, complete with figurines to represent Mary, Joseph, Jesus and the Wise Men (to be added on the 6th of January), shepherds and animals. Depending on the size, the scene may include buildings for an entire village. Whether big or small, if you're in Italy during Christmas time, you'll always find a presepe somewhere.
The country is so attached to this tradition, sometimes it even manages to argue about its name: debates about the correct word to use, presepe or presepio, have been going on  since it can be remembered. Truth is, both forms are correct because they come from Latin, which accepted both praesepium and praesepe, although presepe is probably the most used today.
The term mangiatoia (literally manger, but most commonly known in English as crib, when referring to the Nativity) is used for a three-dimensional representation of the nativity, usually placed in a hut or stable, with figures which can be moved around to the choice of the creator. In this version, the mangiatoia remains the protagonist of the scene and the figures of Saint Joseph, the Virgin Mary and Baby Jesus are placed in it together with that of the ox and the donkey in the stable.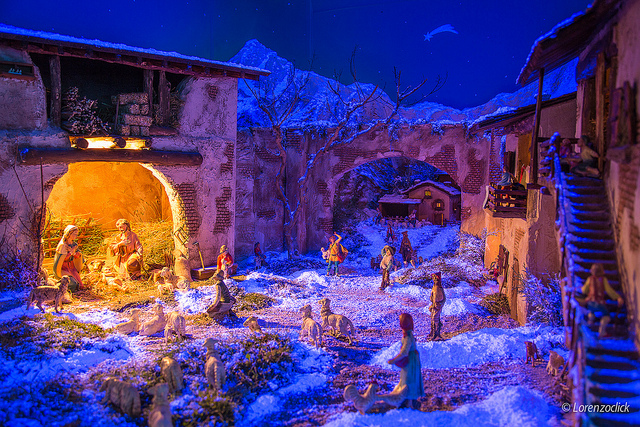 While some may see the presepe simply as a tradition, it is actually very close to a fully developed form of art. Proof of its importance in Italy can be seen in the numerous markets and exhibitions set up for it, some coming alive with real people impersonating the main characters of the scene. The most famous of these markets is that of San Gregorio Armeno in Naples. San Gregorio Armeno is a city centre street, where several craftsmen exhibit and sell their creations. Famous worldwide, you'll find a special and magical atmosphere during Christmas. The market is a well known touristic attraction, visited every year by many seeking to experience the enchating atmosphere of a true Neapolitan Christmas.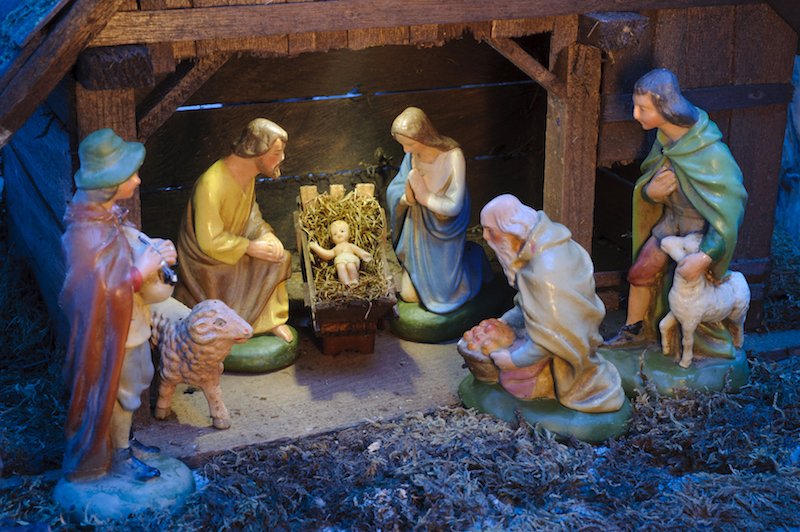 If you make it to the market this year (as every year in fact!), you'll be surprised to find some very peculiar characters to add to your presepe statuettes' collection: apart from classic figures like il pastore (the shepherd), il contadino (the farmer), il macellaio (the butcher), and il bottegaio (the storekeeper), you'll get to see figurines of celebrities or political leaders. The shepherd stands beside President Obama, a storekeeper sits cheek to cheek with the Queen of England: all of it is possible on the stalls of this amazing market. Look for Napoli F.C. players, as well as VIPs and actors, especially if they've been at the centre of some scandal during the year.
Some presepi are quite expensive, but the simple ones are reasonably priced and will set you back of about 35 euros ($ 45).
Traditionally Italians take out their presepe from its boxes on December 8th. Some people start to build it on that day, others just modify an existing set and others still simply spray a bit of artificial snow and musk for decoration. No matter the size and the ornaments choosen, you'll find a presepe in the home of almost all Italian Catholics. And be prepared, as you'll probably be asked, "Ti piace il presepe?"