Italian Comedian-Actor-Director, Screenplay Writer, Producer and Author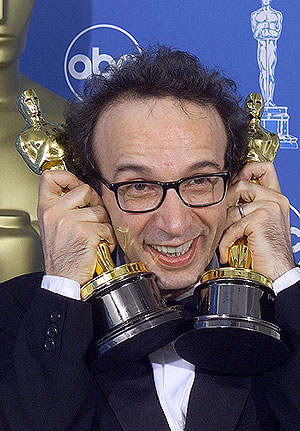 Roberto Benigni
He is an award winner of the 2000 European Film Academy Award for European Achievement in World Cinema and in 1999 he won the German Film Award for best foreign film for 'Life is Beautiful.' In 1999 he won the Goya for best European film again for 'Life is Beautiful,' and then won the American Comedy Award for the funniest Actor in a Motion Picture for 'Life is Beautiful one more time.' His funny persona has proved irresistible to Italians and foreigners alike. In his eyes, he was nothing more than an ugly child who won by being a clown, who just never gave it up.
Life is Beautiful! Charlie Chaplin goes to Auschwitz
This Film was written, directed and played by Roberto Benigni himself. He finds himself in the mist of a serious and terrorizing atmosphere in a Nazi camp, portraying a man whose sufferance is suddenly transformed into an optimism, joy and he soon becomes a believer in that dance called life.
His power is simulated by his love for his son and wife, and by his capability to protect and comfort them amongst such misery is immeasurable. He realizes how precious life is, wherever he is. This state perpetuates and for the sake of his five year old son who doesn't realize where he is. There in the adult bunker he smuggles him in and trains him to hide whenever the Nazi's appear at the door. He is protected by his father by way of games, jokes and creative perception which coaxes him far away from the brutal reality of the situation.
Roberto is full of a magnetism, charisma and love for his wife whom he communicates with by way of telepathy, music and familiar signals. In ever moment he seeks an opportunity to keep up the faith for the two he adores most.

Roberto Benigni.
Roberto always addresses his life of poverty as a child, thanking his parents from the heart for that 'wonderful gift' which propels him forward to finding his creative intelligence and individuality which excelled as effective in his true life's calling.
The greatest gift is given I believe, to his audience and to those touched or moved by his presence and genuine spirit.
Roberto published the fable of 'Life is Beautiful,' but was loved by Italians long before this was released on film.
Italian media uses the word 'genius' when speaking of Benigni; truthfully genius is a romance-love mixed with sex emotions which remove obstructions between the finite human mind and infinite intelligence. These emotions have the capability of driving individuals to heights of super achievement. You will discover that his wife Nicolleta Braschi either plays his lover, a woman he is obsessed with, or another significant role in almost every film he has ever put together and this is Roberto's push into the genius realm.

When Roberto Benigni met the Pope.
Critics down Roberto Benigni for bringing love and comfort into a horrifying epoch, but everyone views things quite differently. There are tribes and people who celebrate death and others who are insulted if one is happy during a funeral. This is the magic of Benigni – as an artist he is free to pull together some of the most wonderful combinations. His wit and charm cast a spell of comic seasoning to lighten – for those whose intelligence can separate the films of the actual Holocaust with films of Benigni will see they are two types conveying different elements-one to teach and entertain and one to teach.
The Monster!
A particular type of film, with a premise that may scare or confuse normal movie goers at first glance. He is a rapist or killer who has just murdered his eighteenth victim.
Misconceived as this maniac Roberto who is 'Loris' in the film deletes his profile as a kind and good natured neighborhood man.
Johnny Stecchino!
Roberto is Dante and Johnny Stecchino. Dante the bus driver falls for the mistress of a mafia boss named Johnny Stecchino, who betrayed his fellow mobsters and remains hiding out. Maria, the mistress, is his wife in reality and the one conjuring up a delicate plan to trick the mafia into believing Dante is Johnny.
My family stopped in their tracks as they came through the front door and started watching the film subtitles and all. They were so engrossed and laughing with pleasure to the question; who is this actor?
As an Actor and Other Roles
Below you will find the films Benigni was involved in:
The Tiger and the Snow 2005 (Director, Writer)
Coffee and Cigarettes 2003 (Writer)
Pinocchio 2002 (Director, Writer)
Take on Caesar 1999
Life is Beautiful 1997 (Director, Writer)
The Monster 1994 (Director, Writer, Producer)
Son of the Pink Panther 1993
Johnny Stecchino-toothpick 1991 (Director, Writer)
Night on Earth 1991
The voice of the Moon 1990
The Little Devil 1988 (Director, Writer)
Nothing Left to Do but Cry 1985 (Director, Writer)
Personal Effects 1983
You Disturb Me 1983 (Director, Writer)
Il Minestrone 1981
The Pope's Eye 1980
Seeking Asylum 1979 (Writer)
Woman Light 1979
Luna 1979
The Days are Numbered 1979
Tigers in Lipstick 1979
I Love You 1977 (Writer)
The man of scorpion sign was born on the 12th of October 1952 is contested as one of the world's funniest men. He is a small dynamite stick, unusual, friendly and has a creative intelligence that is infinite on film and in real life.
You may never underestimate a man who flies through life making everyone laugh, preaches from his heart and captures in return; the hearts of those admiring him.
By Jackelin J. Jarvis