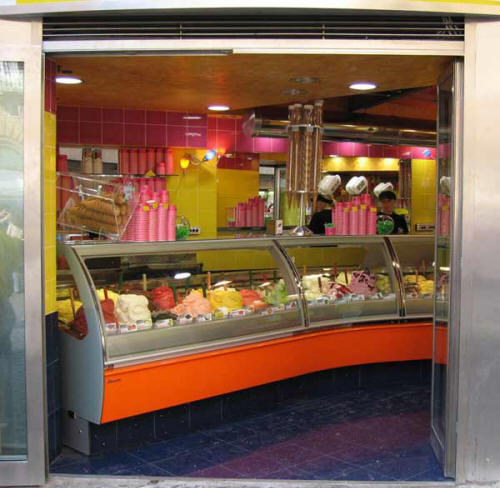 BAR: Not a U.S.-style bar. Those places that have U.S-style bars will advertise "American bar" – generally hotels. While you can buy beer, brandy, or other alcoholic beverages at Italian bars, the central feature is the espresso coffee machine. You can have a Caffe or Espresso (about 1 euro) or a Cappuccino for about 1.20 euro (1.50 USD). Italians visit bars throughout the day, but especially in the morning when pastries are served with the coffee.
ENOTECA: A place where you can drink wines. You can usually buy the whole bottle or consume by the glass. Here you can also find good wine to buy and take away.
GELATERIA: Serves home made ice cream. Giolitti is one of the most renown in Rome and it is surely worth a walk. I Tre Scalini in Piazza Navona is famous for its 'Tartufo ice cream' but expensive: somebody has to pay for the location.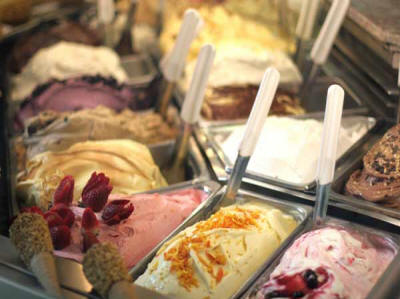 PASTICCERIA: Pastry shop, often connected to, or part of a bar. Such a sign usually means a wider selection of pastries available. Many serve foods other than pastries such as sandwiches ("panini," literally, "little breads"). If panini is advertised on a sign, again, you could expect a larger selection. These are excellent places to get a quick, inexpensive snack or lunch. As in a bar, you pay first and order second.
TAVOLA CALDA: Literally, "hot table." The closest U.S. translation is "grill." These are more elaborate than panini shops and feature hot dishes. Some are small with only a few choices each day, and you select what you want from a glass-enclosed display. Most have a few tables. More elaborate ones are similar to U.S. self-service cafeterias.
ROSTICCERIA (Girarrosto) / Pizza al Taglio : These shops sell rotisserie-cooked meats, most often whole chickens sometimes advertised as a "polleria". They also offer "suppli" (a bowl of fried rice with mozzarella inside), crocchette (a bowl of fried mash-potatoes), pizza al taglio (pizza by the slice), and other inexpensive lunches or quick dinners.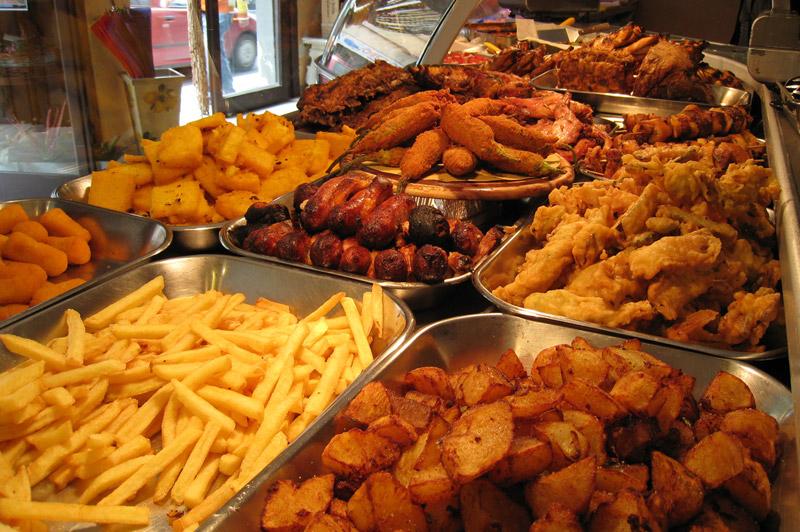 RISTORANTE: A restaurant offering a large-selection menu and full waiter service. These range from small and intimate to very large and ornate (and sometimes expensive).
PIZZERIA: Just like in the U.S., pizzerias sell pizza. Pizza was invented in Italy but is quite different from the pizzas served by the U.S. Pizza Chains. Italian pizzas are individually-sized or no more than 10-12 inches in diameter and come covered in a wide variety of toppings. Most pizzerias also sell other foods, and many other types of eating places also sell pizza. For example, a ristorante-pizzeria offers pizza as an alternative to its full restaurant selection.
TRATTORIA: With full waiter service, a smaller, usually family-run restaurant. The menu is more limited, the decor usually less ornate, and the prices usually lower than a full ristorante.
PUB / BIRRERIA: Like a British pub or American bar, these have become popular in Rome and Italy. They have a variety of beers on tap, plus cocktails and other alcoholic beverages. A 0.4cl (about 1 pint) beer is around Euro 4 to 5, cocktails Euro 6 -8, glasses of wine Euro 2 to 6.
HOSTARIA/OSTERIA: The more popular version of the Enoteca (which is the more Yuppy version). Usually an Osteria serves home-made and local wines, snacks and it usually has a limited food menu.
Take a look at some of the best Rome Resturants