Last Updated on May 7, 2020 by Admin
In a spacious room enhanced by sunlight, Delia Binaglia methodically adds brushstrokes of color to a fired piece of pottery. Her details are the final touches learned from the antique tradition of majolica ceramics, practiced in the Umbrian town of Deruta. Binaglia, and her husband Antonio Ranocchia, have been creating ceramics for over 60 years, and are the founders of the ceramic factory MOD. (MOD), now managed by their children Ivan and Grazia.
The town of Deruta is defined by the ancient craft of pottery making, and everywhere a visitor looks there are signs that the inhabitants are proud of mastering and upholding techniques passed on through the centuries. Historical documentation showed that majolica ceramics (pottery covered in an opaque tin glaze, decorated with a motif, and then fired) were produced in Deruta as far back as the late 13th century. In 1290, the potters of Deruta were commissioned by the local church San Nicola to paint pictures on vases.
The culmination of Deruta's popularity for ceramic making came during the 15th and 16th centuries. Although other countries were producing ceramics, it was during this time that Deruta potters applied old techniques to new forms. The lustre technique began in Arabia (probably Baghdad), reaching Europe via the Moorish Spaniards, and was used by the potters on double handled vases, on pedestals, and also on display plates. The intricate method involved three firings and the application of salts, coppers and silvers. The Derutan potters' mixing of tradition with innovative earthenware resulted in some of the highest quality motifs found in Italian pottery.
Ceramics-making technique
Binaglia and the other painters employed by MOD use a "spolvero" (dusting technique) to stencil detailed patterns onto terracotta. A small bag containing pulverized charcoal is tapped over a thin sheet of paper with pin size holes running through a pattern, transferring an outline of a design onto the pottery. But it is only through practice, experience and a keen eye that the painters reproduce the uniform colors of classic motifs, such as the "Raffaellesco" pattern.
Ceramics Design
"We use traditional methods to reproduce patterns from the 13-to-1500's, by studying ancient books and antique artifacts", said Antonio Ranocchia.
Originating in Deruta during the 16th century, the "Raffaellesco" design has become the town's signature style. Centered on an iconic yellow dragon with blue tipped wings, the pattern is said to be adapted from Raphael's frescos, used in the borders that adorned his works. Today the motif graces numerous objects, including flooring and tableware. MOD sells kitchenware sets displaying the pattern starting at $18 for a small creamer, with a range of bowls and pitchers from $23-to-$36. The set also includes a soup terrine for approximately $220.00. Decorative lamps and plates that serve both function and aesthetic purpose reflect the artistic aptitude required to make the elaborate design
MOD's factory embodies the hand making process that characterizes pottery made in Deruta. The throwing, firing and painting done on site is all by hand. Binaglia pointed out that they hire artists who learned painting and pottery production from skilled ceramists in Deruta. Some have evolved their techniques at the Scuola D'Arte Ceramica Romano Ranieri, taught by Romano Ranieri himself, a distinguished artist with over 55 years of experience in painting and painting on ceramics.
When possible, Deruta earth is used to make the terracotta pottery, and if local clay is not available, they use Tuscan clay. The biscotti colored pots and ware are "more refined when made from the local clay," said Binaglia. "It is more resistant to chipping".
The quality of Deruta clay products compared to imitations made in China is a topic of concern for Grazia Ranocchia, as well as the mayor of Deruta, Alvaro Verbena. Ranocchia said that the local ceramics are designed to be durable and that counterfeit copies, while cheaper, can be easily flawed.
In recent years counterfeit ceramics (many of them made in an industrial fashion) claiming to be "Handmade in Deruta," have been appearing on the market. These fake objects have deceptively diverted customers from purchasing original Deruta ceramics.
In order to combat fakes, Verbena has implemented actions that provide economic assistance to the local artisans, introduce the world to Derutan artworks, and holds local initiatives related to the town's artistic heritage.
The town supports artisans and companies such as MOD to promote their products overseas, including the United States and Russia. That entails a consortium of craftsmen, and an official trademark that allows customers to recognize a genuine piece of Deruta pottery. Stamped on authentic pottery hand made in the town, the trademark is also found on windows of local shops and factories that adhere to the standards of Deruta pottery production.
Exchanging antique ceramics with museums (such as Victoria and Albert Museum in London and the State Hermitage Museum located in St. Petersburg), those outside of Italy are educated on the history of Deruta and its contribution to the development of ceramics. Events are held in the town to attract talented artists and people from all over the world, and to present historical artworks to the public. Since 2008 in Summer the city hosts Magia di un'Arte. Exhibitions, crafts, Umbrian cuisine and concerts are held throughout Deruta, including a "laboratory" open to all to create pottery under the guidance of master ceramists.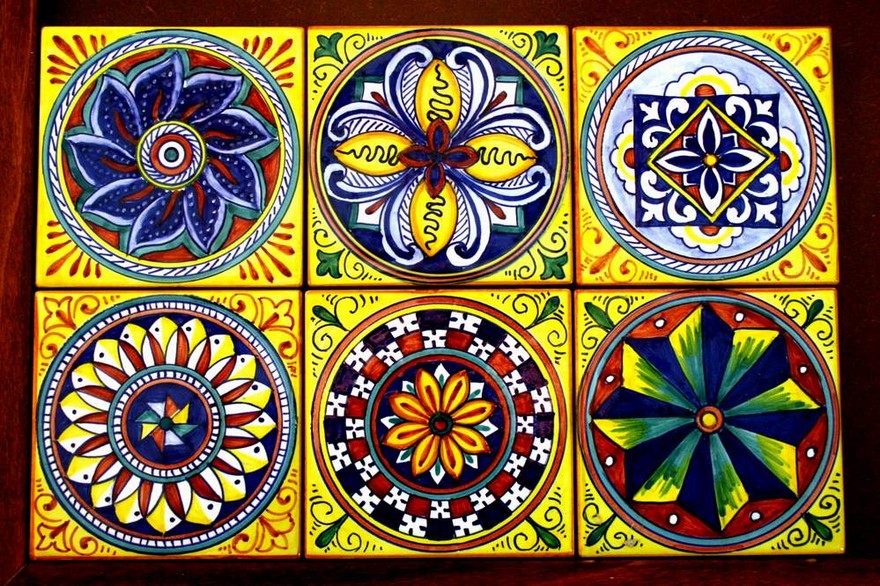 Ranocchia (a former member of city council) and Verbena are dedicated to guaranteeing and upholding Deruta's manual process, attention to detail, authenticity and tradition of majolica ceramics. They have registered the "Deruta" brand in the United States, Australia, China and Europe. Along with managing the family business, Ranocchia wrote "Deruta: Manifatture e Ceramiche 1920-1960 (Deruta: Manufacturing and Ceramics)", a book that details the history, origins and production of ceramics in Deruta during the 20th century.
The town is draped in ceramics — from the lapis blue tiles that lay on the floor of the mayor's office to the table tops of the local restaurants. The people are a testament to their craft and artistry. One can spend the day just walking around and enjoying the art around them, or they can visit the numerous shops to purchase a piece of ceramic art.
By Natalie Trusso Cafarello