Futurism in Italy began as a literary movement, established by poet and propagandist, Filippo Tomaso Marinetti in 1908. Marinetti's manifestos called for the destruction of public establishments, such as libraries, museums, academies, and the cities themselves. Young intellectuals flocked to the heels of his radical ideologies.
Enamored by his desire to bring about true anarchy as a means of revitalizing Italy's then stagnant culture, they began an artistic movement whose far reaching influences would be felt till this day. Futurism hinged on the worship of modern technology and the belief that technology should pervade every aspect of human life. It denounced the cultural heritage of Italy and all previous classical artistic movements. In Futurism, speed and the glories of the machine would be fully realized in art through the use of quasi-cubanistic angular lines, loud brazen colors, and frenzied brushstrokes. Highly influenced by Cubanism and Impressionism, Futurism pushed Italian art into the modern realm with its illustrated literary theories.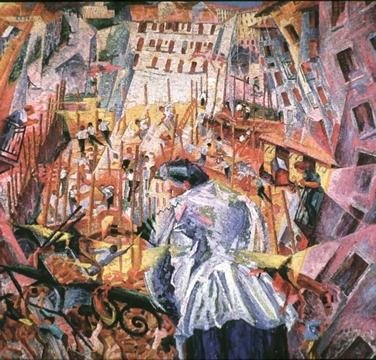 At the forefront of the Futurism in Italy was Umberto Boccioni, an Italian native born in 1882 near Calabria. Boccioni did not start his artist career as a Futurist, but instead began his foray into art as a sign painter when he moved to Rome in 1901. He studied at the Scuola Libera del Nudo at the Accademia di Belle Arti until 1902, when he traveled to Paris to study Impressionist and Post-Impressionist painting. After touring Russia, visiting Padua and Venice, Boccioni settled in Milan. During his time in Milan he became active in the Futuristic movement and helped Filippo Tomaso Marinetti prepare two of his 1910 manifestos. Fascinated by the radical ideas proposed by Marinetti, Boccioni began his series of paintings dedicated to visually depicting the ideas of the Futuristic movement. His 1911 series of painting depicting railroad farewells, States of Mind, embodied the clash between human emotion and the automatism of the machine. In The Farewells, human figures in desperate embraces are swallowed up by the almost audible confusion of machine renderings. Sharp cubanistic lines clamor dark and angry in the image, almost lifting themselves out of the page to assault the viewer. Even the calm and logical train numbers themselves become argumentative as they herald the impending departures that will rip loved ones from each others arms. He published his first text, Futurist Painting and Sculpture, in 1914. Two years later Boccioni would join the army and die tragically in a Calvary training exercise; the result of a fall from a horse.
Like his contemporary, Boccioni, Carlo Carra' also took the long route to Futurism. Carra' was born in Piedmont in 1881 and began his career following his father's footsteps as a muralist and decorator. He studied with Boccioni at the Brera Academy in Milan. It was his interaction with Boccioni and later, Luigi Russolo, that helped transform his vague flowing impressionistic style into its eventual form, which was  to make  him a symbol of Futurism in Italy. He published several manifestos, the most notable of which is The Painting of Sounds, Noises and Smells, written in 1913. By 1941 he was nominated to be a painting professor for the Brera Academy. During his career Boccioni and Carra' fell out over a difference in theology. The differences are evident in his work the Anarchist's Funeral, which depicts the police intervention of Angelo Galli's, and anarchist activist funeral, in 1904. Carra' illustrates the brutal attack on the mourners attending the funeral. In his painting police on horses violently club and whip pallbearers, knocking the coffin to ground. Frenzied brushstrokes combine with pointillist techniques to create a compelling piece in which Carra'¡'s preoccupation with the brutality of man can be openly seen. And though the choice of color and line are reminiscent of Boccioni's The Farewells, it is the uniquely human subject matter that provides clues to why Carra' would later separate himself from the Futuristic movement in Milan in favor of metaphysical painting. His later paintings would endeavor to lift the spirits of his fellow man by relaxing his compact brushstrokes, accentuating vibrant colors, and changing his subject matter to sea and landscapes.
Luigi Russolo's love affair with Futuristic painting was also relatively short. Primarily a musician, Russolo was born into a musical family in 1885 in Portogruaro. His father was the director of the Schola Cantorum at Latisana and the local cathedral organist. Russolo tried his hand at Futuristic painting, but was not satisfied with its results. He instead turned his focus towards Futuristic music and the creation of music out of noise. In 1913 he published his manifesto Art of Noises which described his belief that noise was the music of the twentieth century. He insisted that every form of noise, from the buzz of generators to the cracking of whips, should be incorporated into music. It was this idea that later propagate the inclusion of noise and environmental sound in modern music. To achieve these noises Russolo invented the Intonorumi, or noise machines. These laughable devices were acoustic sound generators which produced the mechanical noises described in his manifesto. In 1914 Russolo gave 12 concerts with his Intonorumi at the London Coliseum and was warmly received by the almost 30,000 people in attendance. Later Russolo would sustain a head injury that would prevent him from expanding upon his Intonorumi concerts. He spent his remaining days inventing experimental musical instruments which combined the principles of his noise machines with the operations of primitive keyboards. When these new instruments failed to gain the popular imagination plans for mass production of them were halted and Russolo returned to the quite contemplation of painting. He painted in a more controlled and restrained, realist style, until his death in 1947.
Futurism can be attributed as the first far reaching modern movement dedicated to rearranging cultural values around technology and the machine ethic. Though the actual art contributed by Futurism is no longer integrated into our society, the principles of Futurism can be seen in movies, music, theatre, and daily customs. With our increasing reliance on technology to feed, cloth, remind, and prolong us we are unwittingly living the Futurist dream. Our acceptance of technology as a necessary and vital part of every day life can be contributed to the manifestos of the Italian Futurists, and without them our tolerance for relying on machines to carry out our basic social needs, like communication and commerce would never had been developed. Expanding computer technologies like the Internet and Ecommerce are the result of the Futuristic belief that society needs machines to fulfill its inherent potential.
By: Jamie Sue Austin