Giorgio Vasari was born in Arezzo, Tuscany on July 3, 1511. He was an architect and painter, known also for his biographical writings, Vite (Lives), dedicated to the lives and work of several great names of Italian art. To most people, however, Vasari remains the name of the architect who ideated the Uffizi gallery and large parts of Palazzo Vecchio, in Florence.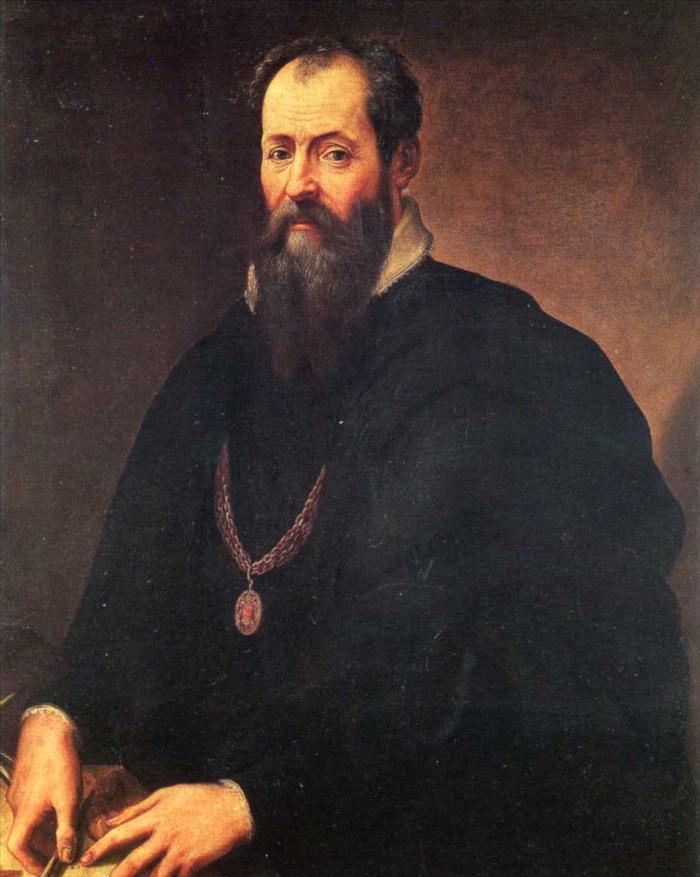 His life and work
When Vasari was young, he studied under the tutelage of Guglielmo da Marsiglia, who was highly skilled in stained glass painting. He was recommended to Marsiglia by Luca Signorelli, who was related to him. Vasari left Florence in 1529, and went to Rome, where he studied the works of Raffaello and other great painters of the Roman High Renaissance. He was employed by the De' Medici family in Florence and Rome, as well as taking on work in Arezzo, Naples and other Italian cities.
His paintings still exist today. His most important work can be seen in Florence, in the hall of Palazzo Vecchio, where he was commissioned to paint the ceiling and walls. Unfinished frescoes can be viewed inside the dome of the Florentine Duomo.
Vasari was more successful as an architect than a painter. His greatest work was the loggia of the Palazzo degli Uffizi, by the Arno. He designed the long passageway that connects it to Pitti Palace and the courtyard that today is a public piazza. Unfortunately, Varasi damaged two medieval churches, the church of Santa Croce, and the church of Santa Maria Novella, by removing the original rood screen and loft and remodeling the retro choir in Mannerist taste.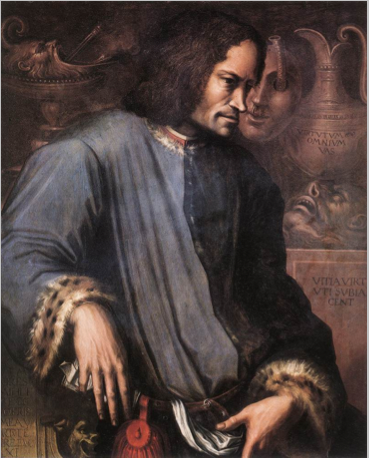 Vasari enjoyed a fine reputation in his day. In 1547, he built a large home in Arezzo, using a portion of his fortune. Today, this building houses a museum in his honor. Vasari himself spent countless hours painting the vaults and walls of his home. While living there, Varasi was elected to Arezzo's municipal council and eventually rose to position in the supreme office of gonfaloniere.
In 1563, Varasi founded the Accademia del Disegno with the Grand Duke and Michelangelo, the latter as capo of the institution.
The "Vite"
Vasari was the first ever Italian art historian. He started an encyclopedia of artist's biographies that continues in present day Italy. The Vite was published in 1550 and was dedicated to Cosimo l De' Medici, the Grand Duke. Included in the work was a priceless treatise on technical methods used by master artists. In 1568, it was partially rewritten and woodcut portraits were included.
Within Vasari's biographies the reader will find many interesting and humorous anecdotes. Though they hold a ring of truth, it is obvious that some of them have been embellished. Today, biographers sift through the archives to paint pictures in words of the lives of their subjects. Vasari had no such luxury.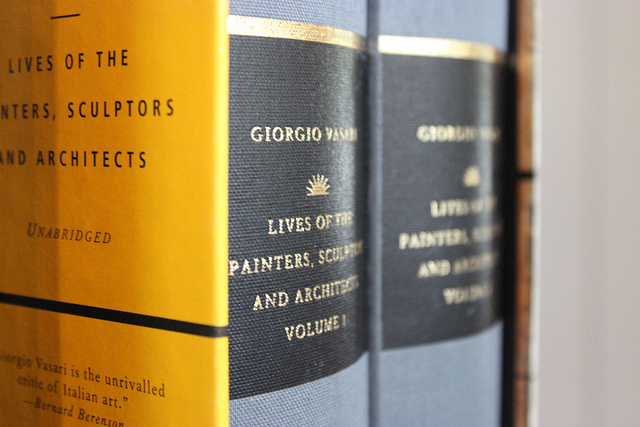 Some modern day researchers have modified the Vite and changed dates to correspond with modern research. However the Vite remains a classic.
At the end of the Vite, Varasi gives a sketch of his own biography and gives details of his life and his family. Varasi died on June 27, 1574, at the age of sixty-three.
By Mary M. Alward