Probably not as famous as Michelangelo or Leonardo, Andrea Mantegna is just as talented and artistically important for the history of italian art. He lived in the 15th century and he was with no doubt a master of perspective, a constant in his work and a characteristic of his talent, which began to develop at a young age at Francesco Squarcione's workshop.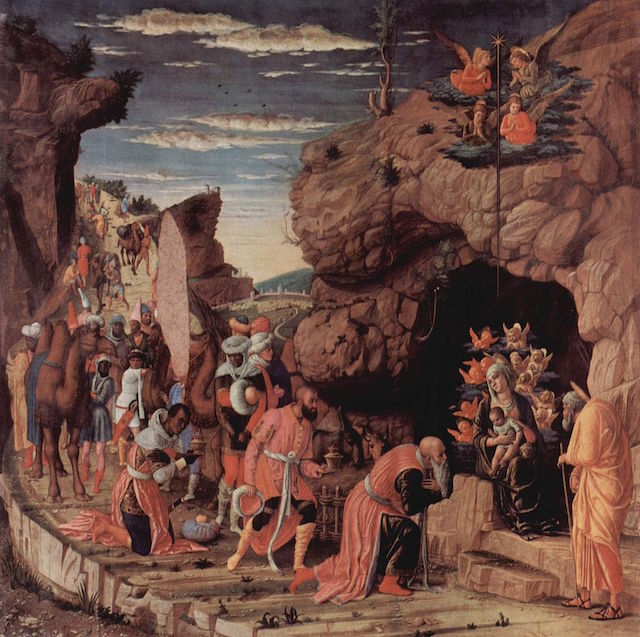 The man, who was a known artist in Padova, transmitted to young Andrea his owe for Classical art and understood quickly his favorite student's talent. So much so that, apparently, Squarcione did not hesitate to make his own some of Mantegna's more innovative ideas: there are records of a lawsuit filed by the artists against Squarcione on copyright issues, proof that such matters, although labeled with different names, were indeed hot topic back then, too.
This early creative period produced a fundamental frescoes cycle in the Ovetari chapel, in Padova's Chiesa degli Eremitani, which unfortunately was destroyed by allied bombings in 1944.
Of his Paduan period, however, other beauties remain: the Polittico di San Luca, today's kept in the Pinacoteca di Brera, in Milan, the beautiful Saint Sebastian, which can be admired at the Kunsthistorisches Museum in Vienna and the Orazione nell'Orto, in London's National Gallery.
Once left Squarcione's atelier, Mantegna began travelling around Italy, establishing himself as an independent artist. He became acquaintance and collaborator of Giovanni Bellini, whose sister he eventually married. Shortly after, Mantegna reached Mantova, where he began working for the Gonzaga family: the period spent at the court of Mantova's "signori" was creatively and professionally fulfilling for Mantegna who produced some of his best known masterpieces here: the Camera degli Sposi, in Mantova's Castello Ducale, the Morte della Vergine, today in Madrid's Prado, Saint George (in Venice) and his, possibly, best known painting of all, the Cristo Morto, today jewel of the above mentioned Pinacoteca di Brera.
During these years, the art of Mantegna kept on improving, especially his concept of perspective, enhanced in ways that probably only Giotto had achieved before.
Like many other artists of his own time, Mantegna, too, was attracted by the charms of Rome, but unlike the majority of his colleagues, he didn't fall for it. In 1488, he completed frescoes commissioned by Pope Innocence III, but felt his creativity bridled by the demands of the Holy See. All in all, Mantegna wasn't particularly inspired by the city, a fact which sets him apart from many other famous artists, who found in the Eternal City an ageless, splendid muse.
Thanks to Isabella D'Este, wife of Francesco Gonzaga, he returned to Mantova, kindling once more his creativity.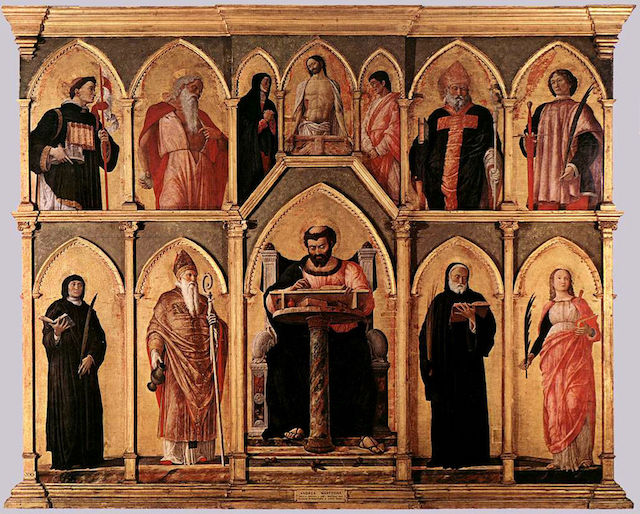 His last creative period was characterised by an even more dramatic use of light and chiaro-scuro, to deliver a striking sense of movement and a powerful feeling of disillusionment. Mantegna died in 1506 in Mantova, striving to survive because of economical difficulties and bitter towards the world of art, which had been neglecting him during his last years.
Mantegna was a very introvert man, whose legacy today rests in his artistic production, more than in a true artistic school followed by other painters.
This doesn't mean Mantegna didn't somehow influence, in a way or the other, those who came after him: Leonardo apparently painted Mantegna's portrait, a clear sign not only of the fact the two knew each other, but also of the respect the former must have had for the latter.
Today, his work is featured in the most prestigious museums of the world, including the Prado, the Louvre, Hampton Court in London, the Dresden Gallery and, of course in many churches and private palaces of Italy.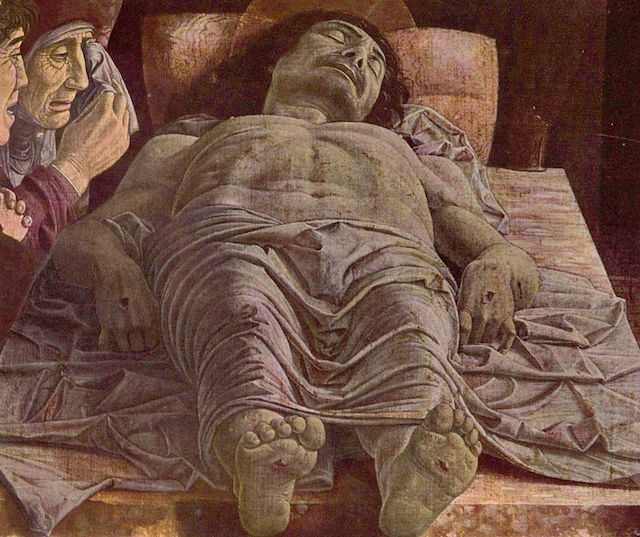 Mantegna's greatest achievement: perfectioning perspective
Andrea Mantegna was one of the first artists to fully understand the importance of perspective in painting. Particularly effective in creating architectural space-enhancing backgrounds, perspective was to become one of the most powerful creative instruments in the hands of painters, which reached unknown before levels during the 17th century and the development baroque art.
Mantegna wasn't, of course, the only artist to use persepective: Bramante, a contemporary of Mantegna, also successfully used it and so did Leonardo, Correggio, Paolo Veronese.
Mantegna was, however, the one who modernized it and set the standards for artists after him. Notable examples of his own use of perspective are the already mentioned Camera degli Sposi, in Mantova, but also his iconic Cristo Morto. The tell tale characteristic of Mantegna's perspective remains his penchant to paint as if looking at the subject from beneath. The technique was already used by Masaccio, but Mantegna experimented so much with it to become its best known representative.
Mantegna's creativity and techniques influenced other great of Renaissance art such as Albrecht Dürer, Giovanni Bellini and Leonardo da Vinci.