Last Updated on November 2, 2018 by Admin
"If Botticelli were alive now he'd be working for Vogue", the famous actor, Peter Ustinov once remarked.
This may be true, but the beauty and delicate details of this great Renaissance artist's paintings will always be admired by critics and the public alike. The Primavera and The Birth of Venus, both visible at the Uffizi Gallery in Florence, are probably his best known works.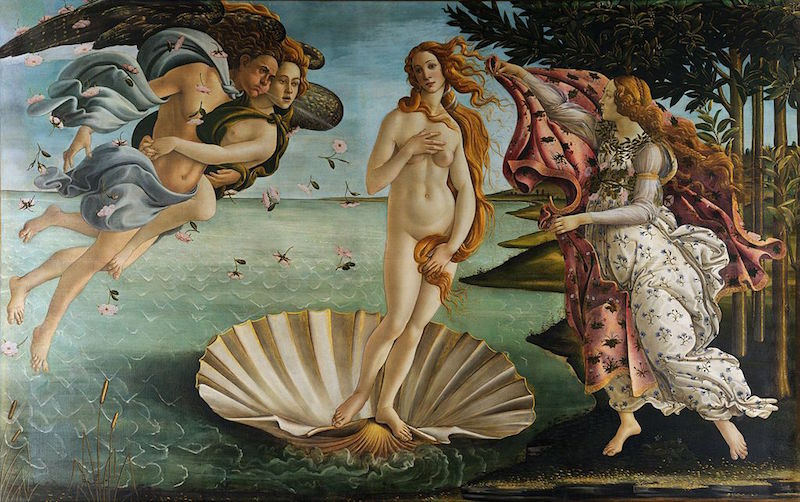 Sandro Botticelli, whose real name was Alessandro di Mariano di Vanni Filipepi, was born in Florence, at the time dominated by Lorenzo de Medici and the fanatical Savonarola, in 1445. Florence was the centre of Italian art and culture, and Botticelli chose to live the whole of his life in this beautiful city.
The painter's parents were considered very old to have a child for the time: his father was 50 and his mother 40. This was seen by many doctors as the reason behind Botticelli's faible's health throughout his existence. However, there were advantages for this child of the elderly: he enjoyed a privileged existence, as his father was already an accomplished craftsman – a tanner – well introduced in the aristocratic world of Florence, especially thanks to his connections with Giovanni Rucellai, a very wealthy banker and politician.
Botticelli's unusual nickname, which means "little barrels," was either that of one of his brothers – Antonio, a goldsmith – or the nickname of the goldsmith with whom he had his first apprenticeship. The Tuscan word for goldbeater is "battigello" and Botticelli would have had to beat gold during his apprenticeship, hence the name.
During the years spent learning and practicing the highly skilled and valued work of goldsmith, Botticelli learned engraving, chasing and enameling, yet kept on thinking about pursuing an artistic career as a painter. So, he became assistant to the highly acclaimed artist Filippo Lippi, who trained him in the art of painting. Lippi's influence on his young pupil is very much visible in Botticelli's gothic-like decorative style and in the powerfully tridimensional expressivity of the gestures and faces of his characters.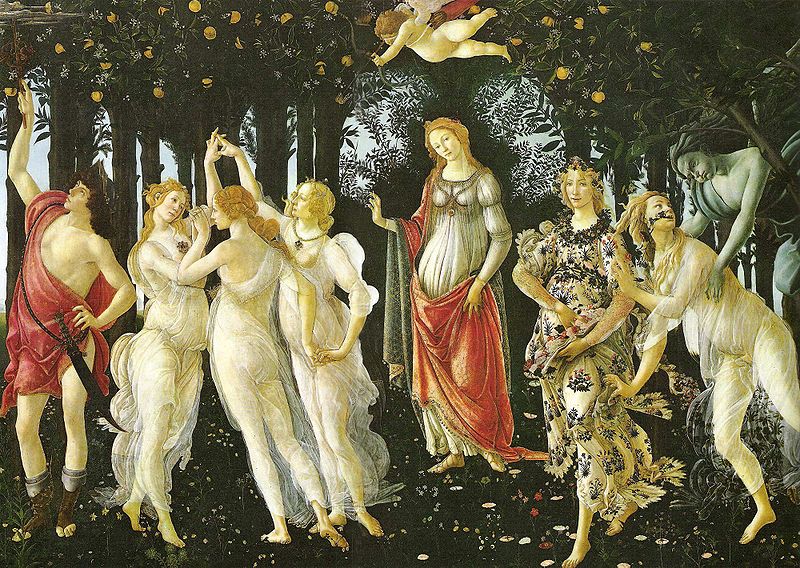 Eventually, the young painter became established enough to open his own workshop and Lippi chose him to train his young son, Filippino, to be an artist. He soon decided to enroll into the Compagnia di San Luca, the city's painters guild, and suggested to his apprentice to do the same.
True success did not arrive, however, until Botticelli began to paint for the Medici family.
He painted a banner with a picture of the beautiful Simonetta Vespucci for Giuliano de Medici to carry in La Giostra (a jousting tournament). Beneath the banner was the French inscription, La sans pareille, "the unparalleled one." Giuliano romantically won Simonetta's heart, who became his mistress in spite of being already married to Marco Vespucci.
Botticelli, on the other hand, was never the marrying type. He apparently told someone who was encouraging him to marry: "I'll tell you what happened one night. I was dreaming that I got married and such was my despair that I woke up. Rather than repeat the same dream, I got up, and walked the streets at night like a madman".
However, he was greatly impressed by Simonetta's beauty, and used her as inspiration and model for the goddess of love and beauty in his wonderful The Birth of Venus, as well as many other paintings. This, as many other paintings of his, including the just as famous Primavera, were based on ancient Greek and Roman mythology.
Pope Sixtus IV, commissioned Botticelli and other famous painters – Rosselli, Ghirlandaio, and Perugino – to paint frescoes for the Sistine Chapel. He was also noted for his beautiful depictions of the Virgin Mary, especially in the Magnificat and in the Madonna of the Pomegranate.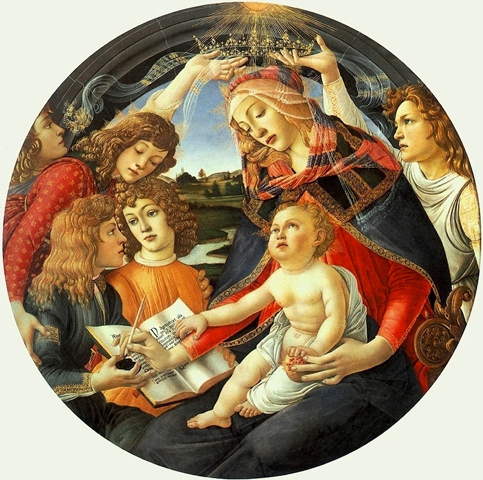 Botticelli's ideal woman, exemplified by Simonetta, had an ethereal look, but was curvy with long blonde hair and blue eyes.
The great Renaissance Master died in 1510 after many years of being unable to paint. He, truthful to himself, never married, but asked to be buried at "la bella Simonetta's feet", thirty-four years after her death.