As the worldwide economic crisis continues to spread and governments try hard to put a stop to it, new opportunities arise that were unthinkable just a few years ago. In the car industry, Fiat's actions are not only historical but unique in nature, strategy, and implementation.
Recently, the three major American car manufacturers — Ford, GM, and Chrysler — were all on the verge of disappearing from the face of Earth, in a rapid process that led to strong government's financial intervention . While Ford was able to turn down public help and survive on its own strength and resources, GM and Chrysler took full advantage of the government's offer, filing Chapter 11 and entering bankruptcy. At this point, Fiat saw an opportunity and after long negotiations with President Obama, Fiat chairman Sergio Marchionne struck a deal that put Fiat and himself directly in charge of Chrysler with the prospect of actually owing the company once the Chapter 11 phase is over. A foreign entity owning an American institution is something virtually unheard of, but this is the nature of today's economy.
Fiat was able to make a great deal playing strong home advantage cards. In serious trouble on its own at the beginning of the twenty first century, Fiat was rescued by the Italian government, an intervention that has occurred several times in the long history of the company. This put Fiat in the unique position of having a track record of handling "near death" scenarios and coming out on top. In addition, it brought to the table the know how to handle a partnership with a government — a difficult task. A secondary but important factor is that Marchionne holds both Italian and Canadian passports, and the owners of Fiat, the new generation of the Agnelli family, are also American citizens. This allows the nationality issue to be easily played both ways, although it was never really an obstacle and the negotiations went smoothly. Of course, Fiat has a very long and successful history in dealing with Italian unions (among the toughest in the world); when it came time to talk business with the unions in Detroit, Fiat was able to deftly handle some very hard and hot social matters.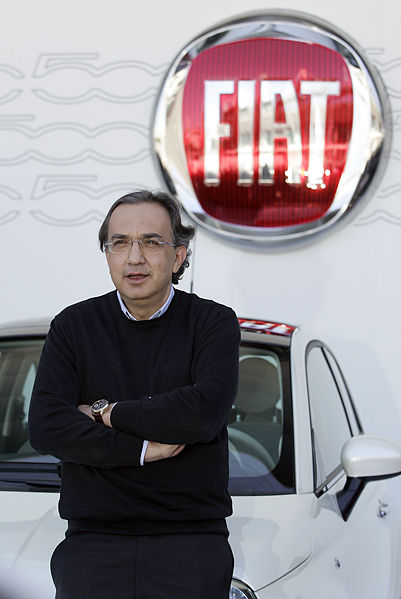 Sergion Marchionne, former Fiat CEO
Regardless of the social and international implications of Fiat taking over Chrysler, the most interesting aspect is the industrial plan that will drastically change the way both companies manufacture and sell cars. The factories will exchange know-how and platforms, allowing a new line of production that is more efficient and allows for restructuring of financial assets. Fiat is banking on three major brands and historical names to revamp Chrysler. One is the American-built Jeep, a true icon in American culture that should appeal to the core of American souls. The other two are very Italian, yet well known by Americans. One is the Fiat 500, a small utility car that seems to perfectly fit the new American trend of going smaller and more energy cautious. The 500 has style and great design, an edgy car that is doing very well in Europe and ready to conquer United States. The second is the brand Alfa Romeo, an Italian institution widely recognized by Americans and owned by Fiat. These three together will initiate a great comeback of the company that brought the Spider, made famous by Dustin Hoffman in The Graduate.
Fiat and Chrysler are also studying an entirely new network of dealerships where the cars will be sold all together under a new great corporation umbrella which is shaping up in Detroit. Chrysler is still in Chapter 11 and the road is still very long, but the directions taken seems to be the right ones.
Chrysler has come back from death once before; an Italian American, Lee Iacocca, was the master behind that operation and therefore it seems only natural that Italy come back into the picture one more time. The near future will tell us the results of this Italian American venture, the first at such a high level that consolidates even further the strong and special relationships that connect Italy and the U.S. since Columbus discovered the land and Vespucci gave his name to it.
Update: in July 2018 Sergio Marchionne died and was replaced as FCO CEO by Michael Manley.