Ludovico Ariosto (1474-1533) was born on September 8th at Reggio Emilia (a town in North Italy, in the Emilia-Romagna region). Born to Niccolo Ariosto (a commander of the citadel of Reggio), he studied law in his earlier years. Then, after five years of law study, he began to study classical literature under the mentoring of Gregorio da Spoleto. Ariosto was going to study Greek as well as Latin, but missed this opportunity when his teacher was sent to France to tutor Francesco Sforza.
The cardinal Ippolito d'Este was attracted by some of the prose and lyrics Ariosto was writing about the time that he was caring for his dying father. Having to set aside his other literary studies, Ariosto managed the family business affairs and the personal matters of nine brothers and sisters. It was during this time he started some of the comedies in his collection. The cardinal took Ariosto under his wing and appointed him a gentleman of his household. It was this cardinal that Ariosto says was ungrateful and paid him poorly. After d'Este started for Hungary in 1518, he asked Ariosto to join him there. Ariosto, feigning ill health, declined. Alphonso, duke of Ferrara, a brother of cardinal d'Este, took Ariosto under his wing now after Ariosto made himself distinguished as a diplomat after two visits to Pope Julius II. On the last trip to the Pope, he was nearly killed.
By order of the Pope he was to be killed, as the Pope was very unhappy with the duke of Ferrara. After losing his salary of 84 crowns a year, Ariosto was appointed to the province of Garfagnana (a historical region of Italy, today part of Lucca in the Appennines).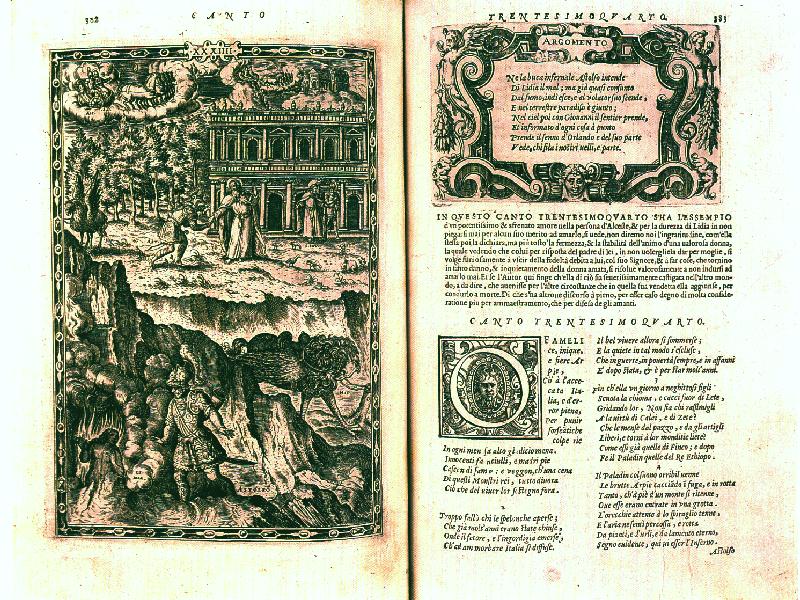 It was here he stayed for three years, his governing satisfying both the sovereign and the people of the province themselves.
In 1508 his play "Cassaria" was shown, in 1509 it was "I Suppositi". Seven years after that, the first version of the "Orlando Furioso" (Orlando Enraged) was published in 30 cantos. The final version of "Orlando Furioso" (the 3rd edition) was published in 1532 in 46 cantos.
Ariosto died a year later, on July 6, 1533.
By Tina Samuels