'Se dici le bugie ti si allunga il naso come a Pinocchio': if you lie, your nose will grow longer, just like Pinocchio's! This is a famous phrase uttered by parents so often and so commonly that every Italian has heard it at least once during their childhood. The famous character was created by Carlo Lorenzini, most commonly known as Carlo Collodi; its story is known everywhere in the country – and abroad – and it is one of the best known and loved Italian fairytales.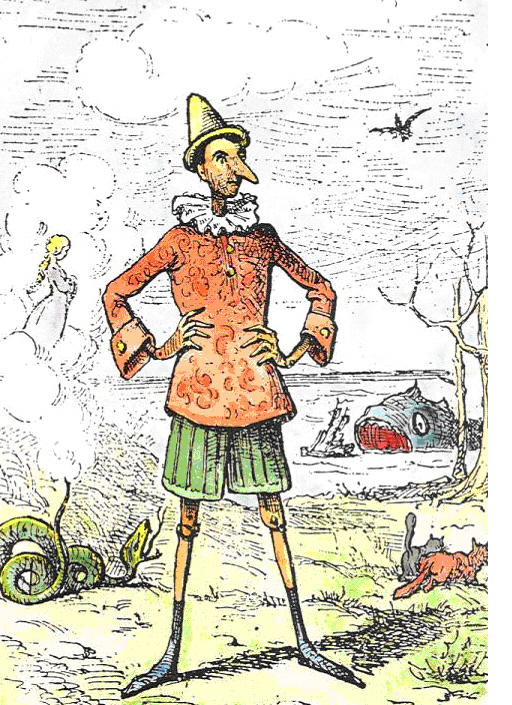 Pinocchio's nose is truly what made him irreplaceable in Italy's collective imagery: known for having a normal nose that becomes longer when he lies, he is a wood puppet, carved by the lonely Mastro Geppetto in his workshop. Pinocchio marked the history of Italian fairytales by means of his incredible adventures and open generosity, which always caused him problems. In spite of being over 100 years old (his first appearance dates back to 1881), Pinocchio never went out of fashion. A true celebrity in his own merit, people's love and devotion to the character is witnessed by the celebration of his birthday: the festa di compleanno di Pinocchio.
Collodi, the hometown of Pinocchio in Pistoia (Tuscany), celebrates the famous character every year at the end of May. Several events, all revolving around Pinocchio's adventures, are organized: games, shows and banquets, as well as a competition rewarding the best drawing of Pinocchio. This particular event was inspired by the initiative "Pinocchio, l'Italia e il ciclismo" (Pinocchio, Italy and cycling), and provided the mascot for the 2013 Florence bicycle race.
Pinocchio, we said, was first introduced to Italians in 1881 in the Giornale dei bambini di Firenze and has never been out of popularity, his adventures being inspiration to books, movies, cartoons and musicals. More than a simple wooden puppet, Pinocchio is a timeless Italian novel for children and adults, which is read and re-read with joy by all.
The Parco di Collodi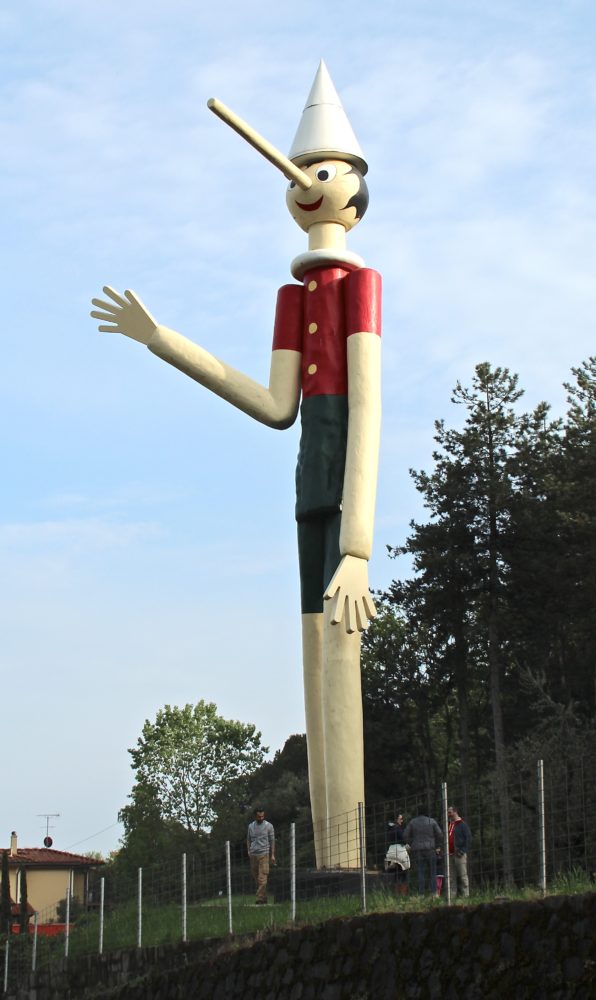 The Parco di Collodi has been created in honor of this famous little wooden puppet. Unlike any other amusement park, it has been conceived as a real temple of childhood, where to live again – and this time in first person – the many, fantastic episodes of the book and meet its most famous characters. Entirely inspired by 'The Adventures of Pinocchio', it was created in 1956 by Emilio Greco, Venturino Venturi, Pietro Consagra, Pietro Porcinai, Giovanni Michelucci, and Marco Zanuso. Its fame increased incessantly and it became well-known all over the world. A walk through its many paths and buildings allows people to feel the magic of this fantastic spot where age doesn't seem to be relevant. The park offers an itinerary created from different episodes of the book and shown through statues and buildings. Moreover, it is also possible to find a museum, the Museo di Pinocchio, where pictures, costumes and objects related the story are exhibited. The park is a lively destination for literature lovers, too, as it is possible to find a virtual library where people of different nationalities have the opportunity of reading the numerous translations of the novel, and children can play or watch shows.
If you want to have more information about the park and what you can do once there, visit  http://www.pinocchio.it.
Together with Pinocchio's park, in Collodi you can visit the Storico Giardino Garzoni, one of Italy's most beautiful gardens.
In spite of his age, Pinocchio is still considered one of Italy's best-known fictional characters. He is proof that, despite age, there is always a fanciullino, a little child, in each and every one of us: that part of ourselves that never wants to grow up, where a beautiful fantasy world comes to life every time a book as Le Avventure di Pinocchio is read.
Edited by Francesca Bezzone