As discussed in Italian Designer Handbags Part I, in the Part IV and Part V of this series we describe the Italian Designer bags that come from fashion houses that started with clothing, but have gone on to make statement handbags.
Versace Designer Handbags
Versace as a brand has always been known for its ornateness. Gianni Versace had a taste for indulging the senses, often using a lot of gold and metal in his clothing, and Donatella Versace has carried on this tradition. In the Versace designer handbags, this translates as bags with lots of hardware, with surface details like embossing, embroidery, and the use of exotic skins.
Halle Bery as the face of Versace Bags in 2006
The woman who carries Versace handbags is bold, go-getting, and an unapologetic show-off. Take the Versace Quilted Snap Out Of It Bag, for instance. With its quilted leather, glamorous buckles, and gold leather handles, this bag is an attention grabber.
Distressed Patent Shoulder Bag
For that matter, one of the typical looks of Versace designer handbags is embodied in the Versace's Distressed Patent Shoulder Bag. It is loaded with hardware, like the golden medallion and the hard-to-miss gold studs, it is big enough to tote a fashion arsenal, and screams "I'm rich, look at me!" to the world in general.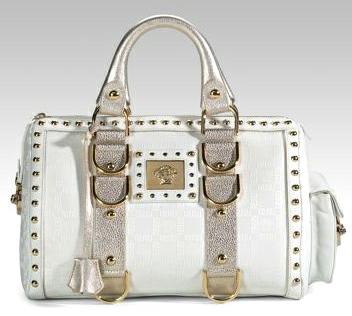 Versace Madonna Bag
While that might not be to everyone's taste, there are some illustrious and controversy-loving fans of Versace. Madonna has been a friend to Donatella, and the iconic Versace Madonna Bag embodies the essence of both these ladies, the one who inspired it and the other that designed it. The gold studs and the signature medusa logo plate are as just about as 'Versace' as Versace can get.
Versace Bags on the Runways in 2008

Versace designer handbags cost an arm and leg, and openly declare this through their unusual and ubiquitous hardware, use of different textures of leather, through their attention to detail, and use of exotic skins. The Versace glamor statement was abundantly on display in their Spring 2008 collection, and would keep bold fashion mavens going back to the brand for years to come.
———-*———

Valentino Designer Handbags
Valentino is a brand of refined glamor, of formal couture, and timeless elegance. This is reflected in their bags, be it the  Valentino Bow Clutch, where the material is gathered and pleated in a striking bow on the corner or the Valentino Couture bag which has been a classic staple of fashionista wardrobes. A woven top, braided handles, and great dimensions make this bag equally good for both casual or formal occasions.
Valentino Striped Bow Clutch Carried by Jessica Simpson
Valentino Couture Bag Carried By Jennifer Hudson

In 2007, the year the designer Valentino bowed out of fashion, two Valentino designer handbags made it to the 'it' list, the Valentino Maison, and Valentino Histoire, both of which were toted by celebrities. The Valentino Maison bag is a pleated beauty, with stitched and studded versions and its soft, unstructured elegance made it a celeb-favorite. The Valentino Histoire bag has been carried by Angelina Jolie, Jennifer Garner, and Kate Beckinsale, and its double front pockets, beautiful braided handles, and availability in numerous versions has made it ideal for fashionable ladies on the move.
Katherine Heigl with Valentino Maison                Angelina Jolie with Valentino Histoire
Valentino designer handbags are for women who want to look good at all times: beautiful, gorgeous and uncontroversial. Valentino bags are nothing if not conventional. But now and then, there is a touch of quirkiness that prevents the line from becoming boring, and keeps it stylish and trendy at all times.