Last Updated on February 16, 2021 by Katty
The Necessary Accessory
A tie is a great finishing piece. It's an accessory that, for lack of a better term, ties a suit together. In a previous article, we've looked at some elegant Italian men's suits. Now that we've done that, we can take a few moments to view some wonderful Italian-made ties.

Armani gives us this fantastic gray, silk tie. It's neutral and showcases the Armani logo. I would have to say that this piece is a great accompaniment to just about any color (or kind) of suit. However, I'm sure it's best suited for the Armani collection! Obviously, they'd be a match made in fashion heaven!

I love silk ties. They feel and look so polished, professional and beautiful. This red and white print from Romeo Gigli is eye-catching. It's also elegant. It looks a bit floral and a bit art deco. You can wear it with a black or gray suit for a high-powered business meeting or wear it with lighter-colored linen for a family function or date. It's up to you!
Gianni Versace's line is well-noted for its richness of fabric and detail. This tie showcases the priorities of the Versace men's line just as well as anything else I've ever seen. I love the regal crimson-red and black checks. I adore the golden-hued design. This is a tie that's fit for a prince. The man who wears this will exude power and confidence. This is a signature piece, one that must be worn with a simple pin-stripe or solid, dark colored suit.

Here's another Versace tie. I feel I would be remiss if I didn't showcase this gorgeous fantasy-pattern tie. The colors are fantastic. They're a deep, rich purple and an indigo blue. The Versace medusa is scattered throughout the piece. Don't you love the design? I do. It's so striking, and it looks almost metallic! This tie is a masterpiece! I feel that it can take you anywhere. Wear it with ambition!

Leave it to Dolce & Gabbana to take something as commonplace as a man's tie and turn it into a fashion statement. This tie is for a man who knows what he wants and how to get it. It's 100% premium woven silk. The detail is exquisite. The primary color is light blue with white strands woven in for effect.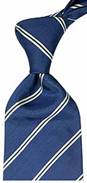 Look at this gorgeous bember-lined tie! It comes complete with the Salvatore Ferragamo logo interwoven on the underside. The regimental pattern of thin white stripes on a rich-blue background is beautiful. And simple. Elegant and professional. This tie can be worn with navy, gray, pinks, blacks and so forth. It's versatile. The silk/cotton blend assures you that the tie is also durable. It's not too delicate to be worn daily if necessary.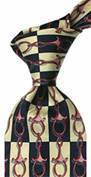 The last tie I'm going to look at in this article comes to us from Laura Biagotti Uomo. I just love the detail. It's got a square background in black and a neutral cream. On top of that is a rich, deep, red chain-link pattern. It catches the eye beautiful. Of course, this tie is also made of silk. For me, there is no other kind of tie! Whether you're creative, corporate or intellectual, this tie can find a solid home in your wardrobe. It's a show-stopper!
Before I bid you arrivederci, I'd like to leave you with a few tie-shopping tips:
Select an appropriate length and width. That depends on your body size
and fashion trends too!
Try not to buy on sight alone. Touch the tie. Feel it! If you don't like the feel, you won't wear it!
Remember to check the inside of the tie. The inside should be lined with a stiff material so the tie will keep its shape no matter what!
Ciao and happy tie-hunting!
Related Articles
Mens Guideline for Ties
Ties Tips