Anna Dello Russo & Tommy Ton Launch a Photography Retrospective in Toronto
We've previously touched on Anna Dello Russo, her very unique personal style, and her position as a leading figure in the current crop of Italian fashion mavens. In recent years ADR, as Vogue Nippon's editor-at-large is known by her admirers, has become famous not just for her work behind the camera but for what she wears in front of it. Dello Russo's rise to fame has been closely linked to her relationship with photographer Tommy Ton who launched his career snapping street style photographs for his blog Jak & Jil.
Today the Canadian Ton doesn't just attend the shows for himself, instead he's there taking photographs for the likes of Style.com and has also tried his hand at editorial spreads (not surprisingly his first was for Vogue Nippon). The photographs that Ton has taken of Anna Dello Russo have launched her to the status of style icon—and in the process he has also made quite a name for himself in the fashion industry. So much so that there is now a retrospective of the photographs that document their relationship. If you're in Toronto you can see the photo exhibit When Tommy Met Anna at The Room at the Bay on Queen Street until April 29th. The duo was in Toronto today for the opening of the exhibit, a real celebration of the Italian style that has resonated deeply in North America.
"I do remember the first time I photographed her. It was March 2007, outside Galliano. She was wearing a gold D&G chain mesh top. She was very hesitant about being photographed," Ton recently told Style.com's Matthew Schneier. "The next season, that's when I started to realize this woman really dresses up, so I started taking her picture. I had a hard time photographing her, asking her to stop, because she wasn't used to the idea of being photographed. It took maybe a couple seasons to realize she's like a creature in the wild—you have to photograph them while they're being who they are."
While Ton finds it difficult to narrow down a favorite ADR outfit—there are so many to choose from—he does recall a particular one-shouldered red Lanvin dress that Dello Russo wore to the Bottega Veneta fashion show in 2009. Ton recalls thinking, "'It's 9 a.m. and she's wearing this one-shouldered cocktail frock!'… It's hard to pick a favorite, she keeps outdoing herself over and over. When she started wearing fruits on her head, I said to her, the next thing'll have to be a piece of cheese on her head, with a diamanté mouse on it."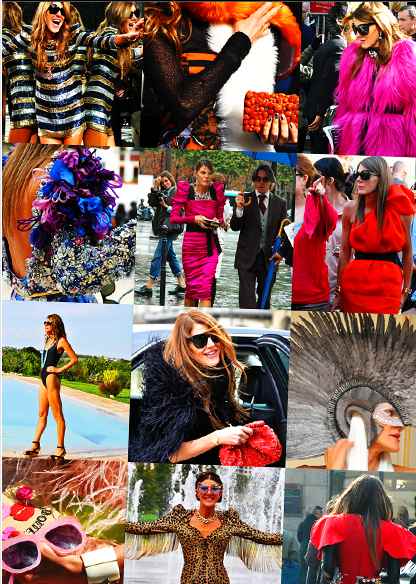 And anyone familiar with ADR's whimsical and courageous sense of style wouldn't be surprised if she did. One of the reasons that Anna Dello Russo has become such a force in the fashion and blogging world—an icon known by her initials, celebrated with photo exhibits and marketing her own perfume—is that she takes risks with her clothes and she absolutely loves fashion. When in public Anna Dello Russo always takes the opportunity not just to dress up but to be slightly outrageous, a real visionary who celebrates the imagination of the world's great designers.
ADR's gregarious personality and her willingness to take risks has also made her more approachable than some of the other big names in the fashion world according to Ton. "The difference between her and Carine and Anna Wintour is that Anna [Dello Russo] is just so gracious, and so easy to approach," the photographer explains. "She's someone who loves fashion, and if you're someone who adores her and loves fashion, she's more than willing to stop and take a photo, or just talk to you. Not everyone's an ice queen."
Anna for her part now recognizes Ton as an influence in the way she views fashion. "He is my guru," she told Style.com. "For me, Tommy is now my fashion eyes." ADR also values Ton's talents as a photographer, particularly one of his trademarks—the brilliant way he captures the details of an outfit. A hat here, a bag there, Ton brings outfits to life by taking the time to zero in on their individual parts.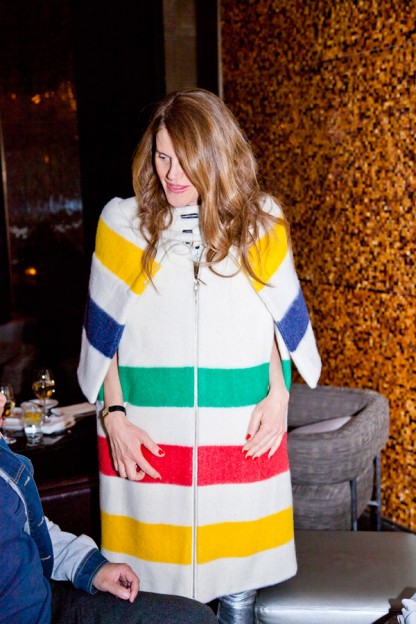 "He has incredible eyes for details," Dello Russo says of Ton. "That's a talent as a fashion photographer. To emphasize what you see. The crop has to be perfect…We share the fashion obsession."
As for the rumor that in her off time ADR prefers sweats? Style.com asked the photographer that very question and he recalled a recent visit after Paris fashion week at Anna's home when she answered the door in sweats—and heels. Absolutely unique, absolutely herself, that's ADR, it's also a big reason why Ton's photographs of her resonate with so many and are such a great example of what the fantasy of fashion is capable of.