Last Updated on April 24, 2019 by Katty
Giorgio Armani is, to many, Italy's premiere fashion designer. His work is crisp, clean, elegant and tailored. Armani's designs have changed the look and feel of contemporary fashion in business, entertainment and the fashion industry itself. Armani is a no-nonsense designer who came from humble beginnings in Piacenza, Italy, where he was born on July 11, 1934.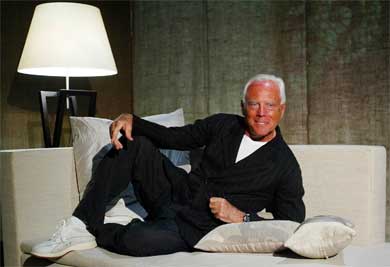 Young Giorgio wanted to be a doctor, not a fashion designer. He attended local public schools in Piacenza and completed two years at the university there, studying medicine. However, Giorgio soon realized that medicine was not the career for him. He didn't like the sight of blood – to cite just one reason. Anyway, medicine's loss was fashion's gain. In 1957 and still in his early 20s, Giorgio took a job at La Rinascente. He eventually became a buyer for this most famous Milanese department store.
A few years later – in 1964 – Armani, who had never received any formal instruction, became an assistant designer for a line of men's wear, called Hitman, under Nino Cerrutti. He worked with Cerrutti for 6 years. In 1970, due largely to the encouragement of his longtime partner, Sergio Galeotti, with whom he cohabitated for many years before Sergio's passing of AIDS in 1985, Armani struck out on his own. He became a freelance fashion designer. By 1975, Armani and Galeotti had established Giorgio Armani S.p.A. Giorgio had created his own line of men's and women's ready-to-wear clothing.
During the early 80s, Armani hit Hollywood. He designed the wardrobe for Richard Gere's character in American Gigolo. Soon enough, Armani fashions were being worn by celebrities such as Michelle Pfeiffer, Jodie Foster and Robert DeNiro. Giorgio Armani's fashions have graced the Red Carpet at many entertainment industry events for decades.
Armani also created the 'power suit' which has been the blueprint for business wear for over 20 years. In 1982, Armani graced the cover of Time magazine, the first designer to receive that honor since Christian Dior. Other awards that Armani has won during his long and illustrious career include:
Neiman Marcus Fashion Award (1979)
Cutty Sark Award for International Top Men's Designer (1980, 1981, 1984, 1986, 1987)
Commendatore Dell'Ordine Al Merito Della Repubblica (Italian Government Award) in 1985
Occhio D'Oro as Best Designer for Spring/Summer Collections in 1984, 1986, 1987, and 1988
Gran Caveliere Della Repubblica (Italian Government Award) and the Lifetime Achievement Award for men's wear by the CFDA in 1987
the PETA Award in 1990
the Fiorino D'Oro Award for promoting Made in Italy image in 1992
Aguja De Oro Award for Best Designer of the Year in 1993
GQ's Man of the Year Award in 1996
Goodwill Ambassador for the United Nations High Commissioner for Refugees in 2002
The Armani label has grown into a multi-billion dollar empire. It includes brands for men's and women's wear (Emporio Armani), jeans (Armani Jeans), underwear and swimwear, accessories, fragrances, skiwear, eyeglasses (Giorgio Armani Occhiali) and more. Giorgio Armani himself can sum up his design philosophy, which has proven to be so successful, best, "I design for real people. I think of our customers all the time. There is no virtue whatsoever in creating clothing or accessories or clothing that are not practical."
By Domenica DiPiero