The Favorite Scent of the Stars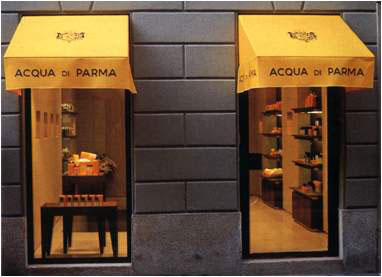 Acqua di Parma boutique
Movie stars, such as Audrey Hepburn, Ava Gardner, David Niven and Cary
Grant, all wore Acqua di Parma's classic scent. This famous Italian
perfume matched their elegance, class and style.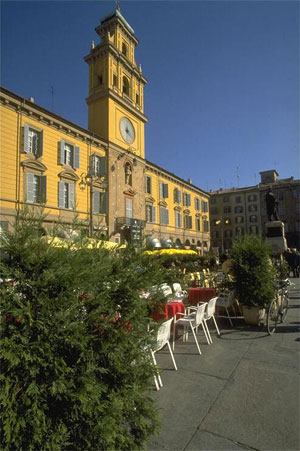 City of Parma
The company opened its first small factory in Parma in 1916
and produced its first scent, Acqua di Parma Colonia.
This was designed to scent the handkerchiefs of elegant Italian men,
at first.
During the most fashionable era of Hollywood – the thirties to the fifties-
this light, woody scent with its tones of lemon and rosemary found its
appeal. The other heavier, stronger perfumes on the market, mostly from
Germany, began to lose their allure. Acqua di Parma became 'the classic
symbol of Italian elegance.'
Unfortunately the popularity of this delightful scent began to decline
during the sixties and the nineties. It was rescued by three powerful
Italian businessmen who all retained a fondness for the classic scent
– Luca Montezemolo of Ferrari, Diego Della Vale who owned Tod's, and
Paolo Borgomanero, a shareholder of the lingerie company, La Perla.
In Montezemolo's case, the Acqua di Parma Colonia scent was his father's
favorite. They kept the famous cylindrical bottles and the bright yellow
packaging while introducing many other products. These included candles,
linen, an aromatherapy line and new perfumes.
The perfume again became popular with celebrities, such as Sandra
Bullock and Sharon Stone.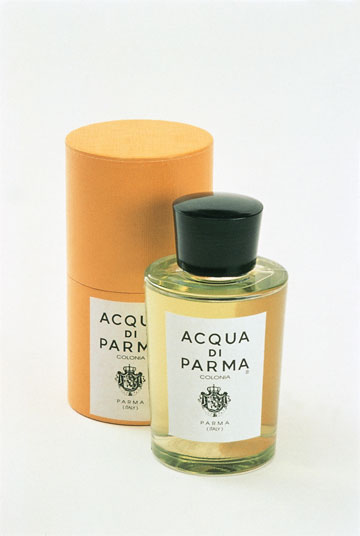 Cologne
The aromatherapy line, Blu Mediterraneo, was inspired by the Italian
landscape and includes bath oils and perfumes. Like the original perfume,
this line is unisex, so the products are suitable gifts for men and
women.
In 2001 the company was sold to the extremely large high-end brand company,
LMVH, but the perfumes are still hand-distilled in Italy.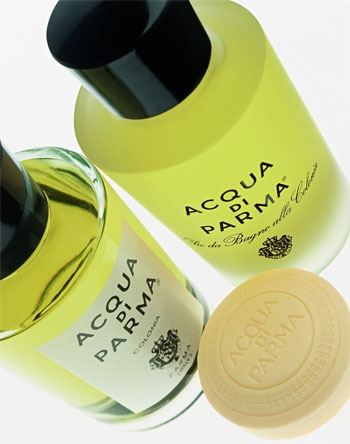 Cologne Oil Soap
Last year Acqua di Parma introduced its first female fragrance, Iris
Nobile, which was created by the company's 'nose', Paola Paganini. Inspired
by the beautiful iris garden in Florence where growers compete for various
prizes, she decided to base the perfume on this expensive and delicate
flower which is the emblem of Florence. She used the common variety,
the blue pallida, and the oil from the rhizomes or thickened stems.
These are gathered, dried and distilled over three years.
Catherine di Medici called the scent of the iris, 'the Queen's water',
and introduced it to France. Perfumes created from this aristocratic
flower have a long history and were very popular in nineteenth century
Italy, so it is good to see that they are back in fashion.
Other Acqua di Parma perfumes include the elegant Colonia Assoluta,
which is packaged in the company's signature 1930's Art Deco bottle,
and the evocative Fico di Amalfi, based on the Mediterranean smell of
the fig. This is in the Blu Mediterraneo range.
The company now supplies its toiletries and lavish robes to many luxury
hotels and cruise ship lines, such as Silverseas. Its products are sold
in stores all over the world, including Harrods, Bergdorf Goodman and
Neiman Marcus. These are certainly worth buying for the pleasure of
adding a touch of Italian elegance to one's life!
Lisa-Anne Sanderson