Last Updated on October 31, 2018 by Katty
I'm always on the lookout for beautiful things. I have an eye for fashion and for beauty. It's a gift. Yes, I joke a little bit; but, I am completely entranced by jewelry. The song does say Diamonds are a girl's best friend, after all, doesn't it?
Italy has a fine tradition of jewelry-making, stemming back thousands of years. In fact, 3,000 years ago ancient Etruscans, the people who lived in what is present-day Tuscany, began working with gold. Their creations were stunningly beautiful and held deep religious, political and social significance for the wearers.
The following pieces of jewelry (which I happen to adore) are made in the spirit of that old-world tradition. The craftsmanship is flawless and the results are gorgeous. If you want to know where you can get these items, just use our contact form.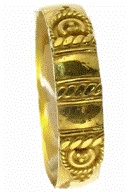 1: This is the ring of an ancient warrior or king. See the strong detail on an otherwise simple band of 18-karat gold. Just look at the braided detailing that's so very Etruscan! I know this ring would make a great gift. I almost envision it as the perfect wedding ring for some lucky groom. A piece like this is meant to endure, just like love is?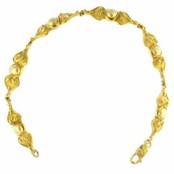 2: Bracelets caress the wrist and adorn its sheer delicacy. This gold piece is really exquisite. Gold hearts face each other and are only separated by a sumptuous pearl. I envision this item on the arm of a young girl about to make her first Holy Communion or an adolescent who's about to go out on her first date. This precious item should belong to someone who's treasured, shouldn't it?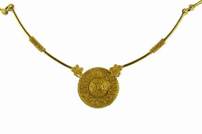 3: Speaking of precious treasures, this necklace is befitting an empress of ancient Rome. She who wears this golden trinket rules her domain. The swirling detail is very difficult to achieve. It's beautiful and oh-so-powerful. I love the flowers that beset the doubloon-like focal point. They're a delicate contrast that adds depth and dimension to this impressive, hand-crafted piece of jewelry.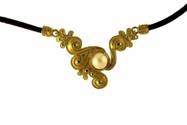 4: As I was checking out necklaces, I felt that I would be remiss if I failed to mention this item. I don't know much about jewelry-making; but, I do know that the pattern shown here is not easy to achieve, certainly not with 18-karat gold. I love how the swirls and curves accentuate the smooth elegance of the pearl which rests so calmly in the center. This item could work well on the neck of a college student who wants to show her fun and funky side or a fashionista who can combine traditional elegance with contemporary cool.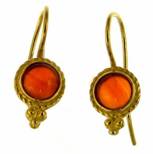 5: I have a confession to make. Yes! I'm addicted to earrings. I have over two hundred pairs sitting in several jewelry boxes. Over the years, I guess I've just accumulated them. I am not proud to admit this, but I've never even worn some of my earrings. Of course, I'd wear both of these items I'd wear over and over again. They're made of 18-karat gold so you don't have to worry about fillers and impurities that can cause allergic reactions in those of us with sensitive ears (like me). The designs are really breath-taking. I think these pieces speak for themselves.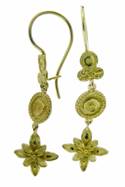 6: All in all, I'd say that each of these items is a true testament to the time-honored jewelry-making Etruscan traditions. They are a piece of Italy's past that shows just how beautiful her future can be.
By Domenica DiPiero