Roberto Capucci: Italian Fashion Sculptor
Roberto Capucci has been referred to as a fashion maestro, an architect of clothing and also a sculptor, but to put it simply, he has been a leading Italian fashion designer. Hailing from Rome, his sculpted apparel much like the abundance of Roman sculpture on display in that wonderful city, is a display of inventiveness. This makes it all the more timeless for its ability to stand out even as the fashion world employs trend after trend with each passing season.
Capucci was born to a wealthy Roman family in 1929. He studied at Rome's famous Accademia di Belle Arti where his artistic ability was already quite pronounced. He worked for a while with the designer Emilio Schuberth but soon opened his own fashion house in Rome in 1950 when he was only twenty-one. That same year, he enjoyed a brilliant showing in Florence.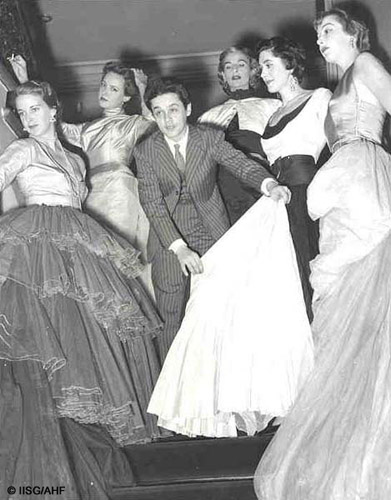 The young designer was judged the best Italian fashion designer, selected for praise by Christian Dior in 1956. The same year, he received the Medal of Gold of Venice. By 1962, he had another successful couture house operating in Paris, but his main home was established in 1968 at the via Gregoriana in Rome.
Capucci never designed for commercial success. The runway shows were all held in silence, lacking the buzz and brou-ha-ha that is now customary with any fashion show. He never agreed to the duplication of his gowns for his customers. They had to fit into his runway dress models, or not buy the pieces at all.
Of his inspiration, he has said: "Nature is my mentor. In my garden, quietly watching with a childlike sense of fantasy, has helped to instill in me a sense of balance and a constant search for perfection, proportion, harmony." He has chosen unusual mediums, including pebbles and liquid-filled pockets of plastic to express his muse, often following geometric lines completely at odds with the shape of a woman's body.
His academic interest in fashion led him to withdraw from its commercial aspect in 1980. It was in the subsequent period of 1982 to 1996 that he created one collection a year for different cities like Milan, Tokyo, Florence, Rome, Berlin, Vienna, Graz and Venice, where they were displayed in museums as exhibits with the work of other great artists.
Several of the most famous museums in the world have shown this maestro's body of work: Rome's Galleria di Arte Moderna, Florence's Galleria del Costume at Palazzo Pitti, New York's Guggenheim Museum, London's Victoria and Albert Museum and Vienna's Schonbrunn Castle. Many of these exhibits featured more than one hundred examples of his clothing creations as well as many illustrations.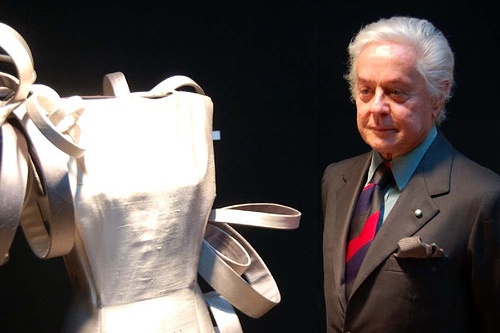 While Capucci has many notable strengths, he is best known for his daring fashion experiments–those garments that are sculptures of apparel. His innovative fabric cuts have achieved clothing that can only be described as architectural. While his creations are emphatically not everyday wear, they are the grand event of apparel.They are shows-toppers, clothing that is museum quality, creations that are dramatic displays of what could be achieved if creativity alone was the sole purpose of fashion. All his clothing marks him as a master of unsurpassed creativity.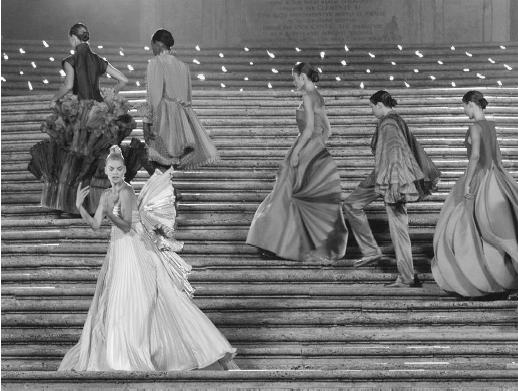 His interest being in thefashion of ideas and in the creation of fashion without an emphasis on function, he was awarded the honor of a Full Professorship by the University of Peking and Shanghai where he held lessons on the art of design in 1995.
The House of Capucci employed Gianbattista Valli from 1988 to 1990, and in 2003 the house sprung a surprise to the fashion world during the Milan Fashion Week with a runway show.
In February 2003. Belgian designer Bernhard Willhelm created a collection after studying the Roberto Capucci design archives, and with inputs from the maestro himself. Spanish designer Sybilla, and Tara Subkoff of Imitation of Christ followed in february 2004. But Capucci is more at home with exhibitions of his works in museums, and has become more a design prophet than a designer.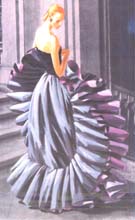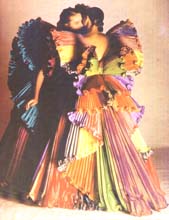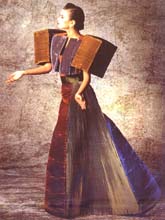 Capucci has gone beyond the expected limits of dress design. His gowns may flow with the body and they may, indeed, stretch a body's limits. But, when worn by any woman, they are transformed into a spectacular display of fashion at its acme of beauty, innovation, and artistry.
Edited and updated by Damyanti