Dolce & Gabbana: Fashions of Fantasy
Dolce & Gabbana celebrates the voluptuous woman and the metro-sexual man. The Dolce and Gabbana woman glories in her curves and her inherent sexuality: Madonna is the brand's most famous muse. Being one of the world famous singer's favorite designers helped Domenico Dolce and Stefano Gabbana immensely on their climb up the ladder of success. Together they have designed a great many costumes for her to wear in her world tours. And their work just keeps getting better.
Domenico Dolce was born on August 13, 1958 in Polizzi, Generosa (near Palermo, Sicily). He got an early start in the fashion design business working for his father's small company. Stefano Gabbana, of Venetian origins, was born on November 14, 1962 in Milan. He began his academic career studying graphic design but soon turned his attention to his real love, that of fashion.
Both men spent two years working as assistant designers but eventually decided that they wanted to start their own design studio. They made it happen in 1982. They both had an interesting and eclectic mix of ideas to bring to the clothes they designed and it was believed (and still is) that Dolce's ties to Sicily inspired many of their fashions.
This dynamic team got their first break in 1985 when they were among three names chosen to present their collections in the new talents category at the shows held in Milan. Their work was met with much praise and admiration. Before long, Italian fashion, a new generation referred to as "Made in Italy", became world-renowned. Dolce and Gabbana were convinced they had a unique approach to fashion and their first success gave them the confidence to move forward with their designs and expand as they saw fit.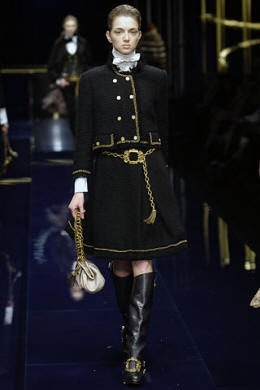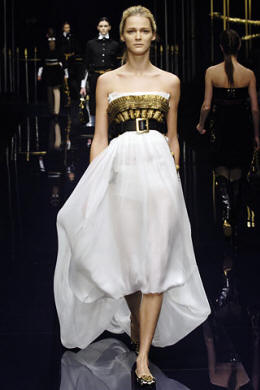 The unique vision of the duo is evident in all of the clothes they make, clothes that have "real" women in mind. This team does not make clothes that just look good on models on a runway; instead they want women from all different types of backgrounds, cultures and lifestyles to enjoy wearing their fashions.
The designs of Dolce & Gabbana draw inspiration primarily from Mediterranean colors and culture. The clothes are not rigid or unyielding, but instead cheerful and sensual, bringing into fashion mainstream silhouettes and fashions like satin corset bodies, black hold-up stockings and fishnets, which were so far only part of cabarets and exotic clubs. The post-feministic women who are confident in their own abilities and not afraid to appear sexy have lapped up the Dolce and Gabbana creations in lace, silk and wool. Both men put everything into the work they undertake, imbuing it with a sort of passion and dedication that has helped them create a multi-million dollar fashion empire. They make their own paper models, prototypes and accessories; they follow their sales and shows very closely, as well as their public relations and advertising campaigns. Theirs is a "hands on" business in the truest sense of the word.
Over time as the business grew in size, the designers found it necessary to move their operations to a larger showroom, which they did in 1987.
Another major success came for Dolce & Gabbana in 1988 when they signed an agreement with the Onward Kashiyama Group and began distributing their designs in Japan. This allowed them to break into a relatively untapped fashion market, up to that point. Their first knitwear designs were launched the previous year and in 1989 they came out with their very first lingerie and beachwear outfits, closely followed by a menswear collection in 1990. To say they were on a roll was an understatement. Further agreements were signed to design the Complice line for the Genny group. But it didn't stop there- following on the heels of their agreements was the boutiques they established, first in Milan, then in Hong Kong, Singapore, Taipei and Seoul.
Dolce & Gabbana launched a perfume in 1992, which won the Perfume Academy International Prize for the best female fragrance the following year. In 2008, the perfume Light Blue Pour Homme became the "Best Men's Fragrance" judged by the Acedemia del Profumo and the U.S. Fifi award.The two latest fashion lines to come from these multi-talented designers include Dolce & Gabbana Basic which covers a wide array of their classic designs, and the abbreviated D & G which is geared towards the younger set, in relation to both style and price.
Dolce & Gabbana has come a long way in the last 25 years of its existence. Its contribution to fashion in terms of original styling, fantasy, and irony in equal measure will keep the cash registers ringing for a long time to come.
By Anika Logan
Edited and Updated by Damyanti