Last Updated on February 16, 2021 by Katty
Gianfranco Ferre: Functional Elegance
A native from Legnano in northern Italy, Gianfranco Ferre, born on August 15, 1944, began his exciting and highly successful career in the world of fashion in 1970. Although he earned a degree in architecture in 1969, he chose to follow a different path and began to design an array of fashion accessories for the owners of a boutique in Portofino.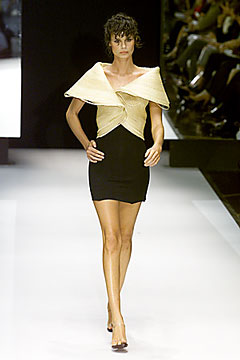 Ferre did not step far from his architectural learning however, since he maintained a meticulous attention to the balance and structure of each of his creations. The Fashion House of Ferre has had extremely successful collections of fashionable wear for women and men, as well as thriving lines of classy fragrances and stylish accessories, thanks to it's founder's love for classic proportions and simple yet grandiose beauty.
After two years of designing accessories, Ferre began designing raincoats for a manufacturer in Genoa and continued this line of work for the next two years. This position also required extensive travel, and led to his fascination with Asia, especially India. His experiences in this country flavored his designs by combining a tang of the East with a taste of the West which would later give his collections an air of relaxed sophistication.
The Beginnings of the Ferre Label
Ferre's fashion company was launched in 1974 under the distinctive label 'Baila.' Two signature collections for women were introduced in 1978- a ready-to-wear line and a sportier line. Ferre fashion immediately took on a look of its own with simple lines creating a bold and distinctive look that was characteristically recognizable as a Ferre creation.
This look was appreciated by women tired of the "power-suit" look, and the Ferre designs which were feminine and powerful at the same time catapulted their creator into fame and fortune. In fact, not long after, the white dressmaker blouse became a staple for Ferre, albeit with original stylistic touches. This when Ferre earned the nickname of "Frank Lloyd Wright of fashion" because of his nod to the architectural discipline in his designs.
Shortly thereafter in 1982, a well-received collection for men was introduced by Ferre. In 1984, he launched a fine, unique perfume for women, and a distinguished fragrance for men in 1986. The same year, his first couture collection was presented to the world of high fashion in the city of Rome. Ferre met with immediate success as buyers and the press were wowed by his bold collection of elegant and sophisticated fashion.
Gianfranco Ferre at Dior
In 1989, LVMH Chairman Bernard Arnault chose Ferre as the creative director of Christian Dior. Gianfranco Ferre replaced Marc Bohan at the time, amid French surprise at the placing of the House of Christian Dior in the control of an Italian. Nonetheless, Gianfranco Ferre met with great success and was awarded the "De d'or" in July 1989 for the Haute Couture collection presented in Paris.However, in 1996, Ferre decided to end his relationship with the House of Christian Dior. In 1997, after Dior's spring collection hit the ramp, the two parted and went their separate ways.
Ferre's collections have been distinctly different than those of Dior, presenting a more relaxed look. The add-ons to outfits, such as pockets, have been functional, practical, and appealing.
Gianfranco Ferre's Style
Ferre consistently veered away from trends, publicity stunts, and stylistic gimmicks preferring instead to rely on the appeal and interest of careful designs and balanced forms for his collections. His clients included Sharon Stone, Elizabeth Taylor and Oprah Winfrey, to name just a few.
Starting from 1983, Ferre was awarded several times over in the fashion industry for his great talent and magnificent contributions to fashion.
Among the many awards that he earned through his creativeness and stylistic talent and rightfully received are the "Occhio d'oro" in 1982, 1983, 1984, 1986, 1987, and 1989, the "Modepreis" in 1985, the Cutty Sark Men's Fashion Award in 1985, and the "Milanese dell'anno" in 1989.
Gianfranco Ferre: The End of an Era
In 2002, Gianfranco Ferré SPA became part of IT Holding, though Ferre remained the creative director of the brand, retaining the simple yet elegant lines that had become his signature over the decades.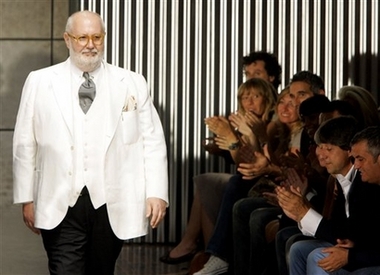 Ferre continued to carry the brand forward until 2007, when he tragically succumbed to brain haemorrhage at the age of 62. In a statement after Ferre's demise, Giorgio Armani said in a statement: "I always observed his work and particularly admired him for his coherence and the intellectualism and artistry upon which he based his fashion philosophy until the end."
The brand was subsequently put under the creative direction of Lars Nilsson, who presented the autumn/winter 2008-9 menswear, and then left. The Gianfranco Ferré's autumn/winter 2008-9 womenswear was designed by the in-house creative team, but in 2008, Tommaso Aquilano and Roberto Rimondi became the creative directors of Ferre womenswear.
According to Michela Piva, CEO of Gianfranco Ferré SpA, "Tommaso Aquilano e Roberto Rimondi shift easily between cool classic and contemporary femininity.Their designs are rigorous, their feel for quality infallible. These characteristics correspond exactly to what Gianfranco Ferré always upheld." This was amply proved in the Spring 2009 collection where the duo came out with a collection that carried on Ferre's legacy, and created a look of "rigorous softness" that can easily translate from the fashion ramp to real life. This has given the fashion world new hope that the House of Gianfranco Ferre would live up to its illustrious name in the years to come.
By Susan M. Keenan
Edited and updated by Damyanti, December 2008