Gucci Kicks of Milan Fashion Week and Introduces the New Fiat 500 by Gucci
When discussing iconic Italian brands Fiat and Gucci would be near the top of anyone's list. At Gucci, Frida Giannini has been delving into the fashion house's rich past to bring a sense of history and quality to her modern designs, while Fiat has always been a car brand synonymous with Italy. Right now Fiat is poised to expand their product globally. This is indeed an exciting time for the car maker because, for the first time since 1984, the Fiat 500 will soon not only be available in North America but also manufactured there). It is appropriate then, with Gucci's latest collections gaining praise and Fiat expanding its empire, that the two brands would join forces to create one decidedly Italian car: the Fiat 500 by Gucci.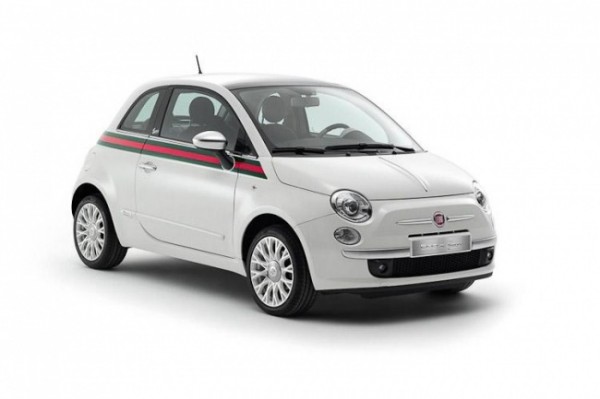 The always stylish, sometimes controversial Fiat scion Lapo Elkann organized the 500 by Gucci launch party and appeared alongside Frida Giannini to introduce their collaboration to the world. The party was one of the highlights of Milan Fashion Week so far (other hot events included the Milano Loves Fashion Duran Duran Dinner that drew the likes of Anna Dello Russo and Margherita Missoni, Karolina Kurkova, and Donatella and Allegra Versace, as well as Bulgari's Mediterranean Eden fête) and an indicator of the direction that Fiat is moving in. Partygoers included Franca Sozzani, Piero Chiambretti, Fiammetta Cicogna in black, supermodel Anja Rubik who looked great in a color-blocked jumpsuit and metallic belt, Elkann's girlfriend Bianca Brandolini d'Adda and his sister Ginevra, Tali Lennox, and musical guest Blame Coco.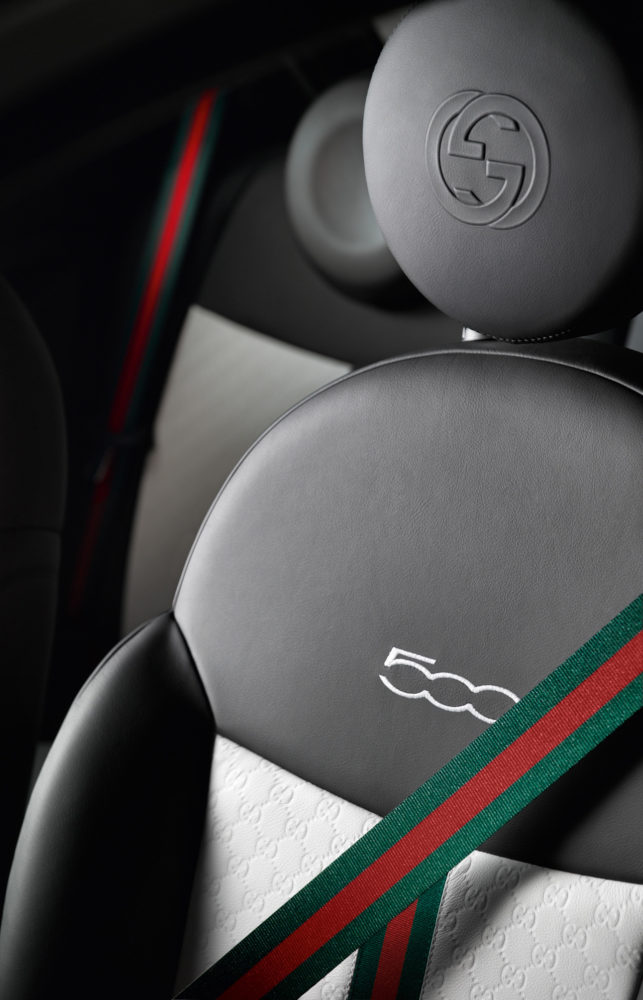 Elkann, grandson of Gianni Agnelli and responsible for Fiat's brand promotion, told Corriere della Sera in an interview that the Fiat-Gucci collaboration idea came about after he sat down for coffee with Giannini. Moreover, Elkann says that the company wants to relaunch their brand image starting with the 500 and what better way to make a huge splash than partnering with Gucci in the midst of Fashion Week in Milano? With the 500 launching in the United States in a couple of weeks the time was right to roll out a limited edition version of the car that celebrates, above all, iconic Italian style. Giannini collaborated with Fiat's Centro Stile to create a refined version of the 500 with simple Gucci touches. The 500 by Gucci comes with either black or white exterior gloss paint and has personalized 195/45 rims, as well as a few parts boasting Gucci's interlocking Gs (including the hubcaps and the headrests) and the Gucci name (it appears in cursive on the back of the car). Along with Gucci's logo and actual signature, the new 500 by Gucci also boasts the fashion house's trademark red-and-green stripes, which decorate the outside of the car and also make up the seatbelt, as well as making appearances on the key cover, carpets and gear shift.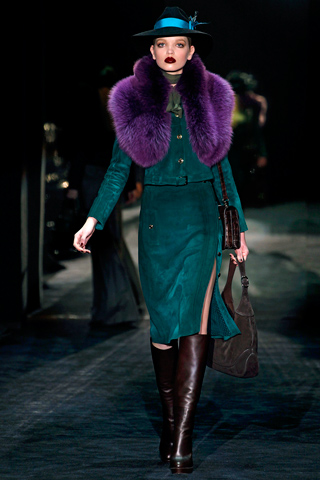 The special edition 500 will be displayed at the Geneva International Auto Show and will also be shown in cities like Paris, London and Tokyo before the official European launch, which will take place in July. It seems like the rest of the world will be able to get their hands on this quintessential Italian automobile at the end of 2011. In Italy this special edition 500 can be pre-ordered from April 1st to June 30th by going to 500byGucci.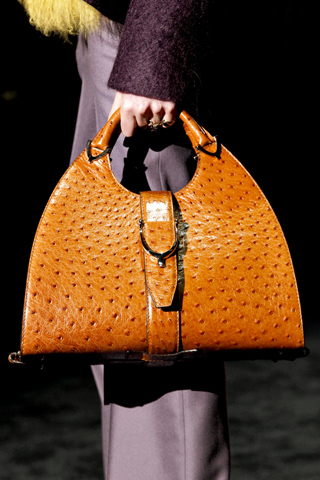 Of course, designing cars was not the only thing Frida Giannini was doing this Fashion Week. Giannini's Gucci show kicked off the Fashion Week festivities in Milano, a celebration of the fashion house's 90th anniversary. For Fall 2011 the designer took us back to the 70s and cited her inspiration as old school Anjelica Huston and Florence Welch (the redheaded voice behind Florence and the Machine) who prefers long, flowy dresses when performing. The glamour was big at Gucci for fall and despite some of the silhouettes–bow blouses and skirts that hit under the knee–there was nothing frumpy going on here. The rich jewel tones (think teal and orange, purple and red, olive green and chartreuse) were a joy and a perfect match for the other luxurious touches that included fur, feathers, patent leather and python. Gucci's accessories are always in hot demand and there were some here that will undoubtedly be a hit come fall. Giannini showed a frame bag and an elongated version of the Jackie, along with fedora hats (editors were already seen clamoring to try them on post-show), platform heels, knee-high boots as well as lots of suede, pale skin and deep red lips.
The Gucci show and the debut of the collaboration with Fiat meant that this was a triumphant fashion week for Giannini who seems to really be coming into her own as the fashion house's artistic director. While the 70s vibe at Gucci seemed in many ways an extension of what we saw for spring from so many designers, the way Giannini presented it–basically making every piece either wearable or completely covetable–was pure Gucci.