Italian Designers Were Well Represented on the Golden Globe's Red Carpet Last Night
Last night's Golden Globes Award ceremony saw The Social Network take home a rash of awards, including Best Picture, Colin Firth won Best Actor for The King's Speech while Natalie Portman–in a pale pink Victor & Rolf gown with red accents–won for her work in Black Swan. Of course, millions tune in to watch the awards, not just to find out who the winners are but also to see what the stars are wearing. Not surprisingly a number of big Italian fashion houses were represented on the red carpet including Versace, Armani and Valentino among them.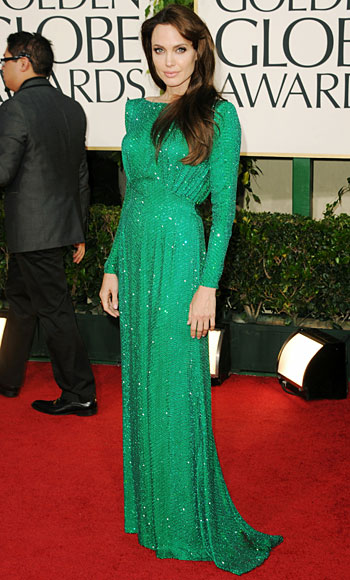 Anne Hathaway dazzled in a sequined Armani with a daring plunge back. The dress featured long sleeves–a refreshing departure from the usual strapless, or the one-shoulder look that was all over the red carpet this year–as well as strong, 80s-style shoulders (another trend for 2011 red carpet dressing). Hathaway, who is set to host the Academy Awards this year alongside James Franco, looked like she was poured into her frock and cut an elegant, stylish and streamlined figure. Definitely one of the best dressed of the night.
Angelina Jolie's emerald green Atelier Versace gown also hit on quite a few of the night's trends, among them green, sparkles, long sleeves and strong shoulders. While the color was fabulous for Angelina the cut may have been a bit too matronly. It would also be wonderful if Angie could try something different with her hair every once and awhile.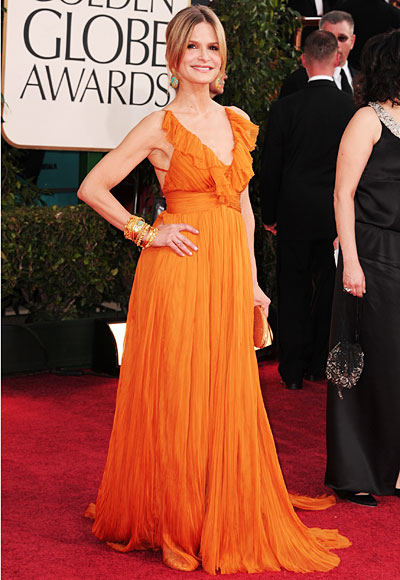 Mustard yellow was The Closer's Kyra Sedgwick's color of choice this year. The Emilio Pucci gown's ruffled V neckline was 70s-esque, but not in a way that seemed derivative. Instead the dress looked fresh and modern while Sedgwick looked beautiful and relaxed. Great additions to the outfit included the actress' stacked gold bangles and her beautiful turquoise earrings.
It wasn't very surprising that January Jones, who stars in Mad Men and is also the new face of Versace, chose that fashion house when picking out her Globes dress. In fact, it's difficult to remember a time when Ms. Jones didn't wear Versace on the red carpet. As always January's choice was daring and even a bit futuristic–a bold red dress featuring a plunging neckline, flesh-bearing cut-outs and fringe.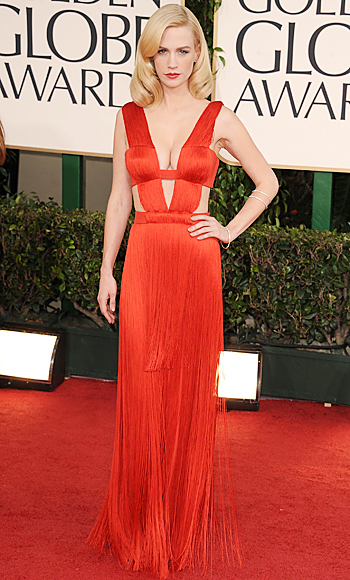 Other actresses sporting Italian designers at this year's Golden Globes included Blue Valentine's Michelle Williams who looked like a 60s flower child in her pixie cut and a Valentino gown covered in daisies from the house's 2011 Resort collection. Also in Valentino was stylish "It" Girl Alexa Chung, formerly of MTV, who co-hosted the Red Carpet Pre-Show on NBC wearing a floor-length diaphonous number in red, which featured a slim belt and a skinny bow at the neck. Sexy Megan Fox showed up in a sparkly, one-shouldered gown by Giorgio Armani that included an impressive slit on one side, while Nicole Kidman wore a one-shouldered sequined Prada number.
It wasn't just the women who were sporting Italian designers, however, but male stars as well. One that comes to mind is Twlight's Robert Pattinson who was wearing a navy blue Gucci, a refreshing departure from all the black tuxes on the red carpet. The bespoke suit featured a one-button jacket with a grosgrain peak lapel that Pattinson paired with a matching tie in midnight navy. Standout presenter of the night Robert Downey Jr. also went against the grain, looking dapper in a grey Prada suit paired with a red tie.
After reviewing the hits and misses of the 2011 Golden Globes fashion what is clear is that not only were Italian designers well represented, but they consistently delivered garments that were on trend or well ahead of the curve. While many other designers continue to put forth traditional strapless ballgowns and black tuxes the Italian fashion houses are taking their red carpet styles one step further. Not only did designers like Versace and Armani show trend setting looks that included strong shoulders, long sleeves and pops of color, but they also provided some of the most memorable looks of the night.
Photos Courtesy of InStyle.com