Handheld Fans
The Greeks called handheld fans 'scepters of feminine beauty'. These pretty and delicate accessories have always been admired, but they have not always been in fashion. The sight of Kirsten Dunst as the French Queen, Marie Antoinette, holding a rococo fan in the eponymous 2006 film has heightened interest in these objects and led to their revival in fashion recently. Jovovich Hawk have featured fans from their collection at the Los Angeles Fashion Week. Handheld fans have also made an appearance recently at New York fashion shows on the ramp, as well as off-ramp as part of gift-bags for guests. Fans add a glamorous touch to most evening outfits and they can also be very useful if the room becomes too hot!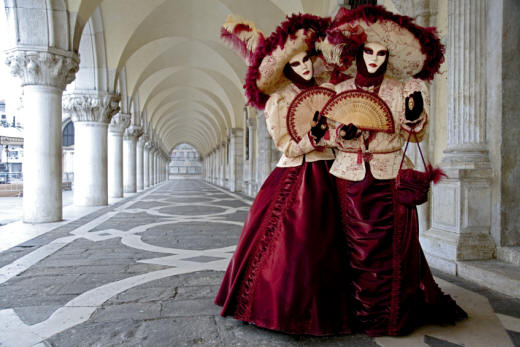 Fans date from ancient times when they were used  to cool off and for ceremonial purposes by the Greeks, Etruscans, and Romans. They probably originated in Japan in the eighth century. They then spread to China where, according to the ancient practice of Feng Shui, they  are believed to deflect negative 'chi' or bad energy from enemies. Many Chinese Gods use this ancient symbol to drive away evil.
Fans were first brought to Europe by Crusaders from the wars in the Middle East. Later they were exported from the East and brought by Portuguese and Dutch traders. According to Accessories of Dress: Costume and Fashion by Katherine Morris Lester and Bess Oerke, quoted at LadyDianottos.com, the 'flag fan' – an oblong-shaped fan with a long handle – became especially popular in Italy. Newly married ladies carried delicate white fans, while matrons used more ornate ones. Feathered fans later became popular amongst noble ladies, especially in Venice. This may account for the tradition of including a fan as part of  costumes for the famous Carnivale di Venezia.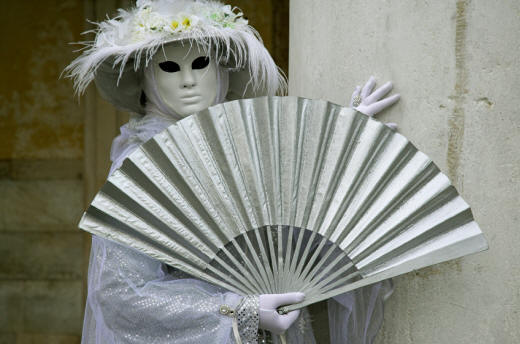 In the 18th century, wealthy Georgian ladies, especially the English , waved them at masquerade balls, and wore them as a fashion accessory with almost every outfit they owned. There were gail painted daytime fans butwhite satin bridal fans and even mourning fans painted with grisaille, i.e. black, white and grey were also available.
Classical fans, brought from Italy, replaced the luscious rococo of the French. As well as drawing attention to beautiful and perfectly manicured hands, these items played a big part in delicate flirtations. In fact, a whole 'language of the fan' had developed in England in Tudor times which became especially popular for middle and upper-class Victorian women who were courting. A folded fan placed against a lady's chin told a gentleman that she found him attractive, for example, while snapping a fan shut was a curt dismissal! No wonder that the sixteenth century English writer, Joseph Addison, stated: "Men have the sword, women have the fan and the fan is probably as effective a weapon!"
Later in the 19th century handheld fans began to feature in popular songs or current events. They also commemorated special events, such as coronations and royal weddings. Cardboard fans began to be used for advertising. This, combined with their increasing lack of functionality in modern life  unfortunately  led to their decline as a fashion item in the early 20th century. But they became popular as a collector's item. A few museums totally dedicated to handheld fans now exist, such as The Fan Museum in Greenwich, London and the Hand fan Museum in Healdsburg, California.
As well as  witnessing a hesitant return to fashion at the moment, fans are a  great way to find some relief in hot climates or stuffy, over-heated rooms.
by Lisa-Anne Sanderson
Edited and updated by Damyanti, November 2008