Prince Albert II and Princess Charlene
Giorgio Armani Designs Two of Charlene Wittstock's Bridal Gowns at Monaco's Royal Wedding
When Prince Albert II wed Charlene Wittstock in a religious ceremony on July 2nd in Monaco there was another name on everyone's lips: Giorgio Armani. The long awaited nuptials-the three day extravaganza was estimated to cost a whopping $70 million-began on Friday with the civil ceremony, continued on Saturday with a religious ceremony, and finished with a lavish Gala Dinner. Wittstock, a lithe blonde former Olympic swimmer from South Africa, had all eyes on her as she walked down the aisle towards her prince in a dazzling off-the-shoulder gown designed by Armani especially for her.
Following rumors leading up to the wedding, including that Charlene had tried to pull a runaway bride only to have her passport confiscated at the airport, all eyes were on Monaco to see the "I dos." Wittstock clearly had some big shoes to fill when it came to her bridal gown and overall wedding look. After 2011's other royal bride Kate Middleton wed in a lace gown reminiscent of Albert's mother's it became increasingly clear that Charlene had to make her wedding dress her own.
After choosing a pale blue Chanel dress and blazer for the civil ceremony, Wittstock turned to Armani for her traditional white bridal gown. Armani is also the designer credited with helping groom and refine the beautiful South African's image during the five years she's been dating the Prince. Princess Charlene's gown was definitely a dazzling statement, managing to be both simple and extravagant at the same time.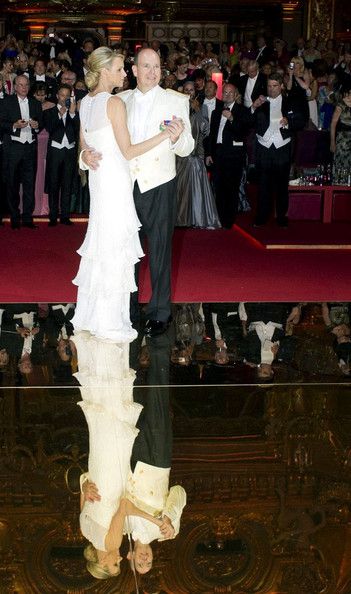 The dress featured a delicate, pleated, off-the-shoulder neckline and intricate beading and embroidery all down the front and on the seemingly endless train. The dress, made of 130 metres of off-white silk, reportedly contained over 40,000 Swarovski crystals, over 30,000 gold-toned stones and 20,000 mother-of-pearl tear drops woven into platinum-coated thread. The gorgeous work of art took the designer's team over 2,500 hours to create, with 700 hours going to the embroidery.
The bridal look was completed with some dazzling hair jewelry, a dramatic veil and a delicate white bouquet with a small drop.
For the Gala Dinner Her Serene Highness Princess Charlene changed into a more comfortable Armani design. Also white, the second Armani was sleeveless and smattered with dazzling stones and crystals. The dress also featured buttons at the back and a delicate tiered and ruffled skirt.
The Gala Dinner was attended by a wide variety of VIPs from Albert's sisters Princesses Caroline and Stephanie and their families to royals from all the major European houses including Edward and Sophie, the Duke and Duchess of Wessex, and the royals from Sweden, Denmark and Norway, just to name a few. The guests watched fireworks and ate food prepared by celebrity chef Alain Ducasse. Supermodel Naomi Campbell wore a dramatic white Givenchy cut-out gown decorated with green stones that threatened to overshadow the bride's simpler cocktail gown.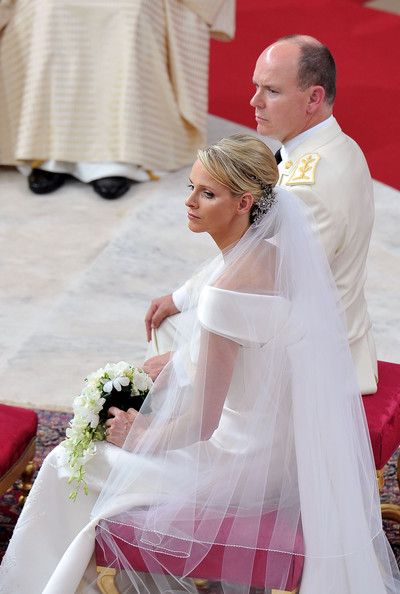 Princess Charlene's Second Armani at Gala Dinner
As for the wedding cake? The dramatic five-tier confection towered over the newlyweds as they cut into it. The white cake, which featured hints of pink, also featured Proteas, the national flower of South Africa.
Photos via Fanpix.com