Last Updated on February 16, 2021 by Katty
Valentino: Helping Superstars Look the Part
Valentino Garavani is one of Italy's finest fashion designers. Known for his classic designs, he's been dressing the world's rich and famous for almost the last five decades. Valentino has built his once small fashion house into a fashion empire, with a little help from his partner in business, Giancarlo Giammetti. Valentino dresses are a legend today.
With his trademark "V", Valentino has designed haute couture fashion, and made it the passion of beautiful people all over the world. He has dressed such stars as Sophia Loren, Greta Garbo,Julia Roberts, Gwyneth Paltrow, Jennifer Aniston and Halle Berry. Jacqueline Onassis and Princess Diana have worn his clothes. People will rarely see a red-carpet event without seeing one of Valentino's characteristically elaborate yet elegant designs.
Valentino Garavani's life began in Italy in 1932 in a small town north of Milan. Even as a child, Valentino had an eye for fashion and often dressed in only the finest of clothing. Valentino also had a desire to become a fashion designer, an extraordinary designer, a dream that he took with him to Paris to study fashion design. He was barely seventeen years old.
While in Paris, Valentino studied under some of the world's best in fashion. Starting with Jean Desses as an apprentice and continuing on under Guy Laroche, Valentino quickly learned what it takes to be one of the best. It wasn't long before Valentino decided to try and build his own fashion house.
Valentino left Paris and opened his own fashion studio in Rome in the late 1950's. Naming the fashion house Valentino, after himself, he began to design for his first fashion show. In 1962, Valentino completed his first runway fashion show. It was with the tremendous success of this show that the fashion world first began to take notice of Valentino and his designs. His house was on its way to becoming an empire. His black and white gowns became ultra-fashionable, and remain so to this day. Valentino also created the Valentino Rosso, the patented crimson color. The Valentino crimson gowns are now the brand's hallmark.
His greatest success came in 1967 when Valentino launched his White Collection. This show and his designs drew critical acclaim. When bold and funky colors were all the rage, Valentino took a risk and used shades of whites to design his entire collection. The show was a wild success. This collection gave him the Nieman Marcus award in design. Valentino's house saw unprecedented success in the aftermath.
One of his most famous clients, Jacqueline Kennedy, requested that Valentino design the dress for her wedding to Aristotle Onassis. The year was 1968, the dress a white lace mini. Valentino's design was seen all over the world, on magazine covers everywhere. His house had now reached iconic status.
In the 1970's Valentino began designing his ready-to-wear collection for both men and women. He opened boutiques with his ready-to-wear collection in both Milan and Rome.
Valentino continued to design, not just dresses, but also ties, accessories, shirts and jeans. The success story grew in strength with a perfume and interior de'cor line. Valentino had truly become fashion's "It" man.
It was in 1989 that Valentino expanded his empire with boutique chain openings in the United States and Japan. Since then, dressing the bold, the beautiful, and the uber-rich in luxurious clothing all over the world has become the brand's main preoccupation.
In 1990 Valentino and his partner, Giancarlo Giammetti, created the organization called L.I.F.E., which supports AIDS related patients. It was with the support and help from another famous friend, Elizabeth Taylor that this organization was created.
Valentino's designs through the years have remained romantic, just like he prefers. Throughout the years, Valentino has continued to make romantic, lovely and fashionable designs that speak to women of all ages. Valentino believes that details should be minimal and that the cut of the dress is the most important. His dresses are flawlessly designed, and have remained so for over forty years.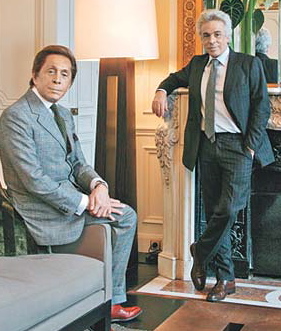 Valentino has since broadened his empire throughout the world, including the Middle East, Europe and Asia. In 1998 Valentino and Giammetti sold the company to HdP, which in turn sold it to Marzotto Apparel, a Milan-based textile conglomerate in 2002.
In 2005, Valentino was awarded the Superstar award at the Fashion Group International Night of the Stars, by one of his favorite red carpet clients: Meryl Streep. In 2006, Valentino did a small cameo role as himself in the hit movie The Devil Wears Prada, for which he also designed some of the costumes.
In 2006 Valentino was awarded the Chevalier de la Legion d'Honneur. The year after, he celebrated 45 years in the business, and announced his retirement for 2008.
His last Haute Couture presentation was held Paris at the Musée Rodin in January 2008, and he will be followed by designer Alessandra Facchinetti, who was the former designer at the House of Gucci.
Valentino remains a firm believer of a celebrity always dressing the role of a celebrity, regardless of the day.
"Today, every famous woman is called a diva. But here is a true one, in the best sense of the word. Sophia comes from a time when actresses behaved like movie stars from the moment they got up till they turned off the light at night. You would never see them looking less than perfect-no pictures of Sophia going to the supermarket! Like the day we christened my boat. We asked Sophia to come; you always want a woman to do it, for luck. It was 10 A.M., and she showed up like she was going to a world premiere of her latest film. It may be a little unreal. But I love it."
Though he was not an innovator, Valentino has taken fashion to new heights by designing glorious, opulent, and timeless clothing for some of the most glamorous women of the 20th and 21st centuries. His contribution to the world of fashion would continue to be acclaimed in the years to come.
Edited and Updated by Damyanti