Italian Designer Collaborating with Swedish Clothing Giant for Fall Collection
The fashion world has been abuzz after news hit that Donatella Versace will be putting her family's name to a diffusion line (billed as an "Iconic Collection") set to hit H&M stores this fall. It's not that Versace isn't in good company; high end designers from Lagerfeld to Lanvin, not to mention Jimmy Choo, have all produced such collections for the Swedish high street fashion chain. It's that most in the fashion world couldn't forget Donatella's own words when she declared in 2008 that such a line wasn't for her or her brand.
"I respect everyone who does it," Versace told New York Magazine at the time, "but the reason I didn't do it is because I work very hard to put the Versace line in the luxury section. I think to put the Versace line in H&M would confuse the brand."
Today Donatella is singing a very different tune, saying of her new project: "I am thrilled to be collaborating with H&M and to have the opportunity of reaching its wide audience. The collection will be quintessential Versace, perfect for H&M and Versace fans everywhere."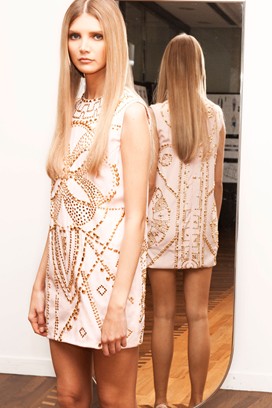 So why the sudden change? Sure, the world is still struggling with recessions and belt tightening, but one imagines that there will always be an exclusive market for luxury brands like Versace. People willing to shell out big bucks for the privilege of wearing a rarefied label even during harsh economic times. And does a brand focused on luxury and exclusivity really benefit by reaching H&M's wide audience, many of whom couldn't hope to afford a "real" Versace? Plus, one imagines that Lady Gaga's recent vow to wear nothing but Versace for two months would have achieved the same aim. So, really, why bother?
One first needs to address the question of whether these diffusion lines help to promote and increase sales for the main brand. While one would assume not, the opposite seems to be true when these collaborations are handled correctly. Just take Matthew Williamson, for example. According to The Guardian, the British designer saw increased sales in his boutiques after collaborating on a diffusion line.
Another problem is one of quality. Aside from exclusivity, luxury brands often justify their high prices by promising customer's quality cuts, fabrics and comfort, most of which is lacking in diffusion collections at stores like H&M and Target. So is a Versace dress really a Versace dress if it's made with relatively cheap material and isn't sewn in the same way? Does the design inspiration count as enough to deign the garment a Versace? The same questions were raised when Missoni announced their new diffusion line for Target–is a Missoni knit really a Missoni knit without the high quality fabrics and careful production methods? These are questions that always come into play when these designer collaborations are announced, and while its wonderful that these types of special collections allow a designer's fans from every walk of life to own a piece, one wonders if we're all not just getting  a bit duped.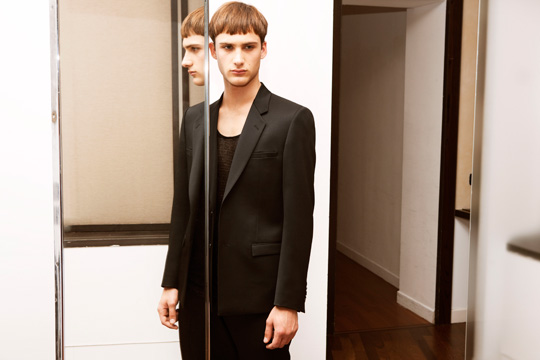 Whether or not this Iconic Collection (Donatella has promised to pull looks from the house's history rather than just diffuse the current Versace collection) will work in Versace's favor remains to be seen, but what is clear is that the fashion house is certainly experiencing a resurgence, as well as popularity they haven't enjoyed since the early 90s. All about sex, glamour and power, Versace designs have been embraced on red carpets and by divas like Gaga as of late. The design house has also announced plans to launch a children's line and seems to be in the driver's seat as to how to grow and expand.
The Versace for H&M collection will include clothing for both men and women, as well as home items featuring iconic Versace prints and will go on sale on November 17. On January 19 a pre-spring collection will be available online. The looks on tap seem quite influenced not only by Versace's past, but the present vibe of Versus as designed by Christopher Kane. There will be sexy, studded leather minidresses and sleek tailoring, slashed necklines and riotous floral prints. What else can surely be expected? Line ups at H&M that snake around the corner.