Young Versace Set to Launch in Spring 2012
Stylish mini-mes the world over can breathe a sigh of relief, the wait for kid sized Medusa logos and Greek key prints for children will soon be over. Versace will be rolling out clothing for kids imbued with their bright and edgy aesthetic, as well as a little bit of ironic, tongue-in-cheek wit. The Italian fashion house's new line will first be seen at Pitti Immagine Bimbo next month and will hit stores in 2012.
The Young Versace line will offer clothing for kids up to 12 and, according to Versace SpA's COO Gian Giacomo Ferraris, it will be a "high-end, glamorous and colorful collection in line with the brand's essence, with a touch of rock 'n' roll." Ferraris told WWD that the Versace firm will be producing the full scale collection at their Novara, Italy, plant and with an eye to Young Versace complimenting the other elements of the design house including couture, ready-to-wear and houseware lines.
"Donatella Versace strongly supports and is behind the project, we have a state-of-the-art technological platform and supply chain, and we directly manage our core business," Ferraris explains to WWD. At the moment it appears that Young Versace will not only be available in Versace boutiques but also 200 other stores and boutiques worldwide including some stand-alone stores.
Versace seems to be fired up not only to get a piece of the lucrative designer kids' clothing market, but also to see the Young Versace line succeed (Versace Young folded in 2004). Drawings of several looks from the upcoming collection were released and included a selection of rocker chic black looks (sparkly hoodies, graphics tees and minis decorated with the Greek key design), leopard print, tights and classic tuxes for little boys. There is also ruffled swimwear and a seeming abundance of purple.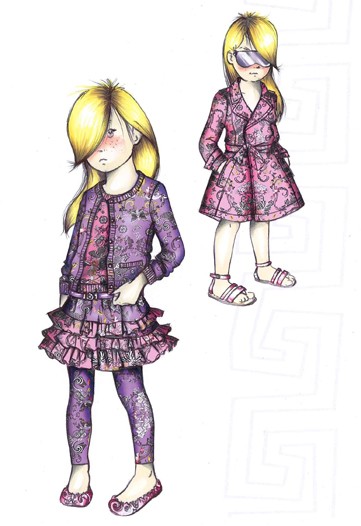 So what type of children will be wearing the Young Versace line or, perhaps the better question is, what type of parent will the collection appeal to? Clearly loyal Versace customers will likely embrace the line for their offspring, as well as anyone looking for a little edge in their young one's wardrobe come next spring. As for the children, if the concept designs are anything to go by, the best accessory for a Young Versace outfit is a whole lot of confidence and attitude.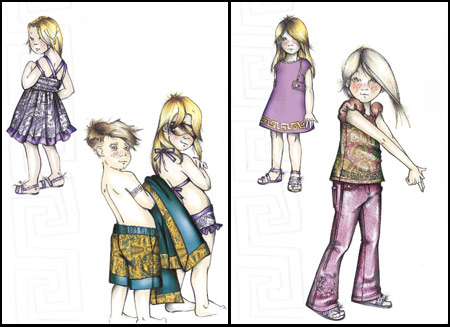 Photos Courtesy of Young Versace via WWD and Glam.com