Italian-Made Wallets for Men & Women
I went hunting for a wallet recently. I love wallets. I guess it's because they're so close to the money, right? In this article, we'll focus on three men's wallets and three ladies' wallets – all from Italian designers. I hope you enjoy them as much as I do.
MEN'S WALLETS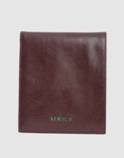 From Salvatore Ferragamo, we have this fantastic leather wallet. Inside, you'll find six key rings to keep all your keys organized! The wallet has the Ferragamo logo emblazoned on the front. The white stitching provides a fantastic contrast to the rich light brown color of the piece. I love this wallet! It's a perfect place for a man to keep his credit cards – and pictures of his wife and family!

Versus from Versace has created this simple and elegant wallet that goes with any outfit from casual to formal. You can pair it with anything. It is slim for an easy fit so it won't bulk up those form-fitting jeans. The piece is a yummy cocoa-brown. I love the soft feel of the leather and the inconspicuous slots which can hold a plethora of credit cards.

Some people say that once you've seen one wallet, you've seen them all. I don't think that's true. Of course, there are some similarities between wallets. The details make all the difference in the world. Gianfranco Ferre knows about details.
This wallet is fantastic! Do you see the ridged leather? It looks weathered but not worn. It's stunning! There are Ferre logos on the inside and on the outside. You get one incredible billfold, eight credit card slots, an ID window so you never have to take out your driver's license again – and two internal compartments to hide important information that you want to keep on your person. My husband loves this wallet. You will too!
LADIES' WALLETS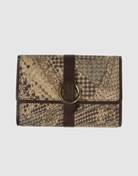 This Prada wallet is pretty enough to be used as a clutch purse. I love the heart detail in black stitch on the front, complete with tasteful and beautiful gem pieces. The Prada logo is elegantly showcased in the middle of this eye-catching design. This nylon wallet is durable and beautiful. You have three compartments, a coin pocket and four credit card slots. What more could you ask for?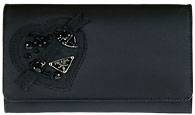 From Roberto Cavalli Freedom, we have this fantastic wallet. It's so feminine and chic. I love the leather wrap around the snap-button enclosure. This detail is such a great addition to a wallet that could be artwork. Don't you love the modern, art-deco patterns? They work so well together. The colors on this gabardine wallet are neutral so this piece can find a home in any purse you decide to purchase.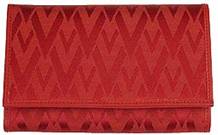 Valentino knows beautiful. The "V" details on this red wallet are stunning, aren't they? The interior is lined. It's lush and plush. It's gorgeous. You get five credit-card slots, a full bill-fold and an interior zipper to separate the coins from the cold, hard cash. This is a signature piece, a wallet that is meant to be so much more. Che bella!
By Domenica DiPiero