Last Updated on November 5, 2018 by Katty
Italian Made Women's Watches
I remember my first Italian-made watch. I got it for my First Communion. I was in second grade. It was gold. It was elegant. It was so pretty. And I lost it. In the coatroom of the Catholic school I attended. My parents were so upset; but, not as upset as I was. That watch was perfect. It had a thin, bracelet strap with a ring clasp. The time face was black with gold Roman numbers. Ohhhh. How I still miss it!
Okay, that's enough reminiscing for one day. As the cliche' goes, we can't turn back time. I can't retrieve my watch. However, I hope that little anecdote illustrates to you how important a time piece can become to a person. A watch is more than just a fashion statement. It helps you keep track of your life. It keeps you on task and in the moment, so to speak. In this article we'll be looking at some seriously beautiful Italian-made wristwatches for women.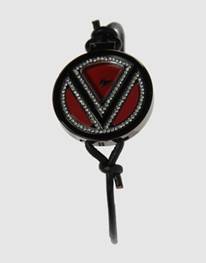 Can you not see why I gravitated toward this piece first? If you can't – stop reading right now. Just kidding. This Valentino timepiece is a piece of art. I love the roped bracelet feel of the band. It is very Goth-punk-rock, which I used to be back in the day. The case is black and blood-red. It features diamante detailing all around it. The "V" is for the Valentino logo, of course. The time operates on quartz movement and is presented inside the "V"; and, isn't really large. It's a timepiece that does put fashion over function I guess. But given the beauty of this piece, I'm willing to overlook that, are you? I found it online for around $500.00; but, you might be able to snag it cheaper if you're a savvy bargain hunter.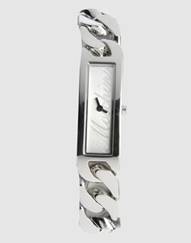 Moschino gives us this elegant watch in silver. They also feature it in gold as well. The case and the strap are comprised of steel.
The piece is 7.4 inches long and 0.6 inches wide. It's skinny and pretty. The interior features the Moschino logo written in a beautiful, silvery script. The face is white and has only the hands of time. It's simple, elegant and functional. The time piece is battery operated and features quartz movement, the standard in time-keeping. It retails for $350.00 or so and will last a lifetime unless – like me – you lose watches easily!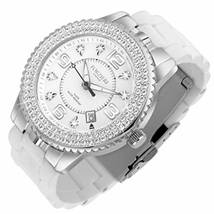 From Forzieri , we have the Maristella. This is a women's white Swarovski crystal dress watch. Yes, I said Swarovski crystal. The hands of time elegantly caress the crystals. The Arabic numerals are only shown on the "12", "3", "6" and "9". Surrounding the face are two layers of smaller Swarovski crystals. The band is stainless steel and plastic. It's 10 ATM water resistant. That means you can wear this when snorkeling or even swimming. Yes – but don't take it scuba diving with you. It's not strong enough for that. All in all, I have to say I love this watch. Even the price is nice. Yup! The Maristella retails for under $200.00 USD.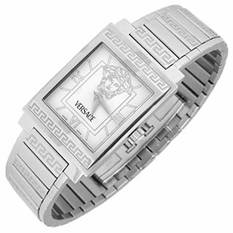 I'm stuck on the silver watches for some reason. Who knows? Perhaps it's because they so totally rock like this Versace timepiece. Let me introduce you to the Medusa. Yes, that's the Medusa-head, complete with mythological snakes, staring back at you from 12 o'clock. This piece is a throw-back to the very first watch Gianni Versace (god-rest-his-soul) designed back in the day. The case is a polished stainless steel and features Greek designs throughout the entire timepiece. I love the attention to detail. It's strong but not over-powering. Very yummy. The crystal is a scratch-resistant Sapphire. It's 3 ATM water resistant which means the watch is perfect for everyday use. The piece is about $2,000.00; but, hey – it's a Versace. You pay for the name; and, c'mon, we all know Versace makes a quality Swiss-quartz watch!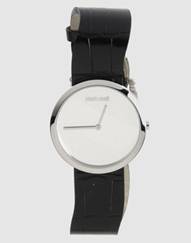 Roberto Cavalli Timewear gives us this simple and elegant time piece. You can wear it to work or for play. It's durable enough to withstand the wear and tear of your daily life. The watch case is made of stainless steel so it'll last. This battery-operated timepiece features the engraved Cavalli logo inside the face, along with an hour and minute hands, also in stainless steel. The strap is leather and embossed in crocodile. It's fashionable without being too overpowering, elegant and classy yet casual. This piece is truly versatile – and affordable. It retails for about $180.00.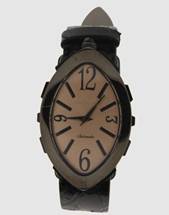 Valentino gives us another crocodile-embossed, leather strap timepiece. I love the shape of the face. It's not quite oval, not quite a diamond-shape. Very unique. Very cool. There are Arabic numerals for the "12", "3", "6" and "9". Don't forget the Valentino logo inside. The piece also features quartz movement, is battery operated and measures 9.6 in. by 1.2 in. It retails for around $700.00. Perhaps you could add it to your wish list?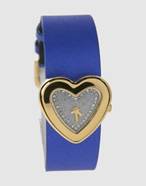 The last watch I'll feature in this article is from Moschino . I love the heart-shaped face with jewel-encrusted diamante detailing. It's also gold-toned. The fabric strap is featured in blue. The piece is battery-operated and makes use of ecologically sound materials. The dimensions are 8.6 in. by 1.0 in. It's slim-fitting and functional. You can purchase this for around $250.00.
I hope you enjoyed each of these beautiful and elegant watches. They're more than just timepieces. They're jewelry. Not all of them are as functional as we may have liked; but, sometimes form over function is a sacrifice we must be willing to make.
By Domenica DiPiero