Customary Drinks Before Meals in Italy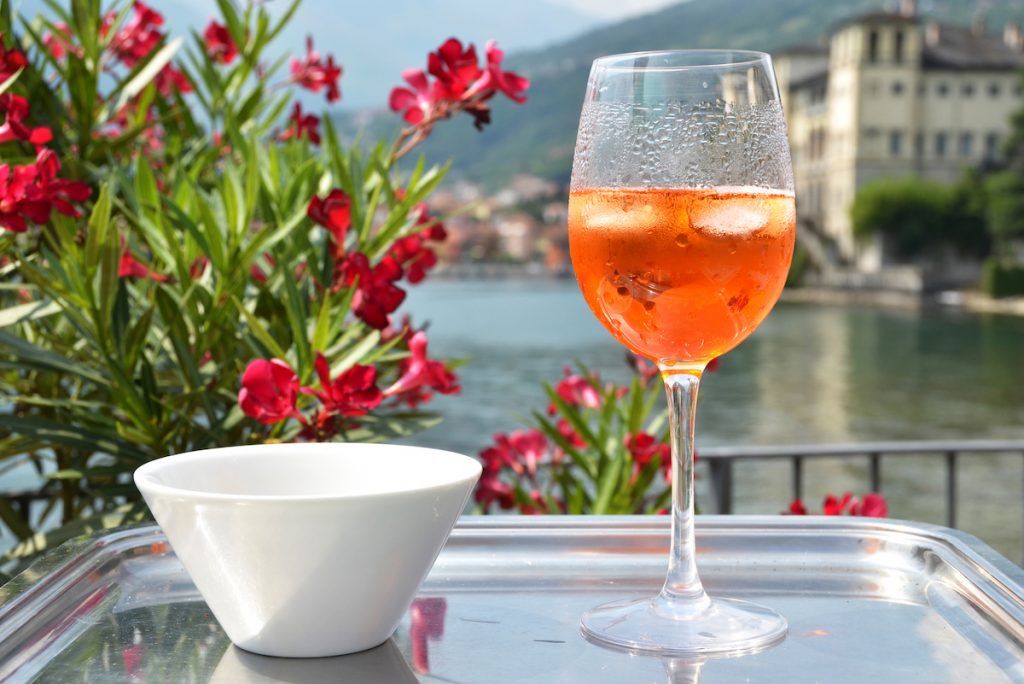 As coffee time, which is one of the main after-lunch ceremonies, in Italy the 'aperitivo' before the evening meal, is absolutely an adequate and enjoyed tradition by the many.
This practice dates way back in the centuries, since the Romans. As a matter of fact the word Aperitivo, derives from the Latin "aperire" meaning: to begin, or to open. Its purpose: to tickle your appetite and enjoy a moment of relax with friends. The aperitivo is usually drank in the evening, around 7 pm, when people finish their daily routine and want to relax and meet with friends for a chat, before dinner.
All the aperitifs are frequently served with something to munch on, such as crackers, chips, small biscuits or peanuts. In some parts of Italy the Aperitivo is a ceremony that requires more than just crackers: the Aperitif can be slightly more expensive, but it comes with a buffet of pasta, cous-cous, vegetables, pizzette, tarts or other, according to the bar.
A festive lunch, like a Wedding, an Anniversary, or any big lunch with friends and family, does not start without an aperitif.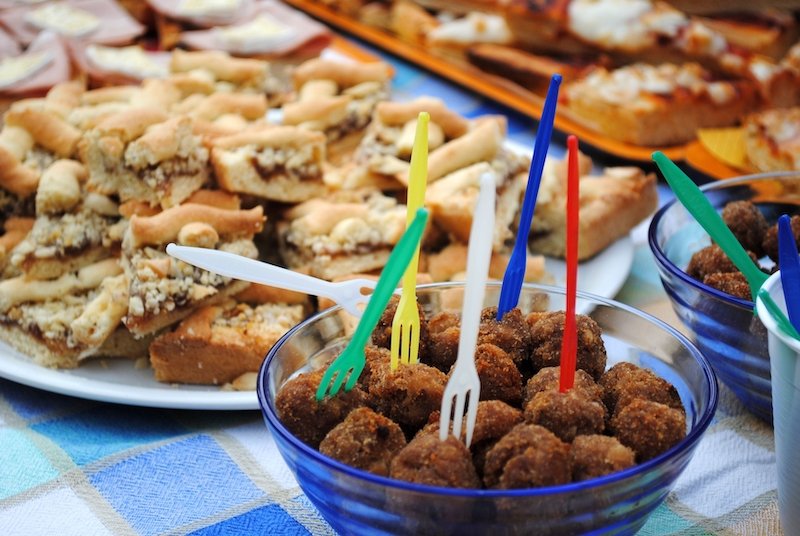 Alcoholic aperitifs in Italy
The most popular, alcoholic aperitifs are:
Pirlo – created in the town of Brescia, in the Lombardia region; composed of: white wine, Campari (or Aperol) and soda water.
Spritz – Veneto region: simply made of sparkling water and white wine – the Spritz Aperol is an upgraded version.
Rossini – named after the famous classical composer: mashed strawberries and Prosecco sparkling wine or, mostly used in nowadays, Champagne.
Campari Soda – straight Campari with soda water added, comes already mixed in its own classic cone-shaped bottle. Campari can also be 'corretto' (additioned), with Gin which gives it a stronger body.
Prosecco – sparkling wine (also called 'Frizzantino' in Northern Italy); the Prosecco is usually added to the Campari Soda, killing thus some of its bitterness.
Let us not forget the famous Bellini, created by a barman, at the Harry's Bar in Venice, in 1948. It was created to celebrate a famous art exhibition of the noted painter Giambellino, whose real name was Giovanni Bellini.
Here's the recipe for the Bellini:
¼ glass of whipped peach (keep the skin but remove the seed)
Prosecco
Ice (to be placed in the mixing glass)
2 Raspberries (also whipped)
Lemon
Pour the whipped peach in the mixing glass with ice, the raspberries, and a few drops of lemon juice.
Add the Prosecco wine and mix.
Serve in Flute glasses, pouring it, using a strainer, to hold the ice back.
Let it sit, in a cool place for an hour, then serve.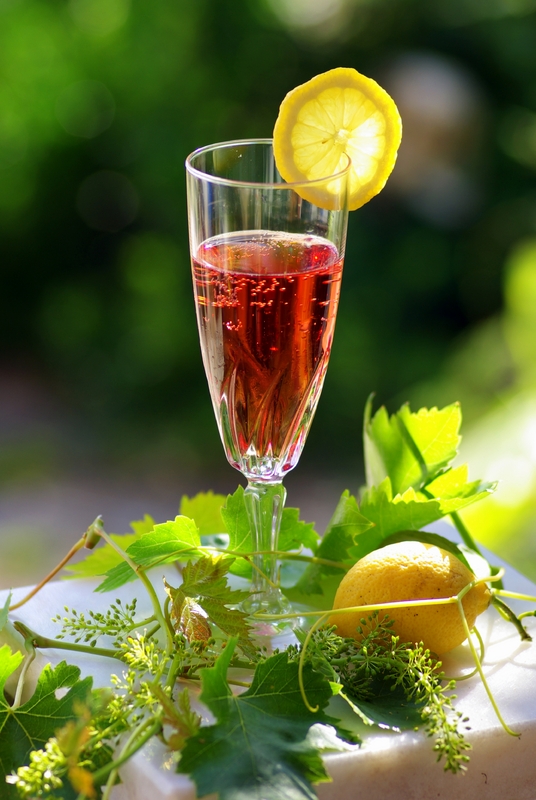 Some also drink Negroni as an aperitif. It's actually a long drink, created in Florence, between 1920 and 1925 for the Florentine Count Negroni, who asked his usual barman to mix his favourite Bitter Campari and Cinzano Vermouth, with a robust shot of Gin. It's quite strong before dinner, especially on an empty stomach.
Non-alcoholic Aperitifs in Italy
The main non-alcoholic beverages are: Crodino (most popular – created in the Piedmont Region – town of Crodo), San Bittèr, by the San Pellegrino Co. (from the Bergamo province, in the Lombardia region. Makers of mineral waters, non-alcoholic drinks, various juices, etc.).
Some people enjoy the non-alcoholic beverages, because of their taste, but add gin or vodka to give them an extra boost.
Succhi di Frutta – Fruit Juices
Here are some of the most popular Italian brands:
San Pellegrino is the most popular brand since 1932. They only use Sicilian oranges, from which they make three kinds of juice: regular, sweet and sour. Their mineral water is, also, widely exported in the USA. Also known, worldwide, is the famous Chinotto. This dark coloured beverage is made with a type of bitter orange (Citrus Myrtifolia) and is exported as far as the Australian continent.
Yoga: Founded in 1948, it is a large producer of fruit juices: pear, peach, apricot and red orange. Mixed juices as: apple/banana. Their line of coloured bottles contain these following great-mix:
– Yellow Bottle: tea, mango, maracuja, peach, apple, grapes and orange.
– Red Bottle: extract from red grapevine leafs and elder, red orange, pomegranate, cherries and apple.
– Purple Bottle: extract from red grapevine leafs and elder, green tea, red grapes, blueberry, elder and apple. Excellent and very refreshing, especially when used for long drinks.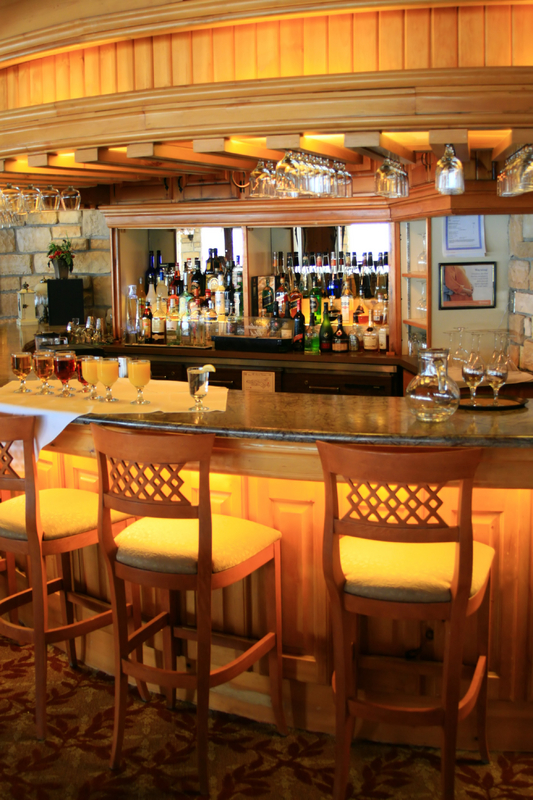 Other widely used in the bar section, available in two flavours (Fresh 'N' Fruit line), are: pink grapefruit and peach tea with Ginseng and lemon, and lemon tea with Aloe.
Valfrutta: born in 1960 in the Emilia Romagna region. Mostly produces vegetables, but it's also known for its juices: orange, pineapple, ACE (orange, carrot, and lemon with vitamins: A, C and E) and VITAMINIX, made of: orange, apple, pineapple, apricot, maracuja with vitamins A, C and E added.
As you can see, and taste, Italy has a wide variety of drinks. Think of all the drinks you can mix with the above mentioned juices. Some bars and restaurants, in the main Italian cities, offer also a light dinner, with the aperitif, for a fair price.
As they say in the States: 'Don't try this at home!'… that's right! Lets go to the bar!
By Michael A. McCain