Mushrooms are a symbol of the Fall and plenty of typically autumnal recipes call for their presence. One of the most common ways to enjoy them is in sauces, which can be used to dress anything you fancy, really: from homemade pastas, to heart-warming polenta, from potato gnocchi to a simple slice of warm bread, wild mushroom sauces are always delicious.
Before starting chopping and frying, there are two considerations to make: the first concerns the sauce recipe itself, the other the type of mushrooms you can use to prepare it.
Wild mushroom sauces come in two variations: one with and one without tomatoes. The one you are about to read includes them, but they are not always compulsory. Many use stock instead of tomatoes, or even cream, although this latter variation does not rank high on my personal list of favorites. It really depends on you.
What mushrooms you choose to make your sauce is a whole different thing: if you want a truly scrumptious, flavorsome sauce, stay away from button or portobello mushrooms (unless you are totally stuck: more about it below), as they are not strong enough to deliver that "mushroomy" punch you expect from a sauce like that: invest in wild mushrooms. Porcini of course are king, but golden chanterelles, sanguinelli and honey mushrooms are nice, too.
Dried mushrooms are important, too, because they are used to make the broth you are going to dilute your sauce with: these are usually easier to come by in stores than fresh ones, as they are available pretty much all year round and a bit in every supermarket. A little tip: when I used to live in Ireland, finding porcini was not easy and even when you could they were ridiculously expensive. If I wanted to make a good mushroom sauce, I would get good quality dried mushrooms and some button or portobello and make the sauce like that. Of course, it will not be the same as having a real porcini sauce, but if you use more dried mushrooms, your sauce will taste nice. Another alternative is to use only dried mushrooms and add ground beef or sausage meat, hence turning your mushroom sauce into a mushroom and meat sauce.
There are plenty of solutions, as you can see, all appliable to the basic recipe you are about to learn. Ready to cook?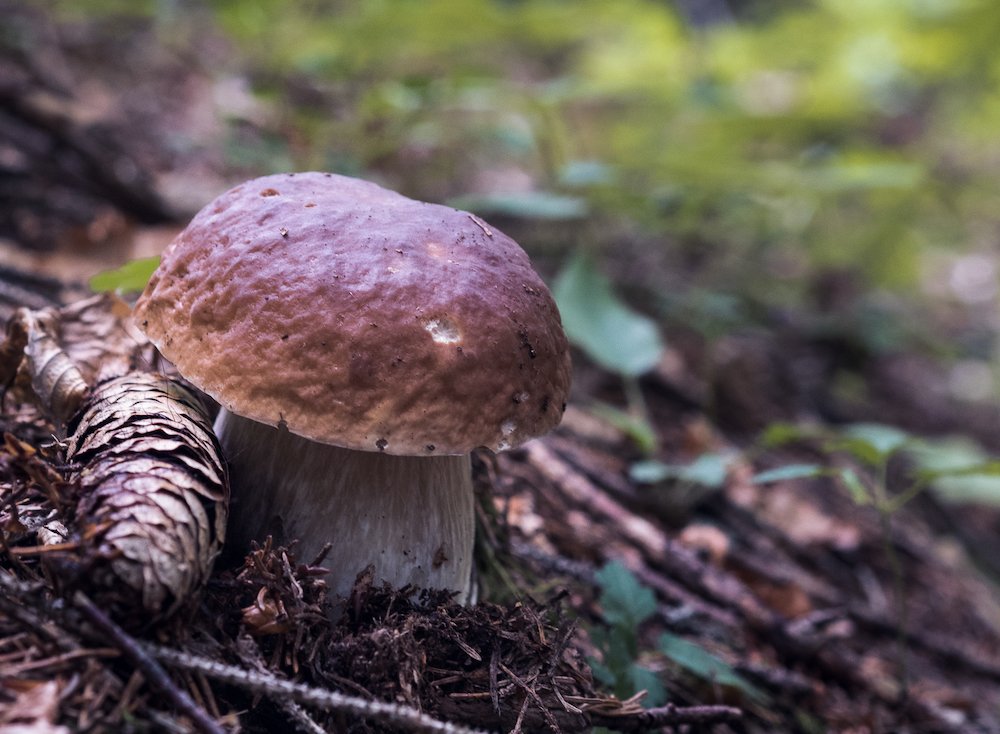 Porcini Sauce
Ingredients
400

gr

fresh porcini mushrooms

150

gr

dried porcini

1

can

tomato double concentrate or a tube

2

cloves

garlic

1

onion

finely chopped

3

bay leaves

3-4

stalks

parsley

finely chopped

1

pinch

salt

1

stalk

rosemary

finely chopped

4-5

tbsp

Extra Virgin Olive Oil
Instructions
First of all, chop finely parsley, garlic and rosemary and soak the dried mushrooms in hot water for at least 20 minutes. Do not discard their water.

Dice the fresh porcini in medium size chunks.

Set all that aside and turn your attention to the onion, which has to be chopped finely, too. Heat up some extra virgin olive oil in a saucepan (if you have one of those old fashioned crock pots that go on the fire, even better!), then add the onion and the coarse salt; when the onion is lightly golden in color, add the garlic, rosemary and parsley previously prepared, along with the bay leaves. Add immediately the porcini and cook for about 15 minutes, stirring often.

While the fresh mushrooms cook, slice the dried mushrooms, which are now reconstituted after steeping in the hot water, and add them to the pan. In a bowl, mix together the tomato double concentrate (one tube, or little can, depending on which type or brand you usually get at your local store) and the dried mushroom water, until the concentrate is entirely dissolved.

Add it to the mushrooms and cook for 30 minutes on a medium heat, then turn it down to low and let the sauce simmer for another hour, stirring often.

And voilà, your sugo ai porcini is ready! If you fancy, you could add half a glass of red wine to it while it simmers, but if you do so, make sure to save only half of the dried mushrooms' water. This sauce is perfect with ravioli, fresh potato gnocchi and fresh pasta such as tagliatelle and Piedmontese "tajarin," fresh egg noodles. It is also delicious served with polenta and a sprinkle of grated parmesan on top.