Last Updated on November 28, 2018 by Katty
Starting in the 11th century, the spice trade with the East and with Africa enriched the coffers of the Venetian republic and its merchants. At one time there was an official Office of Saffron to control this precious spice, which comes from the stamens of the purple autumn crocus (three filaments per flower). Saffron may be assosciated with Spanish cooking, but it is also essential in the foods of northern Italy, where the saffron tinted risotto alla milanese is a classic example. In discussing the Venetian love of color, Alexandre Dumas pere asked in his Grande Dictionnaire de la Cuisine whether it was "to spices that we owe Titian's masterpieces" and answered, "I am tempted to believe it."
Francesco's saffron risotto is seasoned with ginger and enriched with sea scallops for a voluptuous, golden dish. Despite its taste of the sea and its color, Francesco says it is modern rather than traditionally Venetian.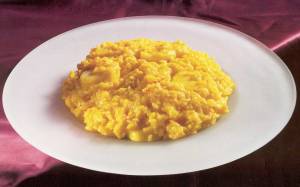 Risotto With Sea Scallops And Saffron
Ingredients
3

tbsp

(45 g) unsalted butter

1/2

cup

(60 g) finely chopped onion

1 1/2

tbsp

grated fresh ginger

1 1/2

cup

(250 g) vialone nano or arborio rice

1/3

cup

(80 ml) dry white wine

1

tsp

saffron threads

5

ounces

(1.25 L) hot vegetable stock (approximately)

1

pound

(500 g) sea scallops, cut in 3/4-inch (2 cm) pieces

Salt and freshly ground black pepper to taste
Instructions
Heat the butter in a heavy 3-quart (3-L) saucepan. Add the onion and fresh ginger and saute over medium heat until the onion is translucent but not brown.

Add the rice and cook, stirring, until it begins to whiten. Stir in the wine and allow the mixture to simmer until most of the wine has evaporated.

Place the saffron in a small dish and pour 1 cup (250 ml) of the hot stock over it. Set aside for a few minutes.

Have the rest of the stock simmering in a separate saucepan.

After the wine has evaporated, stir in the 1/2 cup (125 ml) of the vegetable stock and continue to cook the rice mixture, stirring, until most of the liquid has been absorbed.

Keep the mixture at a steady simmer.

Stir in the cup of stock with the saffron and stir until most of the liquid has evaporated.

Continue adding stock, a couple of ladles at a time, stirring and adding more as the stock is absorbed by the rice.

Regulate the heat so the rice and stock cook at a steady simmer.

After about 15 minutes, the rice should have swelled and become somewhat tender, but still a bit hard in the middle. There should still be some stock left at this point.

Add the scallops. Stir, then continue adding stock for another few minutes, as needed, until the rice is plump, offers only the slightest resistance to the bite, and there is just enough thickened, creamy, sauce-like broth to moisten the rice.

Season with salt and pepper and serve at once.