Turin barely needs to scrub up for a date: she is magnificent, no matter what. She is haughty, self assured and confident, aware of her charms and beauty, even when she wakes up after a night of debauchery and too little sleep. An old time tempress, Turin gets me every time: as a moody teenager, when I started university, I could not stand her, then, just as it happens so often when you fall in love, she bewitched me and I was lost.
…and here is why: from the popular BBC series Italy Unpacked.
Almost twenty years later – a good fifteen spent away from Italy, as I described in an article on the reasons why I am so happy to be back – I still love this city like the first day I realized she conquered me, so I was particularly happy to pass a weekend there with some of my best friends. The occasion was special and very pleasant, indeed: visiting and enjoying the Salone Internazionale del Gusto Terra Madre 2014, an event organized by Slow Food, the Regione Piemonte and the Città di Torino that takes place every two years in the Piedmontese city, in the industrial area of Lingotto Fiere. This enormous fair offers the possibility to get to know and taste some of the most typical produce and products of Italy and the world, surrounded by colourful exhibits, delicious food and, of course, a lot of people. Our day was lovely: we enjoyed the Salone, good old fashioned camaraderie, fantastic food, possibly one or two Negroni too many and a great night in the city.
Here comes Lifeinitaly' s very special take on the Salone Internazionale del Gusto Terra Madre 2014.
Ready to go?
Il Salone Internazionale del Gusto Terra Madre 2014: Tutti a Bordo!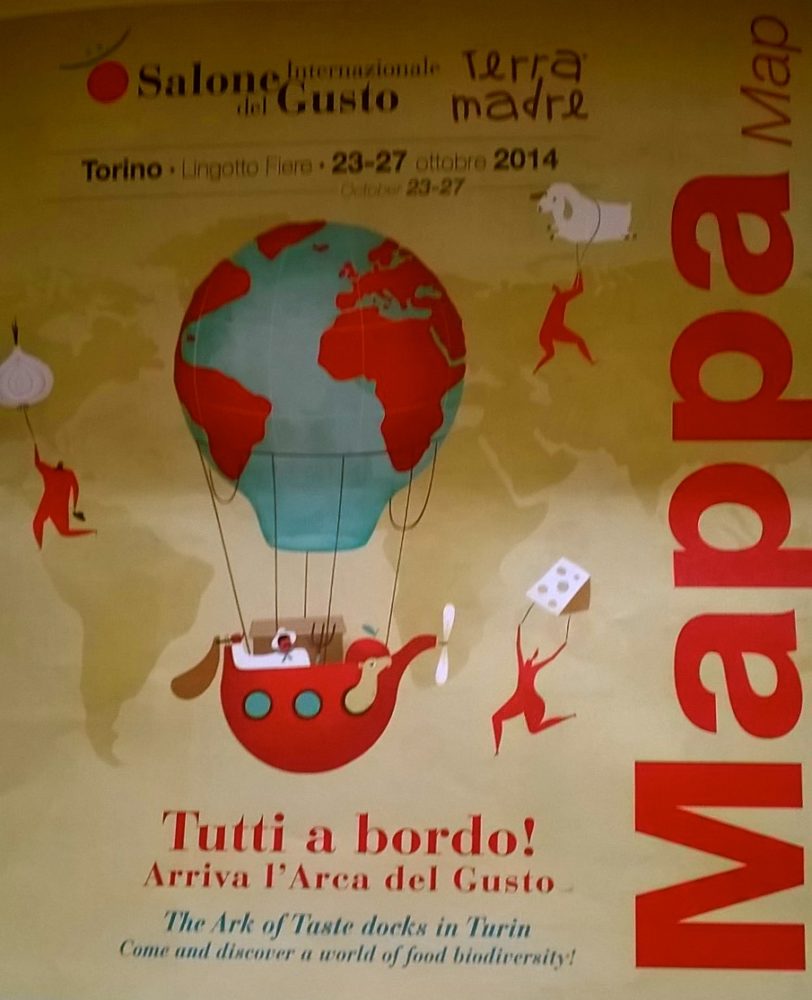 The Salone Internazionale del Gusto Terra Madre took place from the 23rd to the 27th of October in the Lingotto area of Turin, a quintessentially industrial part of the city, and more precisely at the large expo and fair complex Lingotto Fiere. This is also where a favorite of mine, and plenty of food lovers around the world's, of course, can be found: Eataly opens its doors onto deliciousness not far from where the Salone has been organized. Although the famous gourmet food store has now branches all over the world, including the US, it is here in Turin that its first shop opened.
The Lingotto area is, more often than not, considered pretty damn ugly: its origin rooted in the years of Italy's heavy industrialization, it is true that a lot of it may not strike its visitors for its quaintness or architecture. However, there are some beautiful views to be enjoyed: for instance, the very square upon which Lingotto Fiere opens is an outstanding example of late 19th – early 20th century industrial architecture, with beautiful, liberty-inspired buildings. Reaching it from the city's historical centre is easy, as the metro leaves you straight outside Lingotto Fiere, so we hopped onto it from our location in Via Madama and, in about 2 minutes, we reached our destination. We were pleased to notice there was no queue to get our tickets, as we did not reserve them online; entry fee was a hefty 20 euro (about 25 USD), probably a bit too much, even when taking into account the size of the fair and the fact that plenty of stands offered food samples (very small and often you needed to pay for them. Ouch…).
Anyway, we were now into the fair, but it was lunch time and, before even contemplating to begin our visit, we needed to have something to eat: we are Italians, we cannot do anything, anything without proper food in our stomachs. So to us, the first delightful surprise of the Salone was its Cucine di Strada (street food) area, where several stands offered typical regional fast food options from all over Italy: from fritto misto, to Romagna's piadina, from Modena's tigella, to Genova's farinata, this was a truly perfect way to start at the Salone: cheap, wholesome and delicious food. We all opted for a modenese gnocco fritto, a deep fried round, flat and relatively thin piece of bread dough, which is then folded in half and filled with whatever you like. The options here were mortadella, prosciutto and tomato and mozzarella and we all went for prosciutto. It was hot and delicious and went down fantastically, along with a glass of craft German beer we got at the central stand of the pavillion, which not only served that, but also coffees, water and soft drinks.
Strenghtened by our quick and cheerful culinary trip to Emilia Romagna, we were now ready to start walking (Actually, yes, if you plan to come here for the next Salone, in 2016, make sure you wear good trainers, because the place is huge and there is a lot of walking to do!).
The International Pavillion at the Salone Internazionale del Gusto
All continents were represented and the atmosphere was fantastic: each stand had representatives from the country, as well as Italian members of staff ready to help if visitors did not speak English. We had great conversations with the guys at the Macedonia's stand, where we tasted the most delicious wild figs, preserved in a sugary syrup which gives the fruit a consistency and sweetness similar to that of marron glacés. This particular way of preserving macedonian wild figs is called slatko and it is absolutely worth trying. The macedonian wild figs slatko is a presidio Slow Food, which means it is a protected product.
More deliciousness was tried at the Romanian stand, were we had rose petals jam, which I absolutely loved, mostly because I have an obsession for lokum (or turkish delight, as we say in English), and that is, in taste, very reminiscent of it. I tried to get my friends to try dried reindeer meat at the Norwegian stand, but they were not too convinced: I, personally, love reindeer meat. One of my best friends is from Oslo and once made me this deliciously aromatic reindeer stew, just like the one her grandma used to prepare, and I can tell you it was pretty awesome.
Our walk through the foods of the world continued and we took off for Asia. One of my mates, who is a keen cook, loves authentic Asian cuisine, so this was the right opportunity for her to get some new spices to try, as well as to take down the names and website addresses of some of the local producers exhibiting. This was also the point made by another visitor, Chiara, a local primary school teacher who visited the Salone with her partner: "I don't really come here to buy large quantities of products, I come here to get to know them. Then, I head down to Eataly (where plenty of the producers at the Salone also sell, nda) and buy there. It's handy, as Eataly is in Turin, too. If I would ever order online from the suppliers? Yes, yes of course: if I really wanted a product and I can have it delivered at home, why shouldn't I do it?".
This is, actually, a very good point to make: we have noticed an enormous amount of people coming to the Salone with suitcases and very large, cumbersome trolleys (you know, those wheeled granny-like ones, made with waxy tartan fabric), to fit all their food purchases into. Now, if buying is understandable and we all do it while at the fair, considering the Salone Internazionale del Gusto as a large, fancy supermaket is, or so I find, rather silly: this is a place to try new things, enjoy food and discover new flavors. Of course it is nice to buy, but let us not forget virtually every single one of the exhibitors have websites and do international deliveries (all of the internationals and most of the Italians, but more on this specific topic in a little while…), so there is no need to buy 10 lbs of that cheese or 20 packs of that organic pasta: they can ship it to you. The Salone is a place to get to know food, and bring home something to share or to try with more tranquillity, so that the family cook can then decide whether the purchase is worth adding to the home kitchen. This is, of course, my own humble opinion, but I am sure even those who enjoy buying at fairs would have detested having to slalom among shopping trolleys and suitcases while trying to reach for a cube of mortadella. Just saying.
Our walk continued, and brought us to the North American area, where we had the pleasure to chat with a lovely southern lady and try some absolutely delightful sauces and spice mixes for different types of meat. As a person with plenty of American friends, and who loves, absolutely and wholeheartedly, the US of A, I was happy to see the country represented so successfully here. If it is true that Italian cuisine and food is among the best in the world (and I am not saying *the* best, just because I am trying not to pass as a partial writer!), it is also true that, unfortunately, we can be pretty resistant to accept new flavors and new cuisines: from this point of view, the work of initiatives such as the Salone Internazionale del Gusto are essential, as they can help us to open up to the variety and beauty of other culinary traditions. Among them, I was glad to see the American so well represented and loved here.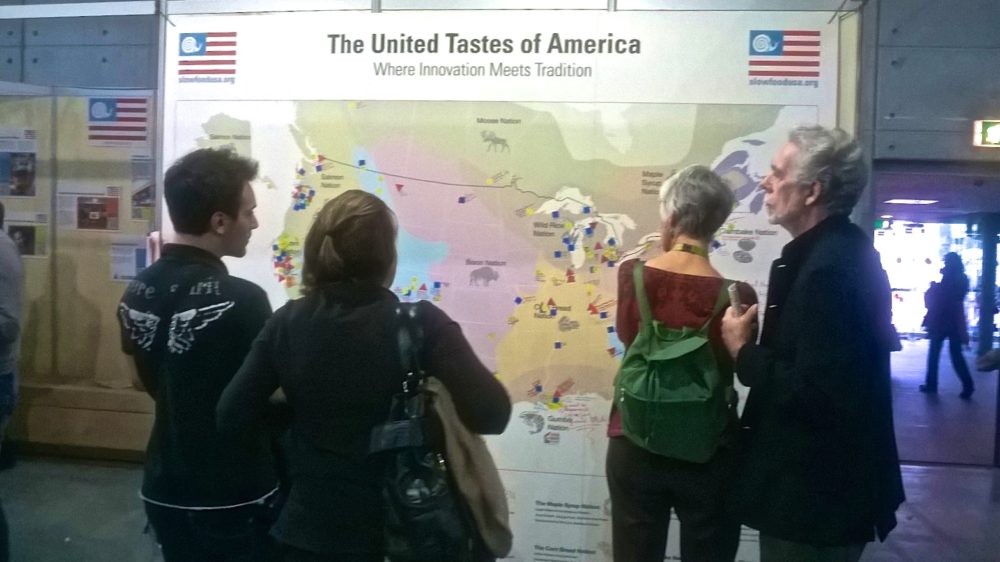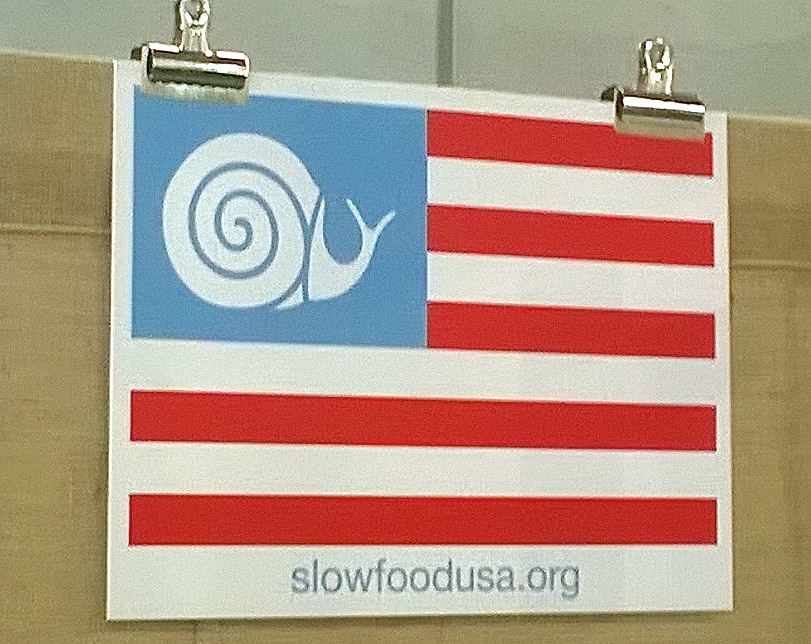 Our walk through the world of international cuisine ended with the scents of beautiful South America: I was sad, though, as I have friends from Colombia and I hoped to see Colombian products here, but they were not. Dulce de Leche from the Chilean stand, however, did a pretty good job at cheering me up!
Across Italy in Three Pavillions
Once done with the international section, we finally hailed towards the three pavillions dedicated to the regions of Italy. To reach them, we also walked through the Salone's own Enoteca, to which, I must admit, we were all attracted: we, however, agreed that sitting at the Enoteca at three in the afternoon, with most of the Salone still to visit, was not a brilliant idea, as the chances of us "only having that one glass" and keep on going were pretty slim. We decided, so, to keep on walking – albeit everyone in there seemed pretty happy with the wine on offer! – and headed to the pavillion dedicated to the cuisine of the south of Italy, but not before having taken a little break. One of my friend wanted to sit and myself and another mate really wanted a cigarette, so we sidetracked a bit and went outside, just beside the enoteca. You will never guess what was there: a stand for the sigaro toscano, famous handcrafted cigars made in Tuscany. The stand was organized as a sort of old fashioned lounge, where you could sit and order your cigar, which was made here and there for you. Plenty of wannaby dandies stood outside, feeling masculine and attractive (so they seem to believe) with their sigaro in the mouth.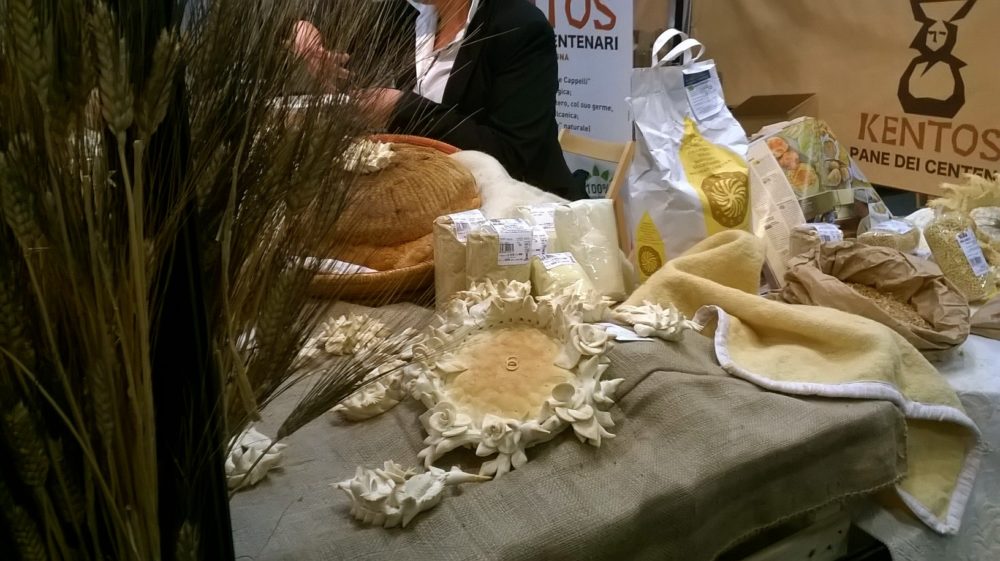 Determined not to answer the call of the toscano, we kept on walking towards the pavillion dedicated to the southern regions of Italy. I was quite keen on catching some chit chat and sample some products from Sicily, as I have dear friends from there and have been enjoying Sicilian cuisine more than ever since I came back to Italy, in April. Unfortunately, this was not supposed to happen: as soon as we walked into the area, the sheer amount of people – and their trolleys– meant that even getting close to a stand was impossible, let alone try their samples or having a chat. It was a pity, because I did manage to see that there was a stand for granite and they also made almond's, which is my ultimate favorite, as well as a cannoli siciliani bar where you could have a cannolo made on the spot for you.
The funny part of it, though, is that once we passed the area of Sicily, which we basically skipped, the crowd diminished and both walking around and actually getting to the stands became once again possible. The only other area where the amount of people made it hard to walk through was that dedicated to Piedmont: we were, however, ok with that, as we are Piedmontese and we know well the deliciousness of our beloved region's food!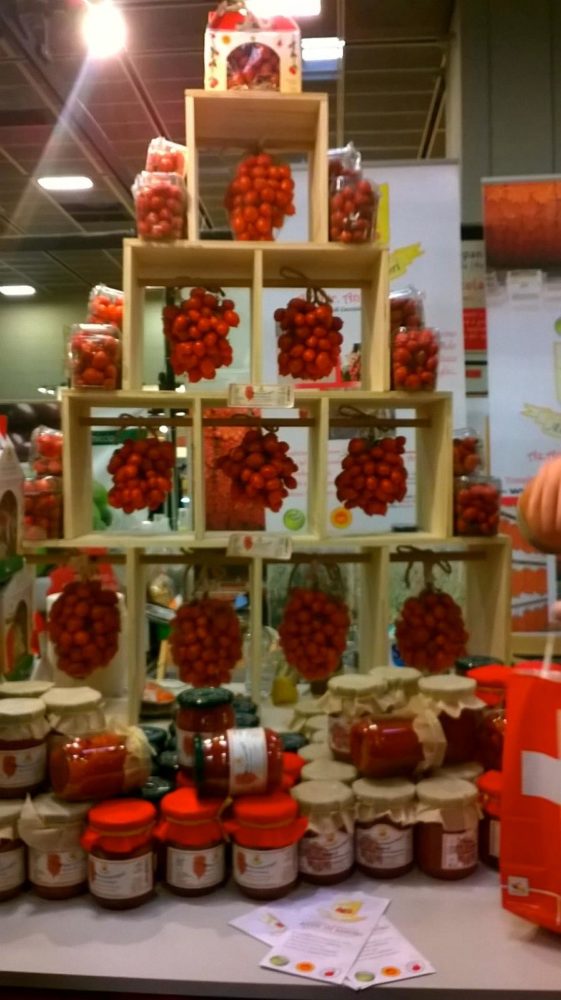 The Sardinian stand was amazing, with its variety of tasties and the mirto was particularly good, but another highlight came from the area dedicated to Campania: not only we found some pomodorini del piennolo del Vesuvio, the ones we call pomodori d'inverno or winter tomatoes, because they last pretty well into the winter months, but we also ate the most amazing, delicious, heavenly babà of our entire lives: myself and my best friend, as you would expect, were immediately drawn to the pâtisserie stand in the Campania area. Instead of trying to make you understand why, I will just show you: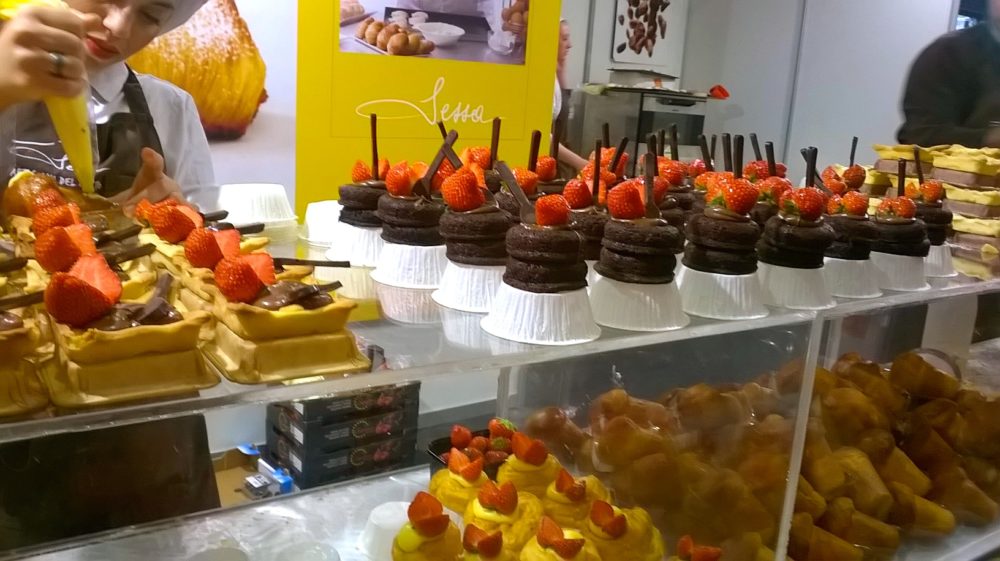 We opted straight away for the babà, because they are one of those specialities you can find in the north, but they quite never taste the same as in Naples: you could choose how to have it, with which toppings and whether you wanted it doused in rhum or not. We went for the original Neapolitan: yes to plenty of sweet rhum and crema pasticcera. We made only one, single mistake: we shared it, instead of getting two and have one each, so remember never to share a babà in Naples. They are way to good to do it.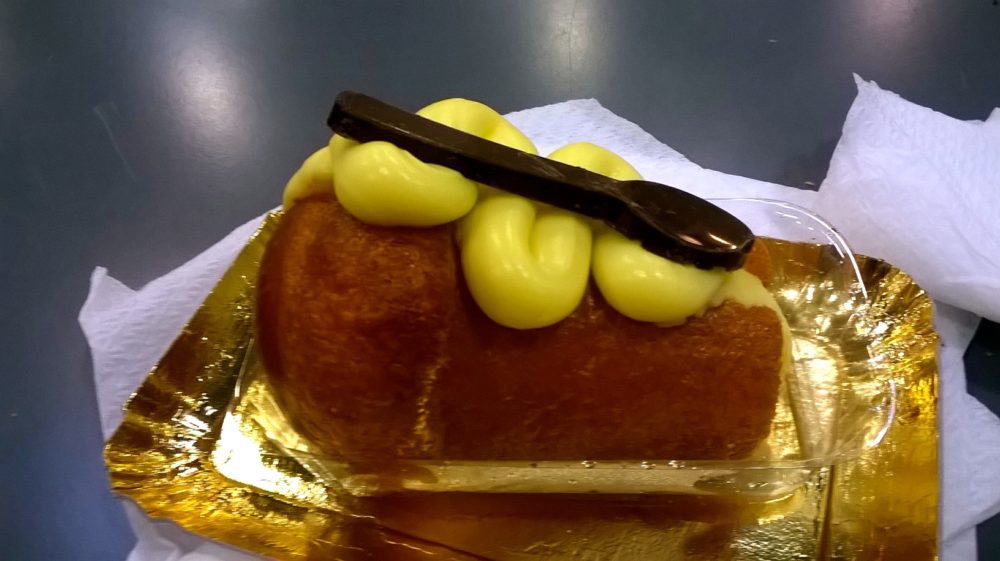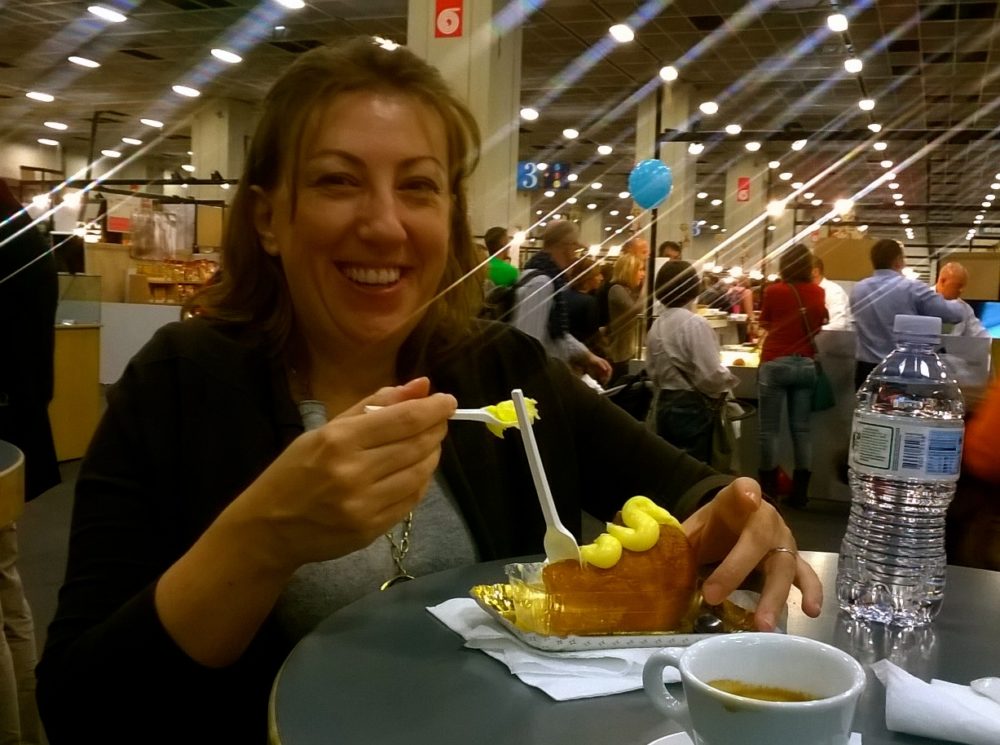 The central pavillion of the Salone was almost entirely dedicated to Piedmont and Valle d'Aosta.The area was as varied as you would expect from a region whose culinary heritage is the result of the natural variety of the place itself. The crowd was pretty dense here and it made it hard to view stands and try food. However, as we are well versed in Piedmontese cuisine, and we know a thing or two about local producers of our region, we still managed to get a lovely overview of what was on offer: the focus was of course on cheeses, truffles, cold meats and flours of all types: the region is known as a major producer of chestnut and wholemeal flours, both largely used in the North to prepare typical dishes (castagnaccio and polenta, anyone?).
Some of our molini (mills) are renowned all over the world and export plenty of products also to the US and the rest of Europe, but we were rather surprised by the answer we got at one of stands, after we enquired about buying their products online: apparently their website, publicized all over the stand and on their leaflets, does not have a "shop" section and we were told we had to email sales to place an order. I have two points to make about this answer: the first is, of course, about the sheer silliness of it, as having a perfectly functioning website without a shop section seems almost like a waste of time. The second is related to the all-Italian habit, especially in a professional context, to ignore emails: how efficient can such a service be?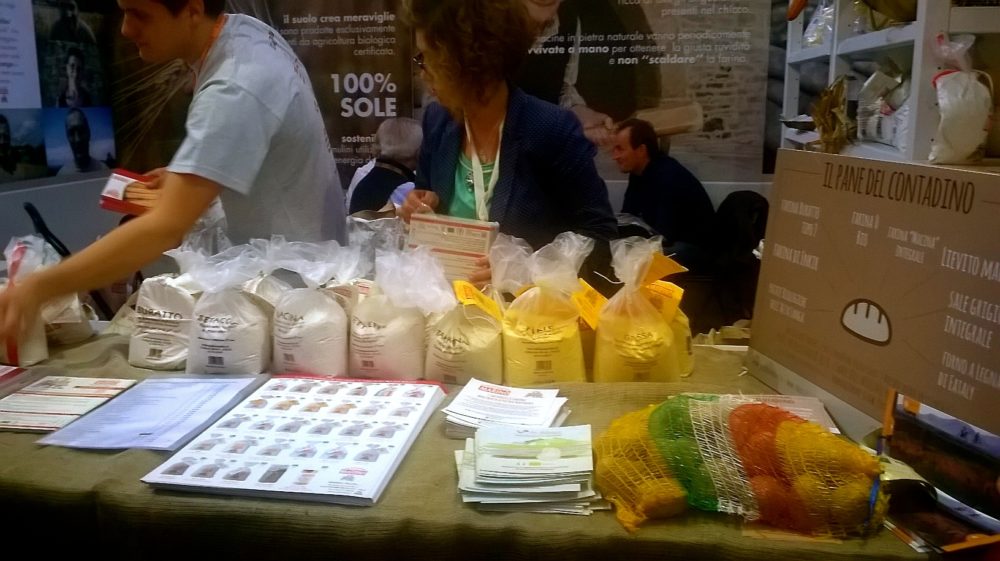 Our visit continued by the stands of famous Piedmontese chocolatiers Venchi and Gobino, the latter a personal favorite of mine: their gianduiotti are the absolute best and in their main store in Turin, in via Lagrange – just off via Po and near our famous Museo Egizio – has a lovely sala degustazione at the back, where you can sit and try various types of chocolates while having your coffee.
Of course, Piedmont is a land of hills, mountains and cheeses, so it was obvious to find plenty of cheese makers from all over the region represented here, at the Salone Internazionale del Gusto. And not them only. We spent some time with a couple of members of ONAF , the national organization of cheese tasters (in Italian, Organizzazione Nazionale Assaggiatori Formaggio), which is pretty popular in the region. One of them, Maurizio, discussed with us the role of the assaggiatore and, more in general, the importance that traditional cheese production has in the region: "being an assaggiatore is great. It is not simply about recognizing if a cheese is of good or poor quality and if it matches all the characteristics it should have. It is also about learning the history behind the cheese, the way it is produced, and how its production, especially in the past, was tied to the territory. It is about our heritage and our tradition, as much as it is about cuisine and food."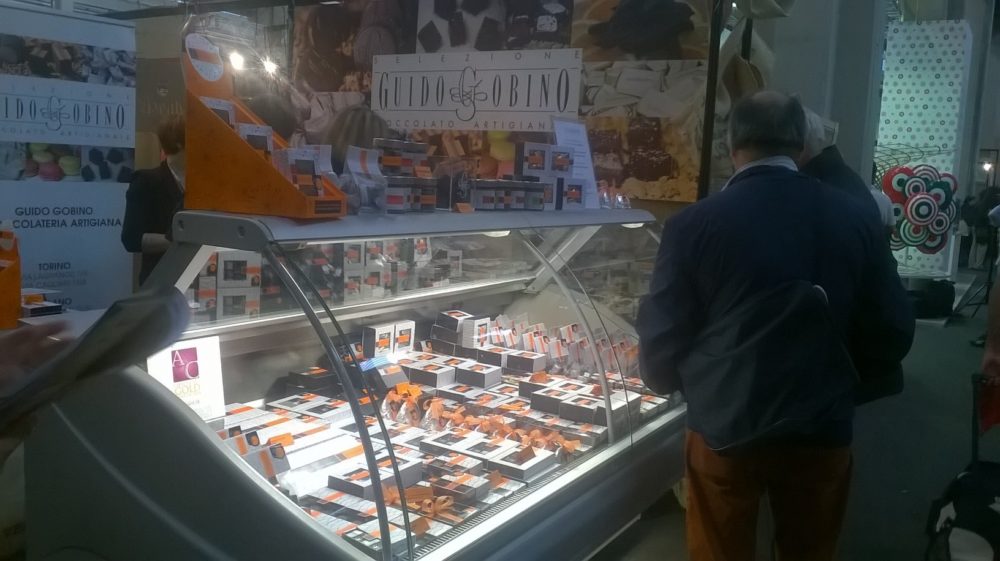 After our chat with Maurizio, we headed to the Emilia Romagna area: after a long diatribe between my friends on whether to buy some amazingly looking tortellini or not, myself and one of them sat for a coffee while her husband went around, looking for "that mortadella I bought here in 2012." After about 25 minutes, he returned to the cafeteria, with a bag in his hand and a smug, satisfied smile on his face. Convinced he bought his mortadella and that was the reason of his satisfaction, the question posed by his wife was rethorical: "did you get it?". His answer, however, was not what we expected, "Yes! They were a great deal! I bought three!". Needless to say, the rest of the saturday and good part of the sunday was spent discussing the fact they will never manage to eat three mortadelle by their expiring date (yes, they will, I know them well) and that it was insane he spent about 50 USD in mortadella. 50 USD. I must say it was pretty funny to witness this conjugal discussion protracting throughout the weekend!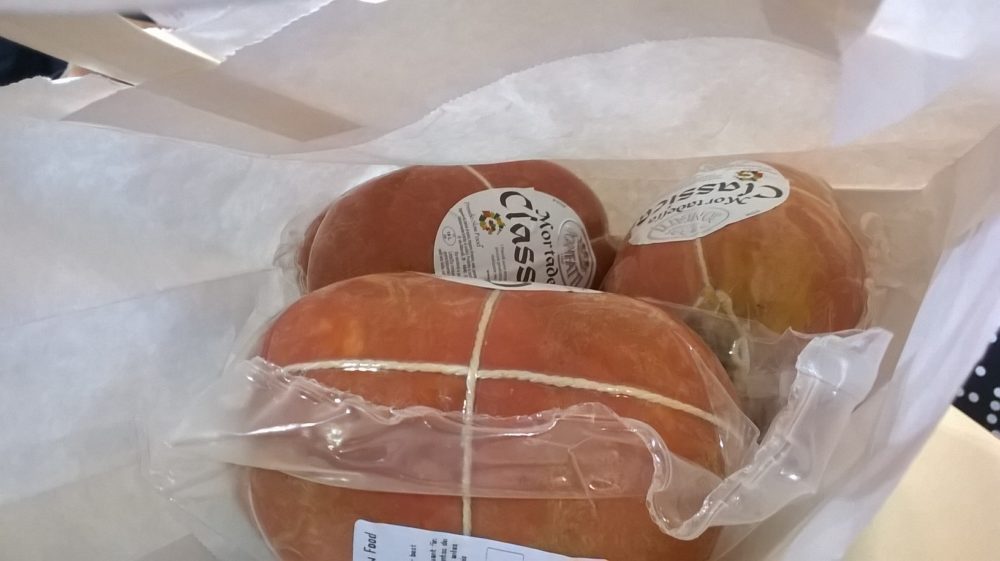 We ended our visit at about six in the afternoon, just on time to jump on the metro, get back home and get ready for aperitivo and dinner with friends in the Quadrilatero area of Turin. Being out in the city was amazing as usual. It had been a long time, and I realized how much I missed Turin and how glad I am to be able to visit any time I want, now. We decided to take the bus only for half of the way, so we could enjoy Turin by night a bit. We walked through via Maria Vittoria, where my friend used to live during our years of university, and where we spent so much time walking up and down together. We reached the magnificent piazza San Carlo, which, at about eight in the evening, was already all dressed up in glowing lights and velvety blue for the night: what a beauty. A brief stroll in via Roma and then piazza Castello and via Garibaldi, then down towards the old Roman area for dinner, not before stopping for aperitivo in a trendy –maybe too trendy, to the point servers forget to come take your orders…– bar: one Negroni later, we were ready for dinner and catching up with old time mates.
The weekend was a success, and the Salone Internazionale del Gusto is a great way to spend the day, especially if you love food and cuisine and you are interested in new flavors. If you are planning to come to the next, remember it happens every two years, so it will be 2016 before you will be able to do so! Be prepared to walk a lot, so wear comfy shoes and, unless things change, be prepared to fork out at least 25/30 USD for entrance. Do not rely too much on samples, because many stands either do not have any or sell them. If you can, definitely come during the week and avoid the craziness of the weekend: we could not see most of the Piedmont display and virtually none of the Sicilian stands because of the crowd, so choosing a day of the week is certainly advisable to enjoy the visit more throughly.
And if you come to Turin for the Salone Internazionale del Gusto, book a longer stay in the city, visit it, give it a chance: most Italians think Turin is an ugly, industrial place. I had fights with people when living abroad about it, because they would snear at the fact I love it so much. Stay for a few days, walk through its baroque streets, take in the timeless atmosphere of its squares, and look up to the hills and mountains that surround it: it is beautiful in its haughtiness, welcoming in its apparent detachment. Turin, in the end, is the city of the Piedmontese and is very much as we are, we may seem stuck up and do not like talking too much, but underneath it all, we are warm and friendly, just as our own capital is.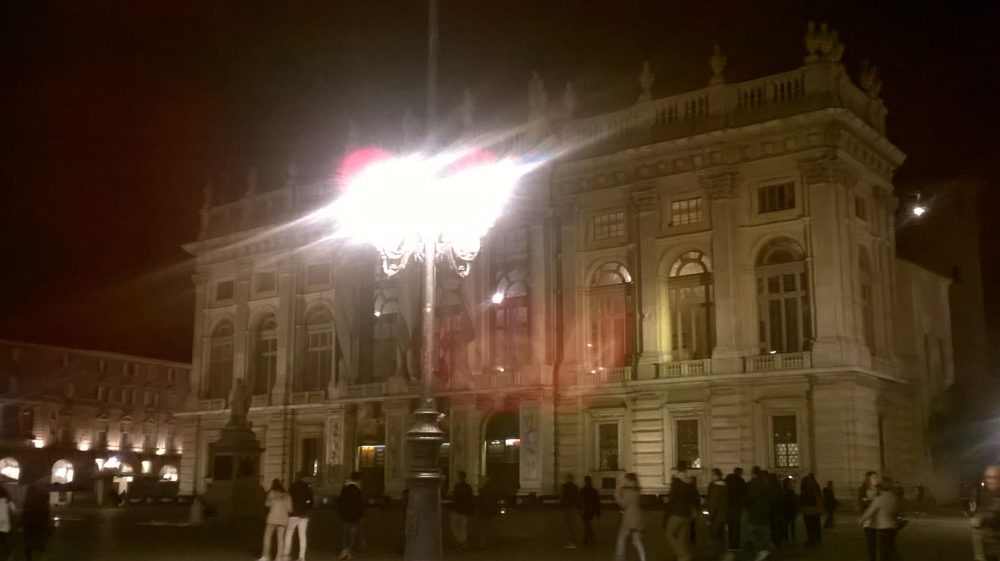 By Francesca Bezzone