Italian cars have been featured in many movies and tv series. Here are some of the most known.
Italian movies from the 50s & the 60s
Clearly, Italian films of that period featured many Italian cars, and represent a true archive of classic models, which have become highly collectable. They are a great way to see them in motion today, when it became almost impossible to see them on the road.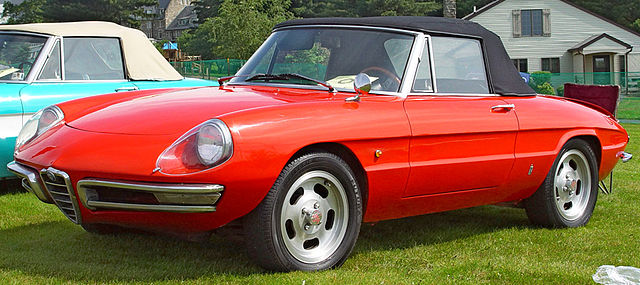 Il Sorpasso (The Easy Life)
This is probably one of the best films ever made, and surely one of the best Italy has produced. An extraordinary chemistry among the three leads Vittorio Gassman, Jean-Louis Trintignant and a very young, beautiful Catherine Spaak brings the audience on board a fabulous Lancia Aurelia B24 Convertible for the journey of a lifetime. Directed by Dino Risi in 1962, it is a must-see.
Foreign movies featuring Italian cars
The Graduate
Millions of words have been written about this Mike Nichols' masterpiece, where a baby Dustin Hoffman falls for a "pre-cougar" generation Anne Bancroft. He then speeds with his red Alfa Duetto to interrupt her daughter's wedding, and runs away with her for a happy and normal life… or was it? This film introduced one of the most appreciated Italian cars to the American market.
A very young Dustin Hoffman driving a Duetto Alfa Romeo
Magnum P.I.
Hawaii, Tom Selleck, and great plots are the ingredients that made this TV series a worldwide success, but there is no doubt that everyone will remember it also for the splendid and fast red Ferrari 308 with the license plate Robin 1. That car became an icon for the 80s generation and it was a solid member of the cast, exporting the popularity of Ferrari to the Pacific Ocean and into virtually every house in the world.
James Bond
Although, technically, the most famous spy in the history of motion pictures has never driven an Italian car, Ferraris and others have been often featured in the 007 series. We would like to remember one sequence above all, when James Bond races a Red Ferrari on a mountain street on the top of Monte Carlo in Golden Eye, Pierce Brosnan's debut as James Bond. In Octopussy, there's a thrilling high-speed scene in which James Bond steals an Alfa Romeo GTV-6 and is chased by the police.
007 and Ferrari: a match made in Heaven
Miami Vice
The success of this very popular series was a combination of things such as locations, music, and colors, but just as in Magnum P.I. the Ferrari had an important role. Two different cars were actually featured. First, a beautiful black Ferrari Daytona Spider 365, destroyed in an explosion at the beginning of the third season, replaced by a glamorous and brand new white Ferrari Testarossa, especially donated for the series.
Growing Pains
We all remember Kirk Cameron as Michael Seaver and even a very young Leonardo DiCaprio in his first important TV role. Well, Michael's car in the show was a Fiat 124 Spider, a classic convertible for a young man that wanted to conquer the world, like any other teenager.
Scent of a Woman
"First is a woman, then a distant second is a Ferrari," says a blind Al Pacino to a young Chris O'Donnell. Later in the movie, Al Pacino test drives a beautiful red convertible Ferrari, driving it  at full speed, blind, in the street of New York City. A memorable scene.
Al Pacino drives a Ferrari in "Scent of a Woman"
Rocky 4
Right after the death of Apollo, Rocky speeds away in his black Lamborghini, while the feature song "The Burning Heart" plays along, scoring a series of flashback memories from the previous movies. An Italian-American actor in an Italian car, a very moving scene.
Roman Holiday
Although not really featuring a car, Roman Holiday deserves special mention since it made the Vespa very popular, as a charming Gregory Peck conquers the heart of a classy and noble Audrey Hepburn in a film that became a legend.
To watch a beautiful Audrey Hepburn driving a Vespa in Rome, click on the link.
Of course Italian cars can be found in many other movies – if you start looking for them, they're everywhere!