The Fiat 500: Piccolo Grande Cinquino
Say the words iconic Italian motorcar to most petrol heads and they
will automatically conjure up images of Ferrari, Lamborghini, Maserati.
There's nothing wrong with this of course, as these names represent
the very best and quintessential luxury sports cars designed to make
a lasting impression. They are also a testament to Italy's strong sense
of individual expression, extraordinary sense of style, design prowess
and fiery passion.
Despite the attraction of cruising around in a testosterone powered
super car, you get a very different response when you arrive in a Fiat
500 (cinquecento). One of the hottest selling and most popular cars
ever to leave Italy during the 1960's, the diminutive Fiat 500 is still
impossible to ignore with its unpretentious looks and resonant sounds
emanating from its two-cylinder, air-cooled engine.
Designed by Dante Giacosa, the very first Fiat 500 was nicknamed
the Topolino, which at the time of production, was one of the smallest
cars in the world. These baby Fiats were produced from 1936 until 1955.
In all, over 500,000 models of the Topolino were sold, but in 1955 Fiat
launched the mid size, rear wheel drive 600 that would later become
the design basis for the new Fiat 500, which today ranks among Italian
cult icons. On the 4th July 2007, exactly 50 years after the very first
nuova 500 appeared, Fiat launched a new version, available in three
models: Pop, Sport and Lounge. This new version, Fiat says, is "entertaining
and practical, environmentally-friendly and accessible, but also appealing
and full of fun."
Its sheer ubiquity in Italy's towns and cities means that they are
never hard to find and whenever I see or hear one these classical icons,
I find myself contemplating, completely suspended in a timeless silence
as my thoughts rekindle powerful and wonderful memories of my childhood
when I first became acquainted with the cinquecento. I vividly recall
my summer visits to Puglia where I would get to ride in my grandfather's
treasured, pristine white cinquecento F.
Riding around Taranto and Grottaglie in this little car that was
made ideally for pottering through the narrow and cobbled streets of
Italian towns and villages was certainly an indescribable pleasure.
As well as its unusual looks and sounds, the cinquecento's plastic interior
also had a distinctive fragrance that was not uncommon among Fiats of
that era.
Il piccolo grande cinquino, as it is affectionately known,
has a special place in my heart. I am glad that it was recently ranked
as a "car of its time that remains great today." Moreover, the Fiat
500 "immobilized a nation, and since that nation was Italy it did it
in a hyperactive and charismatic way." What better way to remember this
tiny, historic and ingeniously engineered car?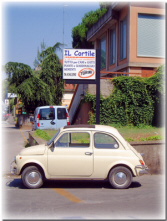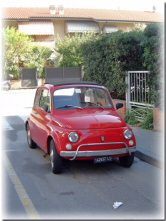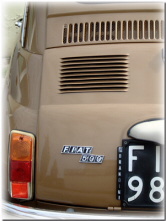 During its heyday it wasn't just a car, it represented the richness
of life that is so unique to Italy and Italians. There's definitely
a star quality to the cinquecento. But you don't have to take my word
for it – even Michael Schumacher apparently has one.
By Charles L. Joseph