Ferruccio Lamborghini
The entire mystic of the Lamborghini revolves around Ferruccio Lamborghini, who was inspired and determined to make his dreams become reality. His determination and skill allowed him to succeed.
Lamborghini's parents were farmers. He was born in Renazzo on April 28, 1916. As he grew into a young man, his first love was mechanics and technology. He had no desire to follow in his parent's footsteps. He studied technology in Bologna and when he graduated, he put his knowledge to work during WWII.

Lamborghini Tractors
When the war ended, Lamborghini returned home. He began purchasing old military vehicles and converting them into tractors, which were very hard to come by in postwar Italy. His venture was highly successful. This encouraged him to buy a workshop in Cento, in 1948. It was here that Lamborghini tractors were produced. By 1959, Lamborghini had extended his enterprise to include air conditioners and burners.
Lamborghini Helicopters
Lamborghini had always loved helicopters. Since his business was doing well, he began producing them. This venture came to an abrupt halt when the government refused to accept his application for a license. The direction of his attention was changed. He began to concentrate on cars. His decision would change the automobile industry forever.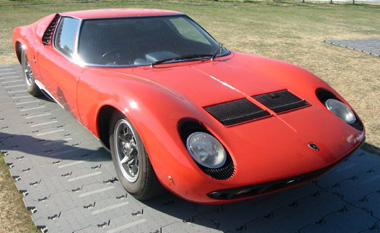 Lamborghini Automobiles
In 1963, Lamborghini opened an automobile factory in Sant' Agata. Lamborghini's first cars were delivered in 1964. The Company grew in leaps and bounds for the next nine years. In 1972, Lamborghini experienced a crisis. The recession that hit countries worldwide and the oil embargo left the Company in financial trouble. Lamborghini had no choice but to sell 51% of its shares to a businessman from Switzerland by the name of Georges Henri Rosetti. In 1974, Lamborghini sold the remaining 49% of the Company to Rene Leimer, a friend of Rosetti. The Company found itself once again in dire financial straits because the shareholders were reluctant to invest in a floundering venture. Suppliers were concerned. Invoices weren't being paid on time. However, Lamborghini was able to hold its head above water – barely.
More Woes for Lamborghini
The worst year for Lamborghini was 1977. The owners made a few strategic errors. The Company sunk too much money into an off-road vehicle in hopes that it would sell well. That didn't happen. Another mistake was a contract with BMW to produce a series of sports cars. BMW pulled the plug on the contract in 1978.
At this point Lamborghini went into receivership. It was handed over to Bolognese Commercial Law expert, Alessandro Artese, who happened to be a car enthusiast. He teamed up with Lamborghini technical director, Guilio Alfieri and salesman Sgarzi. The team was able to guide Lamborghini thorough a difficult financial situation while they pursued new shareholders.
The Company remained open while in receivership. Its clients were loyal, the employees were determined to see Lamborghini succeed and its distributors were supportive. In July 1980, the Company was sold by the Bologna Court to Mimran Brothers, who were successful food industry tycoons. The new owners had a great passion for cars and they set forth to rebuild Lamborghini. They searched out skilled workers and invested in new products and a new factory.
Lamborghini Grows
Between 1984 and 1986, improvements caused new growth within the Company. The charging bull symbol of Lamborghini became a well-known icon. Growth was so rapid that private investors could no longer support it. Backing from a large corporation was needed. The ideal organization was Chrysler.
Chrysler was drawn to Lamborghini like metal to a magnet. It had new products, a highly skilled workforce and its management was highly motivated. Chrysler asked Mimran Brothers for total share capital. They agreed and a legal agreement was signed on April 23, 1987 in Sant'Agata with Lamborghini employees looking on.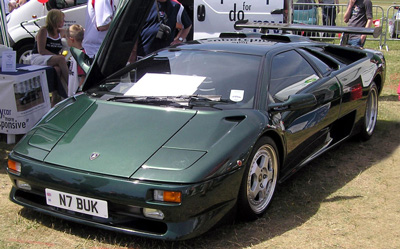 Lamborghini Restructured
Lamborghini underwent a huge restructuring after Chrysler signed the deal with the Mimran Brothers. Mr. Emile Novaro became President. Funds were invested to increase production. The Countach model was replaced wit the Diablo model on May 7, 1990. Diablo sales soared and reached their peak in 1991.
That year, Lamborghini's balance sheet was in the black for the first time in years. This stroke of good luck didn't last long. The ensuing years and a recession in the world market hit all automobile companies hard. In 1992, Lamborghini's profits plummeted, never again to reach the height of 1991 sales.
Lamborghini Reorganizes
This new crisis prompted Lamborghini to reorganize and take on experimental projects. They looked at third party mechanical machining, development and production of a marine engine and an electric vehicle. They introduced the Diablo VT in March 1993. The vehicle was fitted with a coupling that enabled the traction of the vehicle to be changed to four-wheel drive. In September 1993, the Diablo Special Edition was released to commemorate the 30th Anniversary of the Company.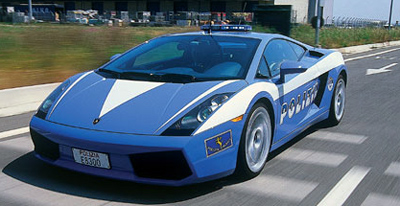 Chrysler Sells Lamborghini
Chrysler Corporation sold Lamborghini to Mega Tech in January 1994. The same year, Lamborghini won the Class 1 World Off-Shore championship.
Lamborghini and Audi shareholders reached an agreement on July 24, 1998. The contract, which was signed in London, England, gave Audi complete control of Lamborghini. A strong owner that was held in high esteem in the automotive industry had control of the House of Bull and the new era of Lamborghini was born.
By Mary M. Alward