Last Updated on June 19, 2020 by Admin
Motorcycle Dolomite Tour
It was a beautiful clear day, with a deep "azzuro" blue Italian sky. Only a few patches of snow hung on the high Dolomites. Cumulus clouds drifted in the wind as if they were out to see if all is well out there.
So in a split second we decided, "Let's go!" We got dressed and off we went. We decided to take our motorbike into the high Dolomites. We checked the map and headed out to Longarone, then on to Pieve di Cadore. This part of the SS 51 way is not very exciting.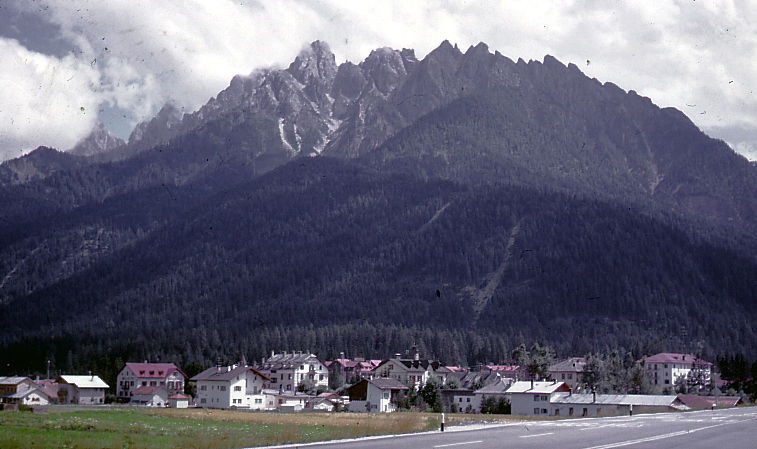 There's far too much traffic, mainly trucks rushing on their way to deliver something somewhere.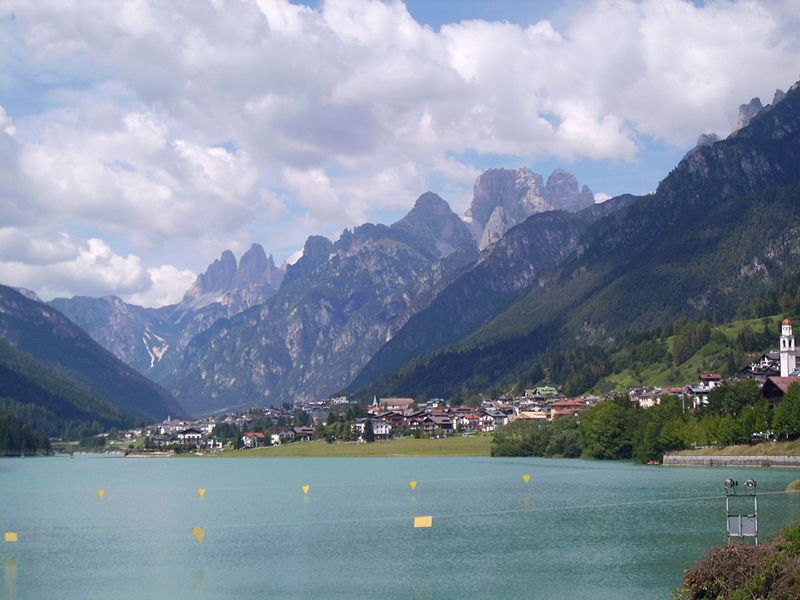 Once we got to Pieve, we took a right turn towards Auronzo. Here things calmed down and the landscape turns more romantic. Small scattered villages with nice and tidy piazzas welcome visitors looking for a quiet interlude and a coffee. The winding road is very well kept, making it easy and enjoyable to drift along once you found your rhythm from curve to curve.
Along the way there are a few beautiful lakes among the mountains, with luscious green shores covered with multi colored flowers with the permeating smell of the Nature reawakening from her winter rest.
We reached the first lake at Pieve as it extends northward. The Piave River flows out from its southern tip on its way towards Venice. The second lake called St. Catarina can be found just before Auronzo. It is much smaller yet it is also beautiful and inviting.
We arrived in Auronzo, a small town beautifully set in the Dolomites. It offers small hotels, typical restaurants and osterias serving traditional dishes like "capriolo and polenta" (game and polenta).
Here you are surrounded by the breathtaking panorama of the high Dolomites. All the peaks are well over 2000m high. Monte Rusiana, Monte Agudo, Croda Alta, Col di Vidal, Monte Ciarido form part of the Monti di Marmarole chain. For those who would like to linger here a little longer, Auronzo is a good starting point to visit some of the most beautifully located rifugios. Rifugio Lavaredo in particular offers a spectacular view of the Tre Cime di Lavaredo.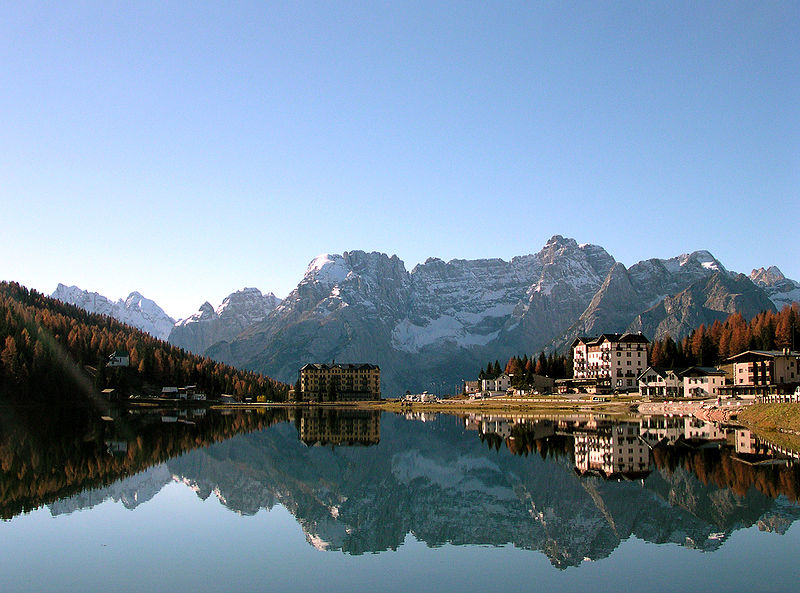 We continued on the road towards Misurina. Each curve brought out a spontaneous "oh!" and "ah!". It just does not stop. Each turn offers an even more spectacular landscape than the previous one. The formation of each Dolomite is unique, bizarre and often frightening with its stone needle pointing to the sky. Sometimes you hope that the mountain will stay up there and not just crumbled.
We got to Misurina, a small village with its Palazzi built at the turn of the 19th century. They stand as silent witnesses of a lost and more gentle era, mirrored in the crystal clear water of the lake. You get the feeling of being at the end of the world. Here you can feel there is absolute quiet and peace all around you. Time has stopped. Everything is slowed down like in a slow motion film. Nothing is important. You move to the rhythm of the wind, listen to the song of the birds, as you follow the path of the sun.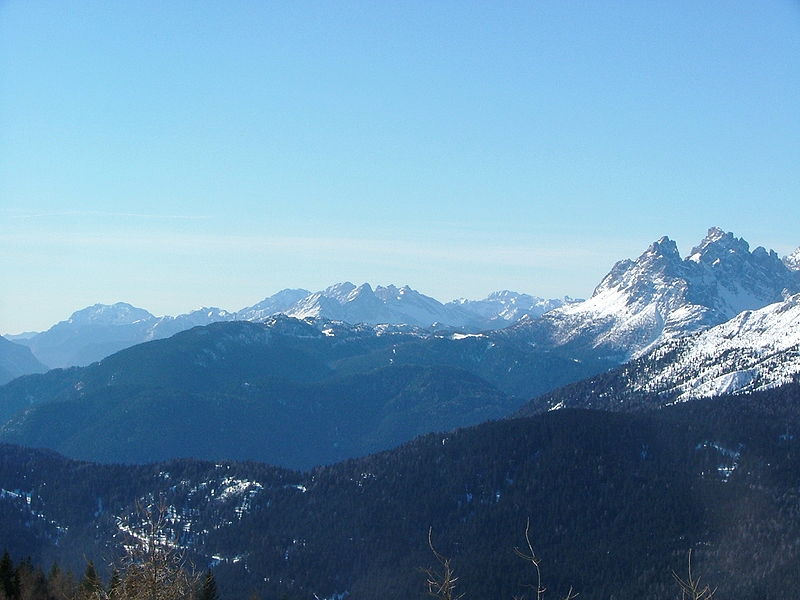 We sat down on the terrace facing the lake and were silent. In the midst of all this, one can really feel the power, the strength and beauty of nature as well as being part of something greater.
Originally we wanted to continue from here to the Rifugio Auronzo. There was a sign indicating that the road was closed for maintenance. So we did not continue but took another winding road. We went through the Passo Tre Croci and headed down to Cortina d'Ampezzo. Cortina is a world renowned tourist destination. It offers great skiing in winter and endless hiking in summer. It has beautiful hotels, restaurants and a night life.
It was just lunchtime when we arrived. We decided to stop and eat at what turned out to be a rather expensive but no so extraordinary restaurant. It is best to look for Agriturismi and stop there. We were so taken in by our adventure that we did not choose the right kind of place. One learns from those bad mistakes.
From Cortina we took the road back through all the villages of the Cadore. We passed Longarone again and arrived back home to Casan. All in all it was about a 200 km day trip.
Now that I am writing about it, I see the beautiful colors and shades of green in front of my eyes. The Dolomite peaks change color in the sunlight as the day advances, from white to pink and to all possible shades of rust. I feel the wind in my face, I smell the scent of millions of herbs and flowers, I remember the slow movement of the buzzard's wings but mainly I feel my heart full of joy and thankfulness for having had this opportunity to experience such beauty.
By Eva Fabian
You might also be interested in:
Touring Dolomites on a motorbike part I (Corvara and Santa Croce)
Touring Dolomites on a motorbike part III (Agordo and Passo Duran)