March 22, 2007
Fabio Capello: Anthology of a Champion
Part II: The Coach
Fabio
Capello is undoubtedly one of the most famous Italian coaches in the
world. Charismatic and agonistically charged like very few professionals
in this field. For many he is the prototype of sergente di ferro (Italian
for iron sergeant) very capable of transmitting any team his winning
mentality. Very solid – Capello has always been portrayed as such.
After a successful life in the field he decided to approach soccer
from another angle. His coaching career started with the Milan youngsters,
from 1985 until 1991, but also dedicated his spare time to hockey and
marketing. He was a true Fininvest man.
In 1991 the great opportunity arrived for him, as the dawning star
Arrigo Sacchi retired Capello was assigned the A.C. Milan bench, therefore
directing the dream team – with names such as Ruud Gullit, Marco Van
Basten and Frank Rijkaard (the three Dutchmen) and pillar Franco Baresi.
Out of five championships with the rossoneri he bagged four; along with
three Super Cups, a Champions League and a European Super Cup.
Capello
was a motivated and ductile coach during those rossoneri years. He adapted
the play according to the disposition of players he was in control of:
for one year he opted for an offensive game, the following one his main
concern was not allowing goals; it was all according to the quality
of men he coached that specific year. His character was effective but
not always an easy one. He couldn't sometimes reason with some of his
important players – Edgar Davids was an example of that special temper
that later on marked Capello as a tough to deal with kind of coach.
The Dutch was sold by Capello in 1996-97 and found in Juventus the
perfect place to shine. In 1996 Capello left Milan after winning a scudetto,
in the midst of controlling and succeeding with two talents such as
Roberto Baggio and Dejan Sacicevic: Berlusconi then thought that the
magic Milan accomplishment during those years would have been remembered
more as Capello's success rather than his. It was Fabio's time to branch
out of Italy. He reached Madrid and in the first year he conquered Spain
with his Galacticos. The Spaniards loved him, but with Washington Tabarez's
double failure back in Italy, Capello got a call from A.C. Milan he
could not refuse – unfortunately that was another catastrophe for the
rossoneri and Fabio decided to take a year off coaching. He became a
commentator with European eyes all over him.
It was 1999 when Franco Sensi, AS Roma's Patron, decided to open
up a winning cycle for the giallorossi and guaranteed Fabio Capello
a bench after two years spent with Zdenek Zeman in comand. Roma fans
found themselves in an ambiguous love for the new coach. One side felt
safe with his coaching abilities while the other missed the olden ways
brought by Zeman. Unfortunatelly after a spectacular start Roma could
not follow the lead and ended up falling back in 6th place in Serie
A – way too far from rival and winning team Lazio. The Zeman-nostalgic
fans fumed not only because they saw laziali win what should have been
their scudetto but also because Capello had a hard relationship with
Curva Sud's idle Vincenzo Montella. In June 2000 the pieces missing
in Roma's squad finally fell into place. The Argentinean defender Walter
Samuel, the Brazilian center-mid Emerson and the super bomber Gabriel
Omar Batistuta joined the team and it was a whole new Roma. Capello
was finally ready to step it up and on June 17th, 2001 Serie A crowned
the giallorossi on their third scudetto.
Finally Capello was not under Zeman's shadow anymore. He was the
decade's best coach as out of eight tournaments he was able to win six
with A.C.Milan, Real Madrid and A.S. Roma. To top it all on August 19th
2001 he won against Fiorentina in a 3-0 Super Coppa final. A well faught
2004 championship brought Capello to make his career move – he decided
to leave the capitolino group but not before expressing his graditude
for a spectacular time with the giallorossi organization. Roma fans
tragically saw yet another winning 'mister' say goodbye to their idols,
but were also disappointed to hear he had found in Juventus his next
challange after previously declaring to never wanting to be part of
the Torino based club. Due to a very abundant compensation Capello broke
his promise and his decision was well rewarded with Juventus' 28th Scudetto
that year. In July 2006, with Juventus in the midst of the aforementioned
match-fixing scandal, Capello resigned as their manager. Press reports
strongly linked him with a move back to Real Madrid; new club president
Ramon Calderon publicly stated his desire for Capello's return to the
club. On July 5th, 2006, the official Real Madrid website announced
the incorporation on Fabio Capello.
Capello was criticized by Juventus captain Alessandro Del Piero,
as Fabio Cannavaro and Emerson also left for Real Madrid. Capello quickly
drew the disdain of Real Madrid's ardent supporters because of his defensive
playing style. In interviews, Capello attacked those critics by saying
that the beauty of attacking plays is old. He said that results are
much more important than playing beautifully. He also added that "those
days are over". At Real Madrid, Capello had another high key falling
out. This time with hotly tipped young star, and fellow country man
Antonio Cassano, the two had disputes in the past while at AS Roma.
Capello had not played Cassano for over a month at Real Madrid and the
young striker reportedly shouted out at him "Have you got no shame?
I fought for you in Rome and this is how you repay me".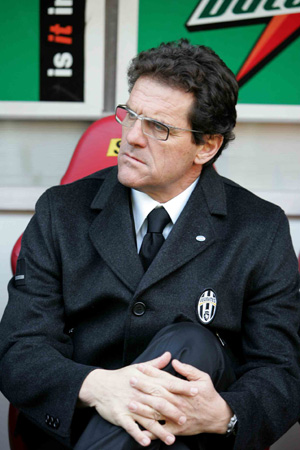 This lead to the young Italian being suspended by the club. Capello
was also heckled by fans during the weeks that he benched David Beckham,
after Beckham's signing in January to the LA Galaxy. It was widely speculated
– when Capello finally did allow Beckham to play and he scored a goal
for the struggling club – that this move actually may have saved the
head coach's job. On Tuesday, February 20th of 2007, Real Madrid was
forced to deny rumors that Capello would be leaving after that day's
match. Despite everything around Fabio Capello going array in Spain,
with 27 games in the Liga and 11 more to go, he is currently fighting
for first place with his Galacticos which are sitting only 5 points
south of Barcelona and Siviglia. Might this still be Capello's 8th championship?
Alfredo Iannaccone