Celine Dion once said that: "If God would have a voice, it would be that of Andrea Bocelli". The singer not only inspires with his voice, but with his courage and determination. Blind since the age of 12, he has not let his handicap stand in the way of achieving phenomenal success. He has said that: "I believe we all have a destiny that we can practice. Mine was singing…"
Perhaps his strength comes from his Faith. A devout Catholic, Bocelli refused to sing Ave Maria at the Scientologist wedding of Tom Cruise because he thought that it would be disrespectful to the Catholic Church.
When he was eight he went on a pilgrimage to Lourdes with his family. He told the priest who later officiated his wedding ceremony, that he prayed for serenity. This serenity shines in his singing.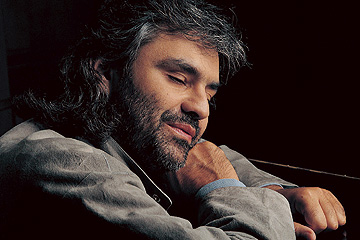 Born in 1958 in Laiatico, near Pisa, Bocelli's parents grew olives and wine grapes on their farm. His father also sold farm equipment. His mother, who refused to pity him on account of his blindness, raised him with 'no mercy and no lies' according to her interview for popular Italian magazine, Oggi. He gained his degree in Law by usign Braille, but he loved singing and that was always his true ambition. The young Bocelli worked as a lawyer, but he wanted to continue with his singing lessons so he sang in piano bars at night.
Andrea Bocelli and Heather Headley in "Vivo per Lei"
The opera singer met his future wife at one of these piano bars. He was 30 and she was just 17. She fell in love with his voice before even meeting him. Happily married, they now have two sons.
It wasn't until Bocelli was 34 that he began to be successful at singing. The great Pavarotti heard him sing on a demo-tape. Impressed with his voice, Pavarotti asked the rock star Zucchero to take him on tour. Bocelli entranced audiences and his first album, Romanza, sold extremely well. He appeared on a PBS special which was also very successful.
He began with pop music but then debuted in opera, which he greatly prefers, although he usually sings in concerts rather than starring in operas. Bocelli is very proud that there are often young children in the audience when he sings opera. He wants the young to realize the beauty and magic of classical music.
Bocelli's greatest hits released in 2007, The Best of Andrea Bocelli – Vivere,  includes his famous duets Time To Say Goodbye with Sarah Brightman, The Prayer with Céline Dion, and many of his best-loved songs, such as Because We Believe. Guests included Laura Pausini and David Foster. 
Bocelli is a very special singer of the Italian musical panorama, since he's a classically trained singer, who chose to work in pop music, much like Sanremo 2015's winners, Il Volo. 
He is estimated to have sold 65 million records, so he is one of the most popular Italian singers in the world. His popularity rose especially in the second half of the 1990s, with the eponymomus Andrea Bocelli and Romanza, as well as A night in Tuscany and 2001's Heaven of Tuscany. Since the mid-2000s, Bocelli has gone back to his original, true love, opera music and has produced mostly albums in this style. His popularity among pop music fans remains unscated, especially in name of the ubiquituous presence of his most famous songs, think of Vivo per lei or Con te partirò-Time to say goodbye, have remained hugely popular.
Andrea Bocelli and Céline Dion in The Prayer
In spite of his popularity among the general public, Bocelli has received a good deal of criticism, especially when it comes to his voice, which is not considered particularly powerful by classical standards. But he doesn't worry about what they think and he doesn't need to. He has sold over fifty-five million albums and has even been tipped as the successor to the late Pavarotti. He said in an interview  that: "When you are on the top, there will always be somebody who will criticize you. The only thing that really matters is the people and the support of those who love you".
by Lisa-Anne Sanderson and Zidanie, edited by Francesca Bezzone