All is justified during the week of the most famous Italian music kermesse, this year won by well-known (at least in the US) trio Il Volo.
After having been away from Italy for the good part of 15 years, this was the first Festival di Sanremo I somehow followed since the late 1990s: as all good, well loved traditions of Italy, I was happy to see very little has changed. Music is only one of the things keeping people hooked to the tv screen when it comes to Sanremo: it is controversy that makes us all interested, and this year we had plenty. Conchita Wurst as a guest, Gianna Nannini's wrong notes during her exhibition, the phone voting-system that stopped working too early and, of course, issues with the winners. Al Bano and Romina Power performed together on stage at the Ariston for the first time in 25 years or so, and Italy felt like her parents got together again after a nasty divorce.
Gossip, fights, fashion, recrimination, the Festival di Sanremo has it all, and this year's winners Il Volo have found themselves at the center of some not-so-pleasant set of critiques…Let's then start from them.
Il Volo: the winners of Sanremo 2015
In recent years, reality shows invaded Italy almost as much as they did in the US:  it was on one of these talent competitions, Ti Lascio una Canzone,  that the journey of Il Volo began. In fact, they participated to the competion separately, but were asked to become a trio. The three young Italian singers, two tenors and one baritone,  were not only talented, but able to link classic styling with modern touches, which allowed them to appeal to a wide range of age groups. The youthful vitality of Il Volo made them able to produce classic songs, as well as becoming relevant to the younger generation almost straight away: Piero Barone, Ignazio Boschetto and Gianluca Ginoble (two from Sicily, the third from Abruzzo) gained popularity in Italy as soon as they appeared on tv, also thanks to their approachable and amiable manners on-stage.
Music lovers, and still bringing within the freshness and energy of youth, Il Volo wouldn't have been the same if it weren't for singer/composer/producer and Italian music mogul Tony Renis, author of many famous Italian songs such as "Quando…Quando," and also well connected in the American entertainment world: keep this in mind, as it'll become relevant when we talk about what happened after their Sanremo's victory.  Tony Renis was the one, or so it seems today, who noticed the three kids on Ti Lascio una Canzone and had the idea to make them sing together.
Anyway… after Il Volo found success in Italy, an appearance on American Idol, followed by a performance on The Tonight Show with Jay Leno, made them popular in the US. They, in fact, became bigger in America than they were in Italy and began representing the idea of Italian quality music abroad, a bit like Andrea Bocelli had been doing since the mid-90s.

Il Volo: O Sole Mio ( American Idol )
Their success in the US is huge and they quickly conquer the top 10 also in South America and many parts of Europe. Tours and tv apparitions come flocking until when, in December 2014, their participation to the 65th Festival di Sanremo is officialized. For these young men already well used to success, the Festival was to change once more the  cards on the table of their glittering career.
Perchè Sanremo è Sanremo!
To non-Italians, understanding what Sanremo means to a certain type of Italian singers and songwriters may be hard. If you sing and your niche is traditional melodic music, then Sanremo is the place to be, the place you want your name to be associated with. It's true that it's hey days are long gone and that, today, we certainly no longer see artists of the calibre of Claudio Villa, Nilla Pizzi or Domenico Modugno, but winning the competition or one of its prizes, like the prestigious Premio della Critica or the Premio Mia Martini,  can still make or break your career. The biggest difference in between the golden years of Sanremo and today is that the winners of yonder would always achieve a stellar career; in fact, many of them were already well established artists and a win at Sanremo was just another notch in the belt.
Today is a bit different, with many performers coming from talent shows, without being such household names as Sanremo's participants used to be. However, the show keeps on being extremely successful in spite of it all and this year's edition has been the most followed of the past 5, with an overall average share of 48%.
That Il Volo was to win, it seemed evident since the first night they performed: we Italians have a penchant for classically trained voices, even when they may not be particularly outstanding (I'm not saying Il Volo's aren't, even though some friends of mine with classical voice training were horrified by the way they sing). When Il Volo performed the second time, a standing ovation saluted their exhibition and we pretty much all knew they were going to win: beside having a catchy tune and good voices, their style squeezed an eye to Italian traditional melodic music and their fresh-faced attitude and warm-hearted smiles conquered many. Of course, competition was fierce as per usual: Nek, a giant of Italian pop, Raf, another big name, but also Chiara and Dear Jack, both products of one of Italy's best loved talent shows, Amici by Maria de Filippi, were all counted among the potential winners.
However, it was the young trio to make it first and, at least initially, everyone seemed pretty much happy about it. Twitter though was quick to pick on controversies: the show was still on when some viewers began tweeting their tele-vote for Nek (who obtained 35% of votes and reached second place,  against 39% of Il Volo), was not accepted, even though voting was still on when they attempted. Several more people, in fact, complained about the problem, which was proven to be a system glitch, of course… Doubt remained for many Nek fans, who weren't happy about the whole thing. You see… conspiracy theories are pretty popular in Italy, too…
On Sunday morning more criticism against Il Volo made its way to the net: main issue discussed? I ringraziamenti (aknowledgements) after the victory. People mentioned, people not mentioned, people mentioned only in a half: the guys, clearly emotional, began with their manager and, of course, the orchestra that performed with them (and all participants). So far so good, but then they let go a bit too much. They received a lot of criticism for their grazie Italia (thank you, Italy!) uttered first by Piero, then echoed by the other two. To many this was too pompous, more apt for huge names such as Madonna, rather than a bunch of kids who have her age in three (sorry, Madonna…). "Lack of humbleness," many have said; "too used to huge American crowds," echoed some others. In fairness, it seems to me their "thank you Italy" referred, quite innocently, to the people who voted them from home. Also: let's cut the kids some slack, they may be international stars, but they remain 20 year old boys.
More troubling is the fact Il Volo has failed to thank their mentor, Toni Renis, who chose the three to form a band and greatly supported their launch in the US: this, yes, may be seen as act of haughtiness the guys may like to fix quickly. Associated to Renis is also another source of debate: Roberto Cenci, a popular Italian director, said it was him, and not Renis, to have discovered Il Volo during Ti Lascio una Canzone. If this wasn't enough, he also complained about not being mentioned after the victory on the Ariston's stage.
On that same day, I did see them on Italian tv, interviewed in Sanremo by Massimo Giletti, and they seemed pretty down to earth, especially if compared with other performers of the same generation. That interview, in fact, also underlined the attitude of music critics towards "bel canto" (that is, classically trained voices as Il Volo are): if common people love it, critics are quick to judge and to highlight the style is pretty obsolete: in other words, Il Volo are old news from a creative point of view.
Of course, that may be true: their success is mostly due to their ability as performers rather than songwriters, and even the song which won Sanremo is, well, rather unsavory, if you ask me: it's their voices that made it a winner. I think it was, in fact, their voice people wanted to praise, along with their ability as singers. In the end, in a sea of barely in-tune singers, seeing someone who can actually read music on the Ariston's stage must have looked pretty impressive to many.
All in all, the guys have won deservedly: Nek, a happy second by his own admission, has not, apparently, followed the Twitter diatribe about his missing votes. Better like that: controversy is the bread and butter of Sanremo, but it should be a journalists/critics/viewers' affair. Artists should always gallantly stay out of the dispute and only worry about music.
Sanremo 2015: Il Volo and more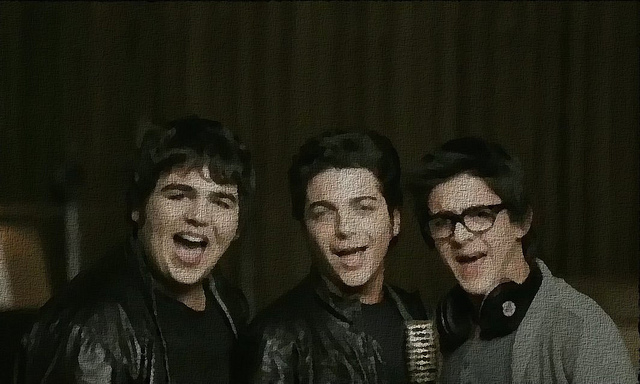 If you think the only gossip was about Il Volo, you're very much mistaken. Sanremo 2015 has been the edition of non-conventional vallette, bearded women performers and hospital-level bronchitis. Let's start from Arisa, Emma Marone (both previous winners of Sanremo, the first in 2014, the latter in 2012) and Rocìo Muñoz Morales. The two songstresses have been generally accused of looking awful: badly dressed and often awkward on stage to the point of being cringeworthy. In the end, however, they're artists, not models, as Marone stated, and when it came to performing ( a duet of the iconic Il carrozzone, by Renato Zero), they didn't disappoint. Muñoz Morales was beautiful, but many Italians find it hard to forget, when  they see her, she is the reason behind the end of Raoul Bova's decades-long marriage: being a love-rat is never good.
Some have also criticized the elimination of popular singer Raf, who performed awfully, but was hospitalized the night before for a severe bronchitis, a fact Festival's organizers failed to make public until after the elimination. The public found it pretty unfair, but Raf, a true gentleman, didn't complain one bit about it.
Last, but not least, Conchita Wurst, last year's Eurovision winner, ruffled some feathers with her beautiful dresses and bearded face, causing a bit of outrage in the usually super bon-ton and old-fashioned world of the Festival di Sanremo.
All in all, everything went as imagined: songs, VIPs and controversies kept Italy hooked to the screen for a week and got it talking as very little else, bar the World Cup and the Government, manage to do. Il Volo, winners in spite of the critiques, have probably now conquered the Italian audience for good and are ready to become as big in their home country as they've been for some time now abroad. Perchè Sanremo è Sanremo. And we wouldn't have it any other way. 
By Francesca Bezzone