Continues from part I of Top Italian DeeJays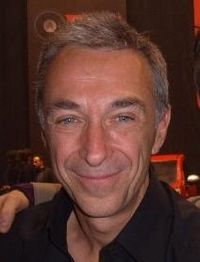 Gigi D'Agostino
A career that began in the nightclubs of Turin allowed Gigi D'Agostino to learn how to entertain his audience by understanding how they danced and what they wanted to dance on.  During those early days, D'Agostino was also able to get a handle on the rhythm that was becoming trendy and used it to shape his style, truly moving through the underground world to the radio, rather than the other way around. Despite his underground roots D'Agostino often collaborates with his friends at Radio DeeJay, although his strength lies in his live nightclub performances and the publication of new musical content.
Jovanotti
While this deejay started off on radio, and then television, like so many others he is truly unique in that he has carved out a career as a celebrated singer too. Discovered by Claudio Cecchetto, Jovanotti (real name Lorenzo Cherubini) has not only published music with lyrics but is also responsible for introducing rap to Italy in the mid-1980s. While rap didn't last long for Jovanotti–he soon moved on to more melodic themes and deeper thoughts and words–the change was groundbreaking. Jovanotti not only changes genres with ease, but also mediums, even starring in a movie from acclaimed director Gabriele Muccino. Despite Jovanotti's many talents his best moments are always his live performances through which he has touched generations of fans.

DJ Ralf Cromie 
Linus
The older brother of DJ Albertino, today Linus is first and foremost director of Radio DeeJay. While, at the beginning of his career Linus appeared on both radio and television, he now works behind-the-scenes, as head of two other radio networks besides Radio DeeJay.
Prezioso
Another member of the Radio DeeJay gang, Prezioso made his career in Rome and its nightclubs, where he built a huge fan base for himself. Prezioso always had an incredible sense of mixing the sound of the clubs with the needs of radio high rotation and he is highly appreciated. Another nice touch has been the use of his last name as stage name that in English translates into "Precious."
DJ Ralf
Antonio Ferrari is the real name of this great Italian DJ, true master of House music. He is incredibly popular throughout Italy, Europe and even the United States. One of Ralf's biggest strengths is his way of "guiding" the music, introducing different sounds and mixing them into the House base. This gives Ralf a particular appeal and allows for a human touch to the electronic sound and environment that House music requires.