Last Updated on April 5, 2019 by Katty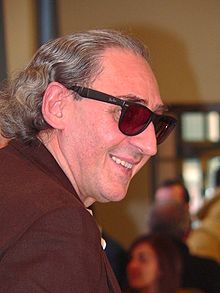 One can sense the scent of the Mediterranean in Battiato's music, as if the captive emotions and energy of his native Sicily, had been released by it. A cross-culture land of many natural and historical beauties, Sicily finds in his music a strong means to express itself. The interesting aspect of Battiato's art is the fact his sounds are not typically Sicilian at all, but they still fully convey this amazing island's essence, mélanged with the sounds of far away, exotic lands.
Battiato's stage presence, his voice and appearance, are just as essential to his music, as they only add to the sounds and the poetry of his songs. He truly becomes the best expression of his own lyrics.
His massive mainstream success arrived very suddenly in the early 80's with the record "La Voce del Padrone" (His Master's Voice), the title taken from the music label. The power of this record was its introduction of sounds and styles never heard before in Italian music: a classic sense merged with a futuristic ambiance, which manage nevertheless to describe magisterially topics and situations strictly from the present.

Franco Battiato – permanent center of gravity (original).
In Battiato's work, the listener takes part in a journey, a literal trip around the world, experiencing what other places have to offer. After his first hit, he then produced another, "L'Arca di Noe' ", (Noah's Ark), where his search for new, unknown sounds from faraway lands became more refined, though the music was probably not as "fresh" as that of his previous record. This second success however gave him the money, power and total freedom to start experimenting, without being limited by what the market dictated, so he began a long musical trip, which led him to the most remote aspects of music, in which he freely explored opera and the classics, while developing some very modern pieces. Although his popular success never fully matched that obtained in the 80's, he truly began delivering one masterpiece after another. He collaborated with other singers, either in duets or just using their voice instead of his own: one of his best artistic collaborations, no doubt, was the one with Italian singer Alice, whose very distinct voice perfectly matched his eclectic style.
As his art reached very abstract and intangible levels, he also started to develop a strong desire for visual concepts, finding in them a good continuation of his musical journey.
If we could compare it with visual art, we may say Battiato's music could be associated with what Salvador Dali did for the Surrealist movement. In light of his new artistic desires, the musician became a filmmaker and went on to direct two films which, just like his songs, contained a great deal of surrealism, thanks to which the viewer would found himself enchanted, yet rooted in reality at the same time. His cinematic attempts were not exactly well received, as cinema is a complex media and Battiato failed to fully communicate his message, mistakenly thinking he could easily master the seventh art as gracefully as he could music. Anyway, in the spirit of true art, his filmmaking experience shall be remembered as a delightful research into something different.
In recent years Franco Battiato has taken on more social and political views, concerned about the cultural shift that our world is taking, and his attitude seems to respond perfectly to the needs of a confused, fatalistic population. Battiato offers in his music a very active connection to spirituality and to the search of one's soul.