Apartments for rent near the Vatican
I visited this apartment complex personally and I sent here several friends. The feedback was always excellent. Both location and apartments are great. All apartments, comprised of 2 /3 /4 bedrooms,  are large, full of light and clean. You will also have the freedom to exit and reenter your room as you please. 
Paolo Nascimbeni ( Lifeinitaly.com)
About the Area
The 44 apartments are located at the very heart of Rome, in an area called Borgo Vittorio ( the Vatican area ), near Via Della Conciliazione and Castel Sant' Angelo (located in the large green area in the map below ). The Vatican (marked as Città del Vaticano) is just a couple of minutes walk. You will be in St Peter's Square (Piazza San Pietro) and on front of its magnificent Basilica in no time. You can also easily reach Castle Sant' Angelo and, by just walking a little bit further, you'll find yourself in Piazza Navona and the traditional, picturesque area of Trastevere. In other words, you will not need a car at all, since most of Rome's most popular sights are easily reachable by foot. At night, you will be able to walk and enjoy the Roman lively night life without a worry.
If shopping is what you want to do while in Rome, the apartments are a perfect location to choose, too.  The well known shopping areas of Via Ottaviano and Via Cola di Rienzo are nearby, easily reachable by Metro (look for the Via Ottaviano metro stop on the map below to have an idea of the distance)
A small hideaway made of self-catering apartments, away from the chaos of the city's busiest streets,  in the shade of the Vatican Walls: the area of Borgo Pio is also location of some of our beautiful rental apartments. They are situated just around Castel Sant'Angelo, in an area known for its cultural and social activities. The Castle itself is an appreciated location for several artistic and cultural events: for instance, the Annual Rome Book Festival is held each year in the Castle's gardens.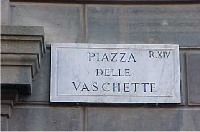 Games, drama workshops and children's storytelling are organized on a regular basis,  as well as concerts, cabaret performances and film screenings. Castel Sant' Angelo opens to the public in the evening, with performances and animation. In addition to 25 nightly performances for your entertainment, you can wander through the bastions and enjoy the illuminated view of Rome-by-night from the Terrace of the Angel. Each evening, artists simultaneously perform in the courtyards and bastions of the castle, which will also host a space dedicated to artistic craftsmanship.
In Borgo San Pio, you'll finally enjoy an apartment rental  where you can truly experience the sounds, colors and scents of the Città Eterna,  even if only as a tourist. An exclusive self catering residence made of about 40 apartments, well and comfortably located, at a few hundred meters from the metro station and from all essential services, whether you are in Rome on holiday or on business.
A suggestive corner for private apartments, open to the dimensions of practicality and culture…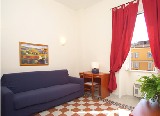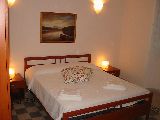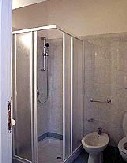 …an exclusive point of view, that makes of Rome an even more unique city, where it is possible to take advantage of a short or a long stay, made unforgettable by the beauty of the city and the outstanding comfort of these apartments.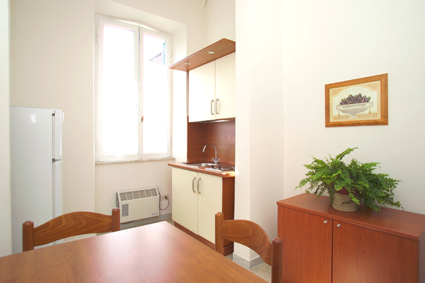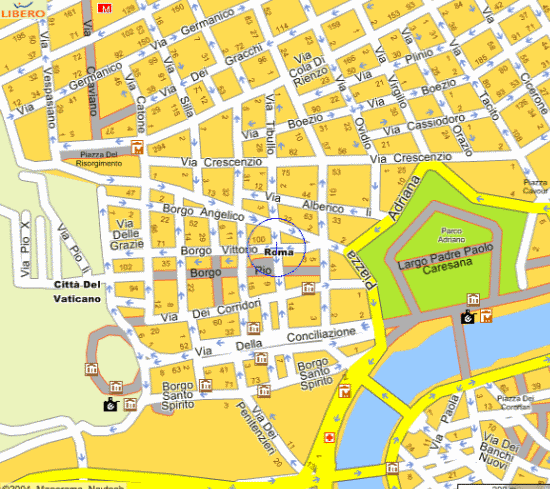 Map of the Vatican and the Surrounding Area
Fully equipped kitchen
Air-conditioning
Satellite LCD TV
Hairdryer
Free Internet
Sheets and towels
Laundry service
Washers and dryers
Luggage storage room
Car rental
Common Web & TV room
Coffe & Snack machine
Rome Apartments for rent