VILLA BORGHESE – (Frascati)
Villa Borghese is a very modest villa, compared to the others. It belonged to cardinal Ferdinando Taverna who sold it, in 1614, to cardinal Scipione Borghese. In 1869, the surrounding area containing, the gardens and the building was owned by Saverio Parisi while the rest was absorbed by villa Mondragone, owned, at the time, by the Jesuits Priests.
The final layout was completed by cardinal Scipione Borghese who could count on his uncle, Pope Paul V. The Pope encouraged him to add new land and enlarging the villa itself, since the Pope himself was a frequent visitor of the premises. To ease the distance between the estate and Rome, the Pope had a road especially built for this purpose.
Architect Girolamo Rainaldi, former assistant of Domenico Fontana, was commissioned the embellishment works. Villa Borghese was one of the last villas built in the Frascati area, thus, represents the synthesis of all the others villas previously built, especially Villa Mondragone.
The structure is a results of many elements combined together of which, the central one, is the more relevant.
VILLA GRAZIOLI – (Grottaferrata)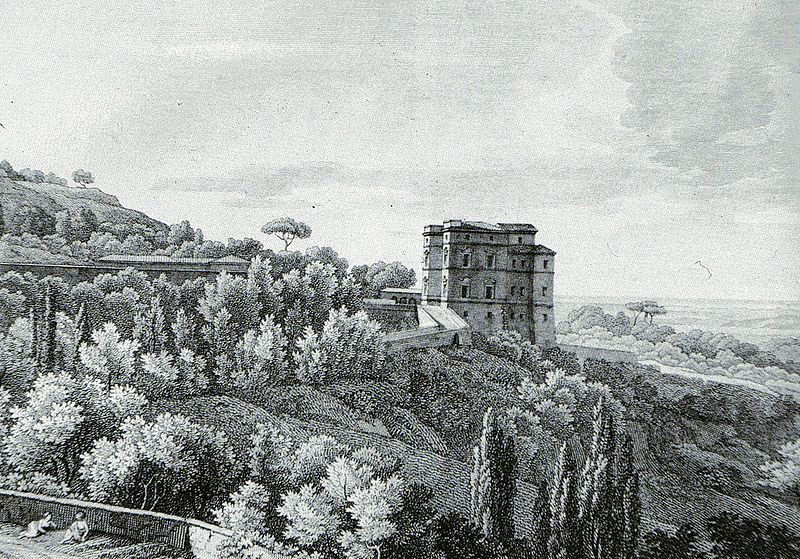 Villa Grazioli was built by cardinal Antonio Carafa in 1580 and, still today has part of its original decorations dated 1591, the same year when cardinal Acquaviva bought the property. Pope Paul V, enchanted by the area, and his relatives, were given the indefinite usage of the entire estate.
Most of its rooms were painted by the Florentine painter Agostino Ciampelli. The villa was owned, for a period of time, by the Borghese family, who bought it in 1612 and passed it on to cardinal Taverna in exchange for Villa Mondragone. Villa Grazioli was, then, again sold to prince Michele Peretti, nephew of Pope Sistus V in 1614.
The Savelli family takes over, in 1683, only to sell it again to duke Livio Odescalchi who completely restored the building commissioning architect Giovanni Battista Fontana, between 1696 and 1968. He also commissions the second floor frescoes, to some artists from Bologna (Emilia Romagna Region). In 1700, the upstairs gallery was built, and frescoed by Giovanni Paolo Pannini. In 1833, the estate passed to the Collegium FIDE which later sold it to duke Pio Grazioli who, besides the building, completely restored the park.
Villa Grazioli its now a Hotel, well known in the Castelli Romani area.
Read also:
Villas of the Castelli Romani Part 1
Villas of the Castelli Romani Part 2