Last Updated on November 14, 2019 by Katty
A spectacularly beautiful city, Rome is, surprisingly, not as expensive as London or Paris. The centre is also fairly compact, which makes it a good walking city. The best and cheapest ways to see Rome are walking and catching public transport, although the extremely heavy traffic and crowded buses and metro are not pleasant. Taxis may not be the best option if you're on a budget, as they tend to be rather pricey.
If you're in Rome, but don't have much cash to spend, you'll still manage to enjoy some of the most amazing sights, as many beautiful areas and buildings are free to visit. Here are the best ten according to us at LifeinItaly.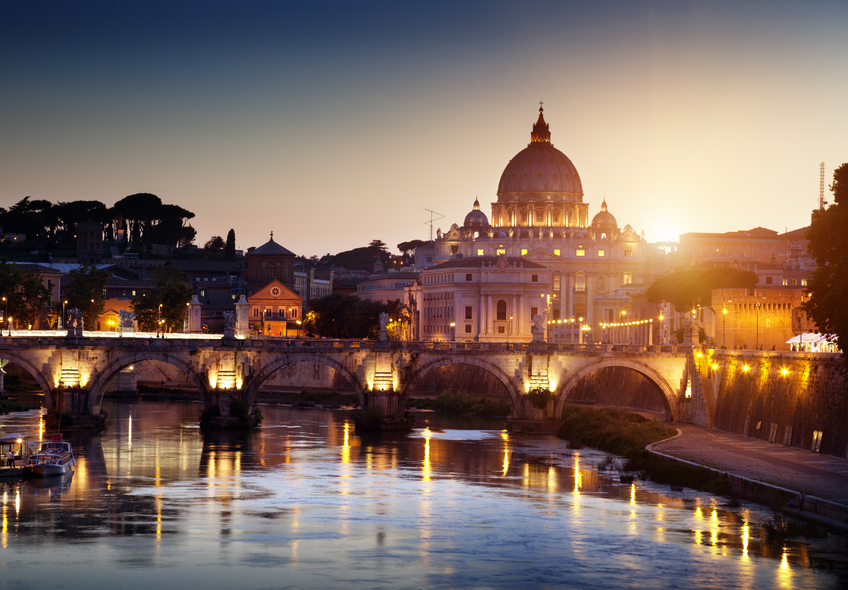 The Vatican
Regarded by many as Rome's most important attraction, the splendid and enormous church of St.Peter's is not to be missed. It is full of interesting paintings and sculptures, such as Michelangelo's moving Pietà. The Pope holds huge outdoor masses every Sunday morning, as well as General Public Audiences most Wednesday morning (they are free, but you need to get a ticket for these).
The crypt with tombs and effigies of the dead Popes is also worth visiting. The Vatican website provides an interesting interactive visit to the crypt and the excavations related to it.
Unfortunately, the Vatican Museums are not free, except on the last Sunday of the month, but there are usually huge queues. If you're planning to fit in the museums, you may wish to spend the money for a ticket and book it well in advance.
The Colosseum and the Roman Forum
Only the exterior of this ancient site is free, unfortunately. If you haven't been there before it's certainly well worth paying to go inside and see this grand old Roman amphitheatre. Here you'll find all the details and prices for visiting it. However, the outside is also an amazing sight and an excellent place to photograph.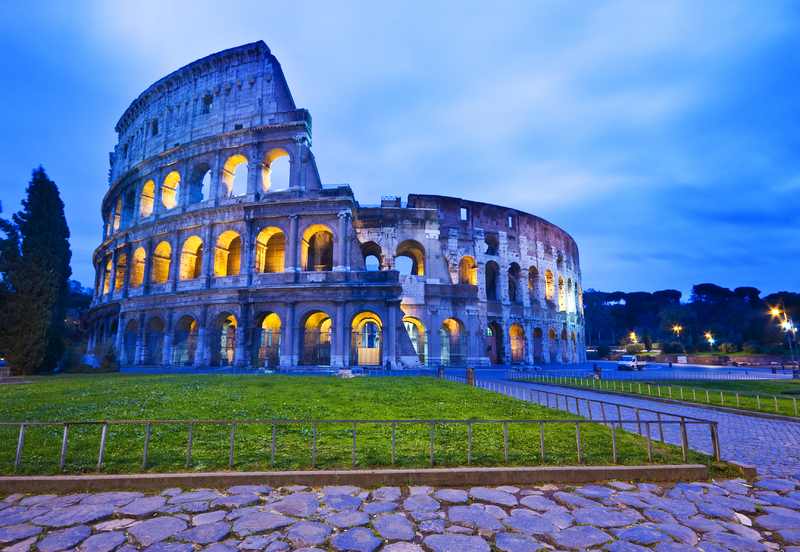 Even more impressive than the Colosseum is the Forum, a collection of Roman ruins of buildings and temples. A large area that needs more than one visit to explore (though walking through the ruins is not free). This ancient political and religious centre includes many famous sights, such as the Temple of Saturn and Caesar's tomb. Caesar's tomb is quite moving because people still lay flowers in his honor.
The Spanish Steps
These spectacular stairs, most beautiful in Summer when the flowers alongside them are in full bloom, were built in the eighteenth century. No visit to Rome is complete without climbing up the high stairs. There is a good view of Rome from the top for photographs. The artists selling their wares also lend a colorful and Bohemian air to this tourist attraction. Bear in mind that sitting on the steps is not allowed anymore, you might be fined if you do so.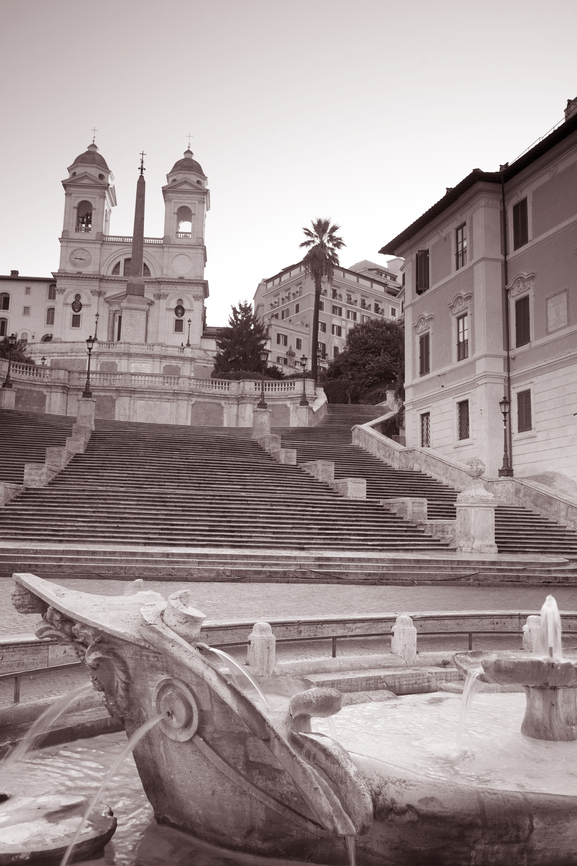 Via Veneto
Full of grand hotels, restaurants and designer shops, this street is a shopper's paradise. It is also a beautiful and elegant street and a favorite haunt of movie-stars and other celebrities. Via Veneto is also well known among cinema lovers for having been made immortal by Fellini in La Dolce Vita.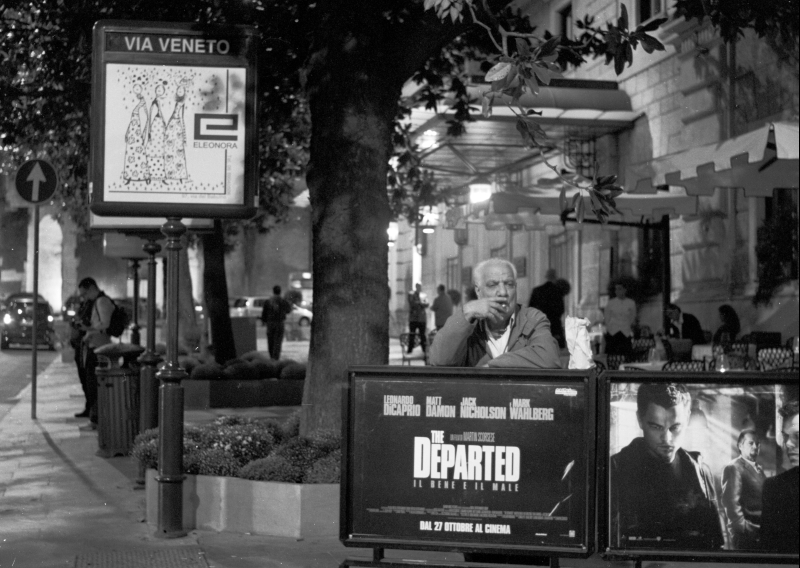 The Trevi Fountain
No trip to Rome is complete without a visit to this fountain completed by Nicola Salvi in the eighteenth century with its impressive figure of Neptune and the beautiful seahorses. Unfortunately it is difficult to find a time to see the fountain without annoying crowds and the danger of pick-pockets. Early in the morning is probably the best time. According to legend, you will return to Rome if you throw a coin into the fountain – the right way to do this is to turn your back to it and toss it over your shoulder.
Piazza Navona
This large and elegant square with its beautiful fountains, including the Fountain of the Four Rivers by Bernini, is also a must-see. This is a very popular tourist attraction and a haunt of artists who love to congregate in the piazza to enjoy a nice coffee or aperitivo in one of its many cafés, surrounded by the artistic beauty of its churches and fountains.
The Pantheon
This ancient Roman temple has a beautiful high domed ceiling and contains the tombs of Raphael, popes  and members of the Savoia, the former Italian royal family. Full of famous paintings and gorgeous altars, this architectural masterpiece was consecrated in medieval times and is still a Roman Catholic church. Before visiting, you may like to get to know some more about the incredibly interesting history of this amazing building.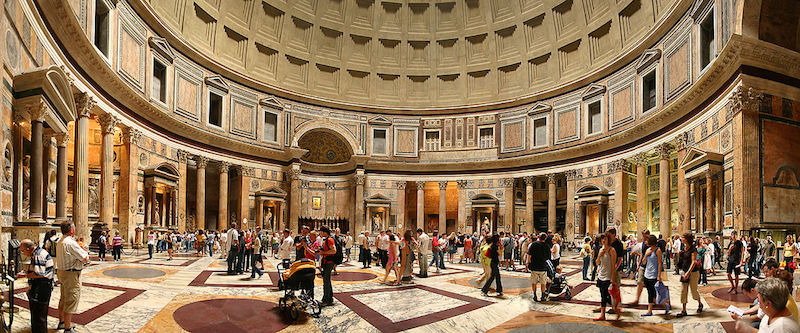 St. Paul's Outside the Walls
Another famous church is St. Paul's Outside the Walls which is about half an hour away from Rome city centre by bus. Perhaps built over the tomb of St. Paul himself, this large church has paintings of all the popes and a colorful mosaic of the saint's life. The elegant cloisters and pretty garden are lovely spots for photographs. The shop has various products sold by the monks, including religious articles and beauty products. Take a look at this beautiful sight with the help of a well created virtual tour.
The Mouth of Truth
La Bocca della Verità is a carving of a river god that hangs in the Church of Santa Maria in Cosmedin, which was famously featured in the movie, Vacanze Romane. According to the legend liars lose their hands if they put them in the mouth! It might be a good idea to test a lover's faithfulness here!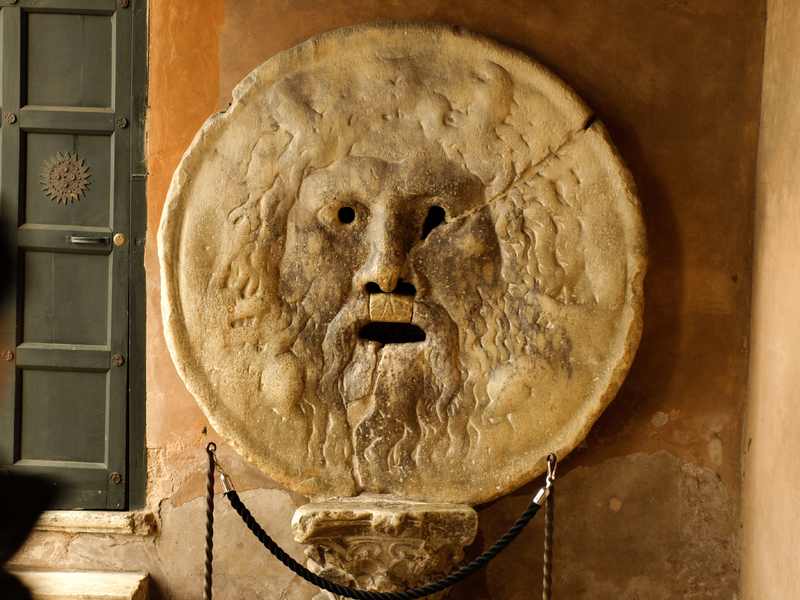 The Mouth of Truth is one of the symbols of Rome
Panorama from the Aventine Hill and walk around the town
Take a bus to Aventine Hill and enjoy the beautiful panorama of the Eternal City. You can see St. Peter's dome through a keyhole at the entrance to Villa Malta. Walking around Rome (in Trastevere in particular) is a great experience by itself and is completely free! Check out what it looks like here, in a video uploaded by the people of RomeItaly. Be aware of the fact, however, that the real thing is even better than what you see in the clip!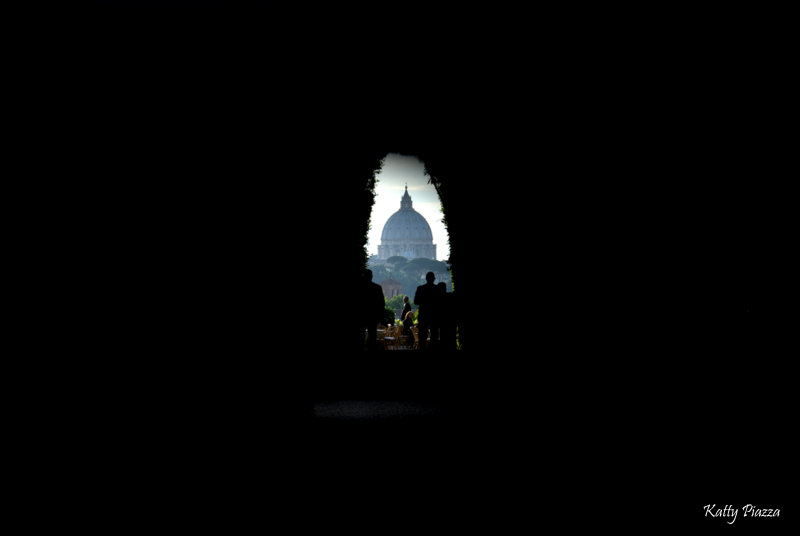 Il Gianicolo 
The Gianicolo is not one of the original seven hills upon which Rome was originally built. Yet, it's one of the most charming areas of the city and allows for some amazing views of the città eterna. It was Ancus Marcius, fourth king of Rome, to begin the extension of the city upon the Janiculum: today, this hill just outside the historical city centre, that gently slopes down to another quintessentially Roman area, Trastevere, is by many considered the eighth Roman hill, and attracts large crowds of locals and tourists. The area has had a long relationship with history: site of religious and spiritual centrality during Roman times, and of Risorgimental battles in the 19th centuries (it's here that Garibaldi fought off French troops supporting the cause of Pope Pius IX), the Gianicolo today still offers the possibility to know and enjoy its history thanks to beautiful paths through beautiful wooded areas. It is, however, to the beautiful views of the city available from its avenues that the Gianicolo owes its popularity among Romans and tourists alike. It is also a well liked destination for lovers and couples, who enjoy its quietness and beauty.
Take a virtual tour of the Gianicolo here and make sure you'll make it part of your Roman trip! One last curiosity: if you're around the Gianicolo at noon, you won't be able to ignore the sound of a cannon shot piercing the air. The colpo di cannone del Gianicolo is a tradition created by – here he is again– Pope Pious IX: it was created so that all the churches in Rome could ring their bells in unison when it was heard.
It would be a great pity to visit Rome without visiting all of these famous historical sights. Enjoy your trip and remember to throw a coin into the Trevi Fountain: you'll fall in love so much with this city that coming back will become a necessity.
By Lisa-Anne Sanderson
Edited and updated by Francesca Bezzone