Last Updated on February 10, 2021 by Katty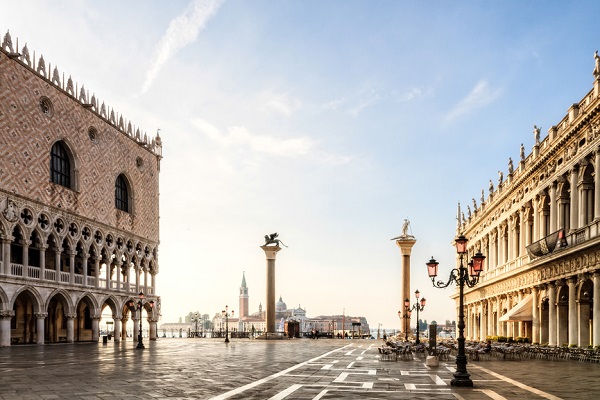 Probably the most romantic city in the world, definitely unique, perhaps second only to Rome in beauty, Venice brings people back to a way of living that is forgotten in our major cities. The fact that cars are non-existent, and waterways, rather than streets, are the means of travel, are peculiar characteristics contributing to the mysticism and mystery of this city, a city  that takes visitors on an imaginary trip back in history.
Ironically, two of the most important museums of modern art in the world are in Venice, and so is the internationally acclaimed Venice Film Festival, a quermesse in honor of the youngest of the arts.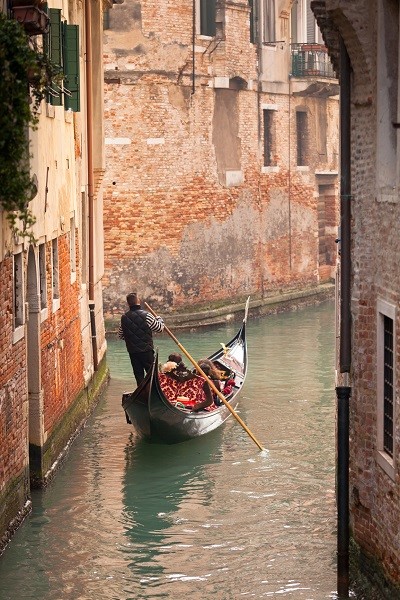 Venice's narrow streets, le Calli as they are called by Venetians, allow a marvellous walk, almost taking you to a different dimension, carved in stone, etched in air. Le calli become strangely static and silent, especially at night, adding allure, beauty and mistery to the city. Venice can be cold, humid, and empty at times, and yet it is alive with spirituality, arts and emotions. It feels as if a shadow constantly follows your steps, even if you can't see it. Venice talks to its visitors through its beauty, and yet is dramatically silent, mute and inquisitive, distant, unfriendly, and then again romantic and full of color.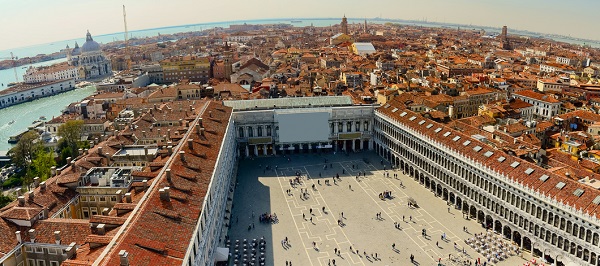 Venice has been at the center of the world for centuries, always remaining itself, exchanging goods and culture with the most remote corners of the planet. Marco Polo's tales show the extension of the Venetian commerce, but its layout and the water often convey a sense of isolation and skepticism toward the outside world.
Venice features incredible buildings, such as the famous theater La Fenice, which burned down in recent years and was entirely rebuilt, an accident that caught the attention of the most famous artists in the world, in particular Woody Allen, who made a personal effort to help in the reconstruction. However, Venice has many dark sides, which make the city mysterious and very challenging to live in. The food is not really the best considering Italian standards, the water and the extreme natural conditions often create problems and a bad odor, and restaurants and bars close very early, transforming Venice in a sort of ghost town.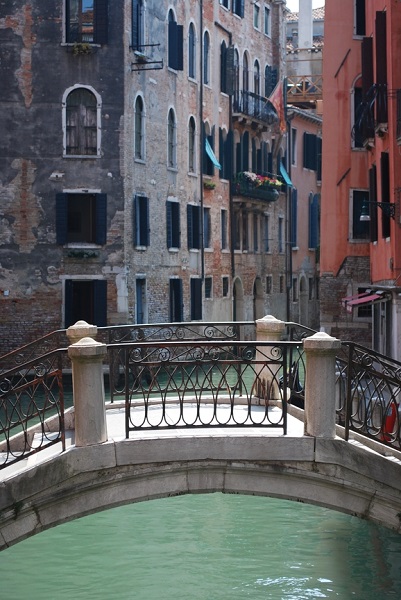 In a very real way, Venice is indeed filled with ghosts – haunted, filled with spirits drifting through the streets and over the bridges. We don't want to scare anyone here, but it is actually a wonderful feeling to be possessed by an entire city, to be part of its history. Of course a nice ride on a gondola on the Canal Grande or a picture in Piazza San Marco are great things, but to truly experience Venice one must let those "spirits" in, without forgetting to have a drink at Harry's Bar or spending the night at the Danieli, because Venice is also that.
One event that truly summarizes Venice's spirit is the Carnevale, where colors and costumes emphasize how different this Carnival is from others: less "dancing" than in Rio, for instance, yet classy and strong.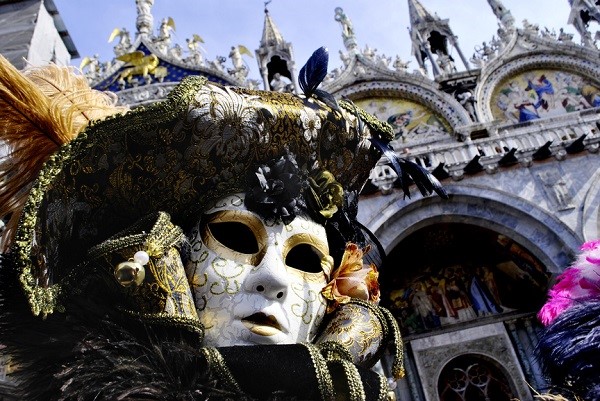 On a more tangible basis, the city of Venice offers a series of small shops that are second to none in the world. Among some of the most famous, it is important to remember the glass workers of the small island of Murano that for centuries have crafted glass with style and perfection. A stop in Murano is a must when visiting Venice, it is an experience that rewards the interest and the cultural appetite of almost anyone.
To conclude this virtual journey in the Calli of Venice, it is important to remember that this city lives and breathes almost like a human being, sinking in the sea, asking for respect and protection that are not always reciprocated by the millions of tourists visiting it every year.
Please, let's all together protect this treasure: it belongs to all of us, to the entirety of humanity.
Sometimes there are so many tourists in Venice that it's impossible for anyone to enjoy it. For this reason the administration has decided to add a tourist tax to the non residents of the Veneto Region who are visiting Venice. The fee is between 3 and 9 euro, depending on how much tourism is expected on that particular day; those who are staying overnight are already paying it through threir hotel, so they won't have to pay more. The tax will start from July 2020, and at the moment they are still considering how to make tourists pay for it and how to check if it has been payed.
I don't think this will solve the problem of overtourism in Venice, until thousands of visitors get off the cruise ships and rush to St. Mark's every day. But maybe it will give the administration some more cash to keep the town pretty.