Last Updated on July 18, 2019 by Katty
Italy, the best place for Volcano Lovers.
If you want to be a volcanologist, then Italy is the place to be.
Numerous areas in Italy have volcanic origins where volcanic activity occurred thousands and thousands of years ago. From the Castelli Romani area, just outside Rome, with its gorgeous volcanic lakes, Albano and Nemi – providing an excellent alternative to the not so clean seaside near the Eternal City – to the Colli Euganei near Venice and Padua, and to the island of Pantelleria, which is in fact closer to Tunis than Rome. Often these areas are covered with vineyards, as vines thrive in soils rich in potassium and other minerals left after the eruptions.
But Italy can boast a few very interesting active volcanic areas too. In fact, Vulcano, Stromboli, Etna and Vesuvius are the most famous active volcanoes on Earth. Vesuvius last erupted in 1944 but its most famous eruption is by far that of AD 79, when it destroyed Herculaneum and Pompeii the latter of which at that time had an estimated population of 20.000 people.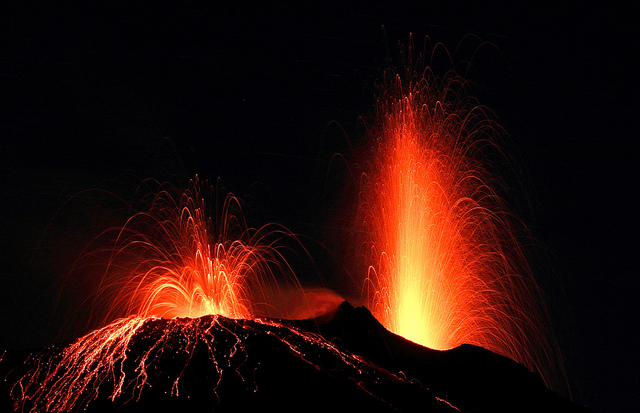 Pliny's description of the umbrella pine shaped cloud coming from the volcano, the buildings swaying back and forth and the following darkness during daytime (a consequence of the ashes), is probably the first accurate account of an eruption in the history of mankind. Nowadays, this volcano is considered quiescent, and visiting the excavations of Pompeii provides a lifetime experience. Lava flows and mud covered the town preserving it from aging until a couple of centuries ago, when archaeologists began to unveil the beauty of a large Roman town with a flourishing economy. Interestingly, a wine producer from the same region, in collaboration with local authorities has recently implanted grape varieties there using traditional methods from the time of the eruption.
But the most fascinating volcanos in Italy are Etna and Stromboli, both in Sicily.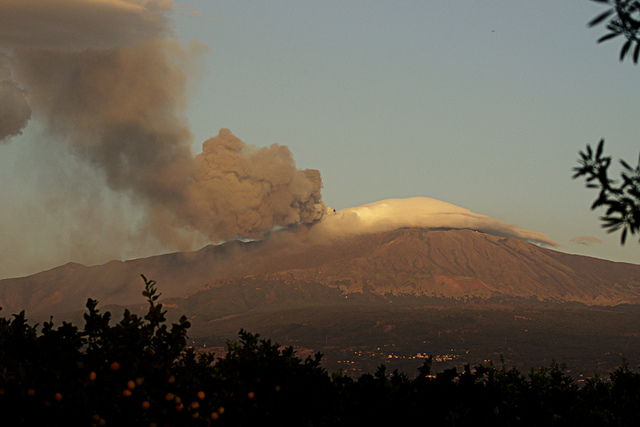 Mount Etna 
Etna is the largest active volcano in Europe, reaching over 3000 meters and extending itself on an area of 1200 km2. You can have a tour around the volcano on the Circumetnea, a tiny train which starts from the Borgo station in Catania (at the end of Via Etnea) and will eventually take you to Randazzo and Giarre. The journey is unbelievably long, as it takes over 3 hours to slowly travel between walls of prickly pears, through vineyards and abandoned gardens of what looked like once beautiful villas, and across slopes of black basalt stones. Seeing it takes so long, it is best to get off at the end of the journey and take a 40 minute train from Giarre to Catania on the line linking the latter to the port town of Messina. If you've got a spare afternoon, I strongly suggest you take this tour!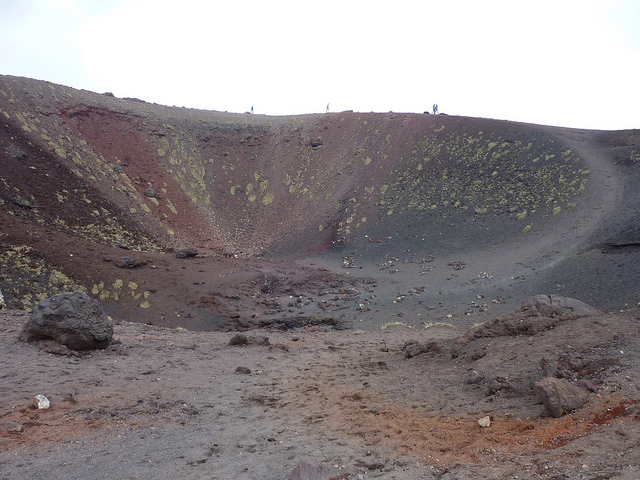 Climbing to the top of Etna can be breathtaking. During the warmer months, when the mountain isn't covered in snow, (yes, snow in desert hot Sicily!), a bus leaves early in the morning from the main station in Catania, heading for Nicolosi and Rifugio Sapienza. From there you can take the cable car up to 1923 meters, and then a 4 wheel drive truck. Guides up on top wait for groups to form and will take you on a tour. What awaits you there, is lunar-desert scenery, with grey dust scattered with large and small volcanic bombs, sulphurous and vapor fumes and multicolor craters displaying their different composition: from iron to calcium to sulphur. Bear in mind that Wednesdays are crowded with organized tours though strangely enough Saturdays are rather quiet.
Stromboli
Stromboli is another must-see for volcano fanatics. This volcano is one of the islands which form the Aeolian archipelago (together with Vulcano), some 30 km north of Sicily in the Tyrrhenian Sea. Its position and constant volcanic activity has given it its nickname of lighthouse of the Mediterranean Sea. In fact, if you climb the volcano at night, you'll see dozens of cruise ships and sail boats anchored not too far from the island, in front of the Sciara del Fuoco (the lava flow). Night is the best time to visit the volcano because that's when you can enjoy the flaming color of magma. In the silence, the sound of rocks bursting out of the vents and rolling down into the sea resembles that of fireworks. And the pungent smell of wild capers gives the final touch to this goose-bump experience.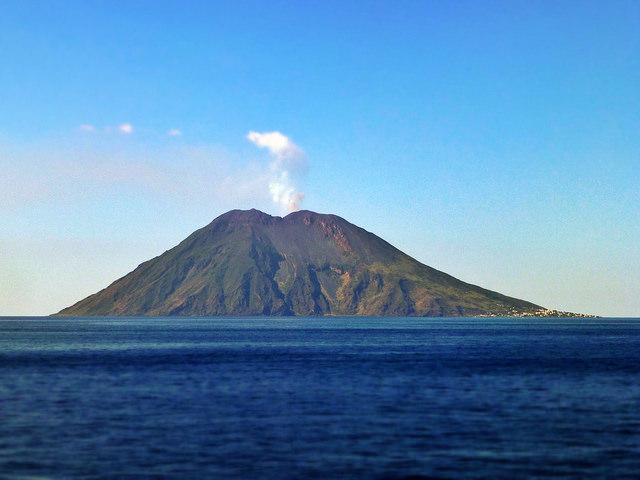 It is always best to take tours with a volcanic guide, even if you consider yourself an expert mountain climber. Volcanoes are very insidious mountains. 
Travel feature by Slawka G. Scarso