Venice is a perfect honeymoon destination.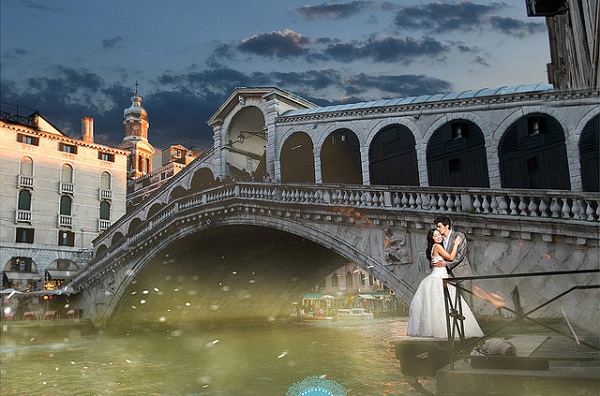 Your first impression of Venice will be one of enchantment. The sights and sounds of the city are intoxicating: your excitement will carry you along cobblestone paths to every nook and cranny of the city. Watch gondolas whisk passengers along the charming canals of the city, and be sure to ride in a few of these delightful boats yourself. Then, get lost in a maze of pathways, and walk hand in hand with your beloved over tiny bridges that cover the city's water streets. The dreamlike atmosphere of Venice and its world is perfect for an Italian honeymoon.
Sit at one of Piazza San Marco's cafè and people-watch. It will probably be your most expansive coffee, but the feeling is worth it. Climb the Campanile and listen to the bells ring out their song. Browse the windows of artists' shops, or visit a mask store to learn how they are made.
Lion sculptures are popular in Venice. Count them: did you know that there are over a thousand lion sculptures in the city?
Sit in a street café, hold hands, steal a kiss or two, sip cappuccino and people watch. Children love feeding the pigeons and you will delight in their fits of giggles and laughter. Talk about names for the children you will have, one day, and how many there will be. Discuss a trip in the future when you will return to Venice and bring the children along.
Stop by Piazza San Marco each day. There are lots of things to see and do there and it will take several days if you plan to see everything.
Be sure to visit la Basilica di San Marco, of course. You will marvel at its beautiful architecture: when you step inside, you will get the feeling of having been magically transported back in time.
Enjoy the Doge's Palace, a museum unlike any other in the world. View exhibits of Medieval, Renaissance and Venetian art. Gaze in wonder at the sculptures, archways, and massive staircases, which are attractions in their own right. You will spend hours wandering through the palace, gazing in awe at its splendor.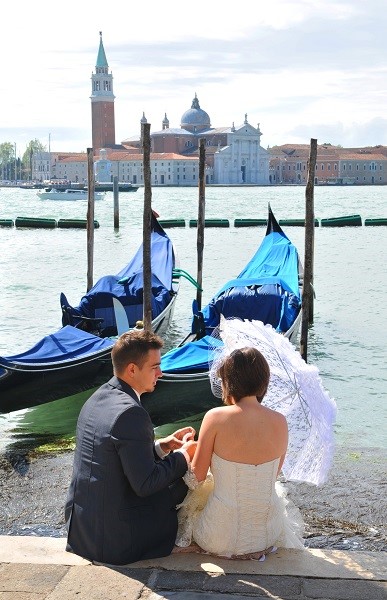 Take a tour of Murano and its glass making factories. You will be escorted into the factory proper, where you can see the blazing furnaces and feel the intense heat. When the tour is over, you will be led to a showroom where you will find a wide variety of glasswork for sale. A piece of this impressive glass makes a great souvenir to take home as a memento of your honeymoon.
Remember to set one day aside for relaxation. All the hustle and bustle can be tiring and the Lido, Venice's idea of a beach resort, is just the place to spend the day. Though sand is not plentiful, cabanas are. Spend a day in one, relaxing and planning tomorrow's sightseeing excursion.
Visit the Rialto Bridge, one of three that cross the Grand Canal. It is charming and has shops all along the sides, which are chock full of every kind of treasure imaginable. Take time to explore them: you will be amazed at what you will find.
When you have exhausted your treasure hunt, follow the bridge to the Rialto market. You will find tons of produce, fruit, fish and vegetables at the stalls here. Buy a treat to share from each of them. The food will tickle your taste buds and leave you salivating for more.
Throughout Venice, there are many fine restaurants. Enjoy sea bass, salads, cheese and tomatoes, scampi, lobster, swordfish, pizza and pasta. All food in Venice is delicious and incredibly flavorful.
Have you ever wished to see the balcony where Juliet stood and uttered her famous words, Romeo, Romeo, wherefore art thou, Romeo? Well, hop on the train for a one hour trip to Verona. While you are there, be sure to explore other attractions. Spend the day and enjoy each other's company.
Venice has over 400 bridges. Be sure to visit the Bridge of Sighs. Stand hand in hand on its arched back and gaze through the windows to see gondolas gliding along the water. Learn the history of the bridge, and how Lord Byron popularized the belief that the bridge's name was inspired by the sighs of condemned prisoners as they were led to the executioner. The bridge is unique, being the only covered bridge in the city.
The Bridge of Sighs is included in the guided Itinerari Segreti (Secret Itineraries) of Doge's Palace. The tour must be booked in advance, as only a certain number of people are allowed on each. The ninety minute tour is conducted in Italian. It includes the torture chambers and the prisons, which are usually closed to visitors.
Wherever you chose to explore in Venice, you will have a wonderful time with your new spouse. The sights, sounds and fragrances of the city delight the senses. Venice is a city for lovers and you definitely will not be disappointed.
by Mary M. Alward