A woman's wedding dress is the most important fashion decision of her lifetime. Most brides take months visiting different boutiques and obsessing over bridal magazines until they find "the one." Women are no longer limited to the traditional whipped cream, white ball gown of the past. There are an infinite number of dresses to fit the style of every bride, whether she is after a glamorous, romantic, or a cutting edge look. In fact, the bridal industry has blown up in the last few years and designers are creating unprecedented dresses to win the hearts of the most discriminating bride.
White and ivory will always remain the most popular choice to wed in, but faint shades of pink and gold are becoming hot choices for dresses. White and ivory can wash out most complexions, but a soft champagne color can flatter your skin tone. Brides should try out each shade to see which ones looks the best with their coloring. It is now common for dress designers to offer several different colors in the same style gown. Sashes were another way that color was incorporated in the design of the bridal gown, sometimes to even match the bridal parties attire.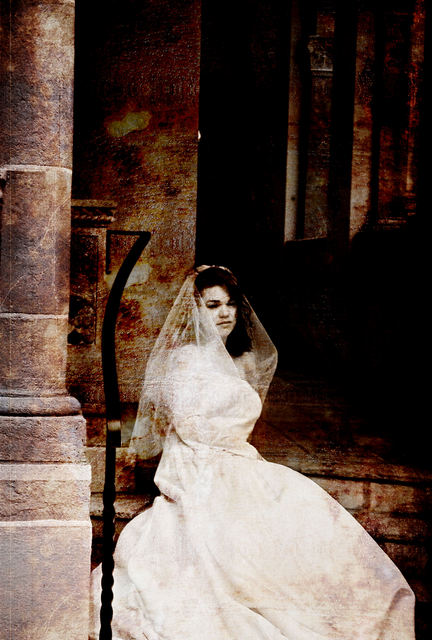 Grey was a huge color on the runway. Several dresses were made of luxurious satins in the palest shade of grey and others featured bows and ribbon detail in a deeper charcoal. Although it is not a traditional color, it is decidedly gothic and enchanting for a wedding. Black, seldom seen at weddings, was popping up in the form of belts, embroidery, and even bejeweled necklines on dresses. Black and white is one of the chicest color combinations for the fashion forward bride.
Many of the dresses have conservative and demure front views, often with high necklines, leaving the skin on show on the back. Some of the dresses have elaborate trains or featured plunging backs. This style offers a sensational surprise as the bride makes her way down the aisle to say her vows. Always popular, of course, are strapless gowns, which truly never go out of fashion. This year, boat necklines have also made a come back, a great way to show you neck and shoulders, without being vulgar.
Interesting is the return, for 2015, of the long-sleeved wedding dress: It has been a while, but gowns with full length sleeves seem to be back. Think you have never seen a long sleeved wedding dress? Think twice: Kate Middleton, the Duchess of Cambridge and future Queen of England wore one on her big day, in 2011.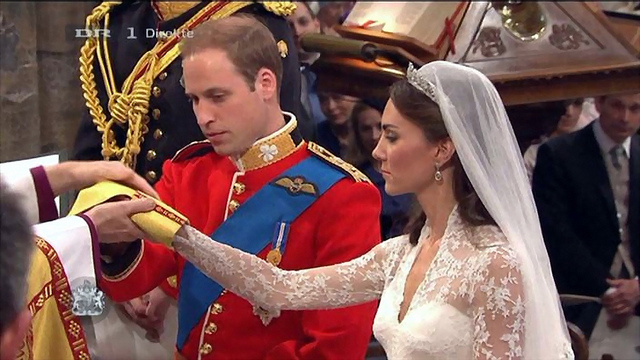 Floral details are plentiful. Fragrant lush blooms are expected at weddings, but no longer are they limited to bouquets and centerpieces. Flowers have entered the very fabric of wedding dresses: weaved, often in gold and silk threads, into bodices or skirts, or precious details on bridal cache-coeurs and wraps. Silk flowers, often embellished with semi precious stones, are also used to give the extra touch to shoulder straps, necklines and skirts. Such a love for floral decorations goes hand in hand with another trend of the 2015 bride: baroque, princess-like style. Think crystals weaved into the fabric with metallic thread, think once again, of dresses rich in decorations and patterns rendered with preciousness.
When it comes to wedding dresses, however, simplicity is still an important trend: light fabrics like silk, but even cotton and summery poplins are particularly on trend, especially if you are going to have a summer wedding. Simple and clean are also skirt lines, but this does not come as a surprise: full circle, layered skirts are not as popular as they used to be and they have not been for quite a while.
Lace is a natural favorite among brides who covet romantic, vintage styles. Countless women still consider Grace Kelly, who wore a long sleeve lace gown when she wed Prince Rainier of Monaco, to be the most exquisite bride of all time. While it was necessary for Grace Kelly to show the utmost modesty due to the nature of a royal wedding, most brides can be more flexible. For a more seductive look, brides are opting for lace dresses that are formfitting and strapless. Lace bodices are also paired effortlessly with tulle skirts for a current look.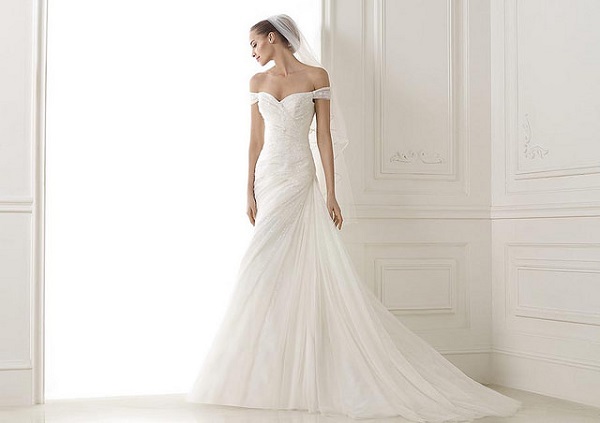 Ruffles are not just for Flamenco dancers. They add instant drama and volume to a dress and are particularly flattering when they frame the neckline. It's an exotic style for a flirtatious bride lusting after something saucy and fun to wear for her wedding.
Preppy brides will appreciate the return of pleats, which is both neat and regal looking on a wedding dress.
As for styles, two favorites are the empire waistline and mermaid gowns. Empire waist dresses can be tricky to wear, but also quite flattering on women who want to hide their waistline. Mermaid dresses are close fitting in the bodice and flair out around the mid-calf. It looks best on slim or athletic women who want to accentuate their curves.
Short wedding dresses keep on being popular fro 2015, too. Not a choice for every bride, but particularly nice for youthful women, who want to their wedding to be fresh and carefree. A shorter wedding gown goes hand in hand with vintage: think of knee lenght 1950s cocktail dresses, often in precious shades of champagne and ivory, or of knee skimming sheaths dresses, with a higher neckline and mid lenght sleeves, a typical style of the 1960s.
Styles run amok from slim sheaths to voluminous gowns. The sky is the limit for the bride on the hunt for a wedding dress.
By Meredith Paslawsky
Updated by Francesca Bezzone